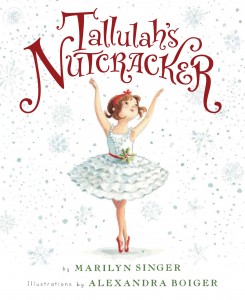 It's that time of year when our hearts turn to the holidays. Sentimentality reigns, and if you are like me, you are quick to tear up upon hearing a favorite song, or sharing a favorite story.
In our house, this week brought the return of advent calendars, Elf on the Shelf, and Christmas pajamas, as well as a rotation of our favorite Christmas CDs on repeat during the daily carpool.
While I'm a sucker for pretty much all things Christmas, perhaps my favorite part of this time of year has been sharing holiday books with my children as they have grown up.
Over the years, we have amassed quite a collection, and have treasured many favorites. Among our best-loved books are classics such as "How the Grinch Stole Christmas" and "The Polar Express," as well as lesser known gems, such as "The Carpenter's Gift:  A Christmas Tale about the Rockefeller Center Tree," and "Auntie Claus."
For many years, I would purchase at least one new picture book each year, to enjoy and add to our collection. Now, as my boys are growing older, the influx of picture books has pretty much come to a stop, but a trip to the bookstore will still find me lovingly fingering the pages of the holiday display's offerings, reading them to myself, and feeling the warmth that only a good Christmas book can bring, even if it is smack in the middle of the children's book section, instead of home cuddled up on the couch.
We are only a couple of calendar page boxes into December, but I may have already ogled the goods this year. The kids were all at school, and no one can prove it, but if I did happen to wander alone into the children's section, these might be the books that I liked:
"Tallulah's Nutcracker," by Marilyn Singer: This story finds Tallulah cast as a mouse in a real, professional production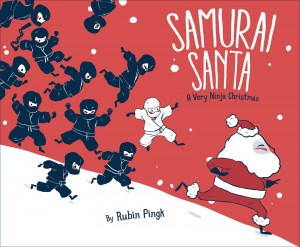 of the Nutcracker. While not as flashy as the part of the Sugar Plum Fairy, the role of Mouse still has Tallulah feeling quite important, and she vows to be the fiercest, best mouse the stage has ever seen. When the time comes to crawl out of the clock with her fellow mice, Tallulah steps on the tale of the mouse in front of her, and they end up tangled in a heap.
Feeling like a failure, Tallulah sits backstage, embarrassed, when the dance master and older dancers begin sharing stories of their own blunders on stage. It is a sweet story about humility and perseverance, and teaches that even the most talented among us were beginners at some point. This would be an excellent book for any little dancers in your life, especially the countless ones who perform in various productions of the Nutcracker each year.
For the more rough and tumble kids on your list, I also enjoyed "Samurai Santa: A Very Ninja Christmas," by Rubin Pingk. In this book, we meet young ninja, Yukio, who wants nothing more than to have an "epic snowball fight" with his fellow ninjas. He attempts to recruit his friends to join him, but they all turn him down, in favor of working hard to impress Santa.
Deciding that Santa is responsible for ruining his fun, Yukio plots to wait up for Santa and run him off. As Mr. C. descends down the chimney, Yukio sounds the intruder alarm, and the ninjas spring into action. Amidst all the chaos, a mysterious Samurai appears with an army of snowmen, and an epic fight in the snow takes place.
Upon vanquishing the Samurai's army, Yukio worries that he has ruined Christmas for his friends by chasing off Santa, only to discover that Santa has indeed delivered gifts, including a special letter for Yukio, that clues us in as to who the mysterious Samurai actually was.
Whether reading with a fancy ballerina, a gung-ho ninja, or just by yourself, I hope you'll find the time to enjoy a holiday story or two. I can promise you'll be in good company.
Edie Crabtree is an avid reader and the mother of three active boys.  She can be reached at [email protected].