By Christopher Trela and Catherine Del Casale | NB Indy
"This is one of the most difficult things I've ever done," Davis Gaines told us over dinner at The Lumberyard Restaurant in Laguna Beach.
"More difficult than starring in 'Phantom of the Opera?' I asked.
"Yes," he replied, taking a sip of his martini. "It's crazy."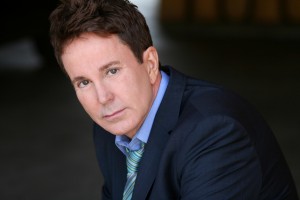 Hard to believe, but the man with the monstrous voice who donned the Phantom's mask more than any other musical theatre actor on Broadway, the man who once helicoptered into Angel Stadium to sing the national anthem prior to a "Phantom" performance in Los Angeles, the man who has sung with orchestras around the country and starred in numerous musicals, was facing one of his biggest challenges.
That challenge is the two-person musical "I Do! I Do!" that opened last weekend at The Laguna Playhouse and runs through August 11.
Written by Tom Jones and Harvey Schmidt (the creators of the longest running musical in history, "The Fantasticks"), "I Do! I Do!" spans 50 years (turn of the century to the mid 50s) in the lives of Agnes and Michael Snow and their sometimes rocky marriage. The original production opened in December 1966 and starred Robert Preston and Mary Martin.
Coincidentally, we saw Gaines star in a concert version of "Mack and Mable" last month, in a role originated by Preston. Gaines' co-star in that show, Vikki Lewis, is starring opposite Gaines in "I Do! I Do!"
"We're having fun because Vic and I go way back, like when we first got to New York almost out of college, so we have this rapport and chemistry," explained Gaines. "We get
to the point in rehearsal where we are so exhausted, but then she'll cross her eyes at me and we'll just laugh and laugh. And the director wonders what's going on."
"Anyone else and you might not have as much fun," observed Catherine.
"The fact that we have each other is the saving grace. There's so much to learn–the blocking, and knowing the lines, knowing the music. And there's a lot of dancing. Who knew? So it's all these things we are trying to learn at the same time. It's almost overwhelming, because once the show starts, it's like a roller coaster that never stops."
One of the more challenging aspects of the show, Gaines told us, are the costume changes.
"Vicki has wig changes for every decade we're married, and we change clothes constantly."
"What about makeup?" asked Catherine.
"Makeup we don't deal with until the very end, and then it's written into the play that we have dressing tables on either side of the stage, so when we age from our late 50s to late 70s, we go to the side and we actually put on wrinkles and whites wigs right there in front of the audience. It's kind of interesting and theatrical."
"The play was written nearly 50 years ago–do you think it still holds up?" I asked him.
"I do," stated Gaines. "I admit I was skeptical at first. It sounded like it would be  really creaky and old. But once we dug deep into it, we realized it's universal. It's about relationships and what everyone goes through. Every relationship has these ups and downs, and pushes and pulls. My parents went through that. I see their relationship through this piece. They've been married almost 60 years. They maneuvered and stayed together in the good times and bad times. I think people will relate to it."
"I have to ask–I've seen you in Phantom, in concert, heard your CDs. Do you get a chance to unleash your voice in these songs?" I wondered.
"The songs are kind of simple," he replied. "I don't have to rely on singing. I have to play against singing sometimes, like in the opening minutes when I'm 20 years old. We don't want that voice to come out until later."
"I think this is going to be fun," added Gaines. "The book is really good. We get to fight and argue and be funny and sexy. It's a really good acting piece. And my parents are coming out from Florida–I can't wait for them to see it."
 "I Do! I Do!" plays Tuesday through Sunday, through August 11, at The Laguna Playhouse, 606 Laguna Canyon Road in Laguna Beach. Tickets are $40 to $70. For more information, visit lagunaplayhouse.com or call (949) 497-ARTS (2787).