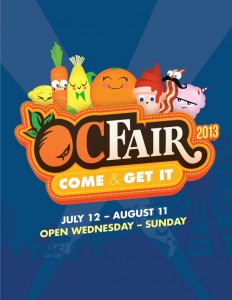 The giant Ferris wheel has been visible from the freeway for some time now, and one can almost smell the frying grease in the air. There's no denying it: the OC Fair is back in town.
Each year, when the lights start blinking and the Zipper starts zipping, my kids join in the action and start clamoring to go to the fair. Or, as I like to call it, the Money Pit. There's admission, and parking, and just try to get a meal for under ten bucks a person…I dare you. Not to mention that the cost of riding the rides is equivalent to our weekly grocery bill.
M-O-N-E-Y-P-I-T, I tell you! However, if you play your cards right, there are several things you can do to help reduce the sticker shock of a trip to the fair, with each of them contributing towards a greater good as well.
My personal favorite of the fair promotions is the "Read and Ride" program.
This offer is available to children ages 5-11, and provides them with a fun reward for completing their summer reading. In exchange for enjoying two books, kids can receive three free carnival rides. In order to cash in, they need only fill out a form listing the titles of the books they read, along with the author's name and a brief, two to three sentence summary. Children under six are welcome to draw a picture in lieu of a written summary.
Best of all, while they can only cash in three rides on any given day, young readers are invited to participate in the program twice, for a total of six free rides per child over the course of the fair's stay in town.
If you couple the free rides with one of the fair's other offers, a night at the fair is looking decidedly lighter on the wallet.
Looking for a way to get over the weekly hump? Make it a "We Care Wednesday." Each week, a different organization sponsors a charitable drive, during which you can get into the fair free with a small donation.
This year's Wednesday donation options include a canned food drive, children's book drive, clothing drive, and school supply drive. Just be sure to check the schedule to guarantee you bring the right item for the day you plan to attend. Talk about a mid-week pick-me-up!
This year, we plan to visit on Wednesday, July 24, when we can donate some of the books our kids have outgrown (one new or three gently used books per person). We will hopefully provide a great reading experience for a new family, while securing fair admission for our own family – a real win-win if you ask me.
My boys have already chosen the books they'll review. My eleven-year-old will be recommending "Middle School: The Worst Years of My Life" by James Patterson and Chris Tebbetts, and "Guys Read: The Sports Pages," a compilation of short stories by guy-approved authors, edited by Jon Scieska.
For my nine year old, the selections will be "Mrs. Frisby and the Rats of NIMH" by Robert C. O'Brien, and "The Indian in the Cupboard" by Lynne Reid Banks.
With admission secured, and factoring in the free rides, we should have plenty of money left over for deep-fried Twinkies, battered potatoes, and giant turkey legs. I'll just have to budget a little extra for the family size bottle of Mylanta as well.
To download the read and ride form, and for a full listing of fair promotions, please visit ocfair.com and click on the "Discounts and Deals" tab.
 Edie Crabtree is an avid reader and the mother of three active boys.  She can be reached at cra[email protected]