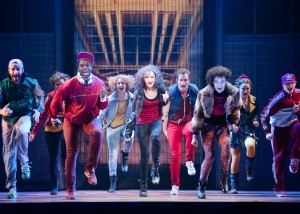 From audience to artist, Southern California native to newbie New Yorker, singer-actor David R. Gordon is living his dream. So it's apropos that he's appearing in a show that's all about dreams: dreams under fire, dreams fulfilled, and the ones in whose pursuit will test and change who you truly are. 
It was 30 years ago that the now iconic 80's film "Flashdance" hit movie theaters, bringing not only parachute pants and legwarmers to rampant popularity but defining an age with pulse-pumping music and the story of  Alexandra Owens, a young steelworker in Pittsburgh who dared to dream and to dance.
This week, the national tour of "Flashdance-The Musical" arrived in Orange County at Segerstrom Center for the Arts, and Tuesday's opening night was an eye-opening blast from the past.
Gordon, as Gloria's wisecracking boyfriend Jimmy, delivered a nuanced, genuine performance that added a nicely played levity to the gritty intensity of life in the factory town. Jillian Mueller, charismatic as the fiery and fierce Alex, blue-collar worker by day and bar dancer by night, and a deftly charming Matthew Hydzik as her love interest and uptown boss, Nick Hurley, were ably joined by a strong cast and equally powerful playbook, which featured 16 new original songs in addition to fan favorites from the movie: "Flashdance…What a Feeling," "Gloria," "Maniac," "I Love Rock & Roll," and "Manhunt."
"Flashdance-The Musical" chronicles Alex's trials and tribulations as her deep thirst to dance becomes a quest that ultimately transforms her life. It's a well-known theme that nevertheless resonates for many of us, dancer or not.
It also hits close to home for Gordon, who returns to his roots with "Flashdance-The Musical" in a place that feels very familiar.
"I remember seeing my very first musical, 'RENT,' at the Orange County Performing Arts Center (now Segerstrom Center for the Arts), " he recalled, speaking by cell phone last week from the show's stop in Tempe, Arizona. "That experience really inspired me, and now all these years later I'm on the other side with this show!  Most likely with 'Flashdance' it'll be someone else's first time seeing a musical, and maybe they'll get the bug this time."
Because this tour is the first run for "Flashdance-The Musical," Gordon was able to work with the show's creative team to originate the character of Jimmy.
"Once the writers get a sense of who you are, they write around that. Essentially, the world is your oyster, but since this is my first time working with a Broadway caliber show, I put a lot of pressure on myself in the beginning. Finally, I had to come back to a place where I could feel 'I am enough,' and once I did that I opened up and was able to do the job."
"It's been fun- I get to bring a lot of myself to it," he continued. "Jimmy is a relentless jokester who thinks he's funnier than he is, so when people ask me how I am connecting to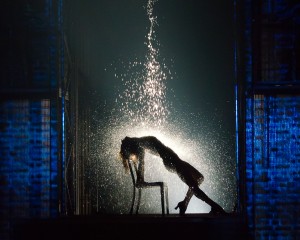 the character I say "well, I think I'm funnier than I am, too, so it's working out well!"
That it is: in Act Two, Jimmy comes to an eleventh hour realization about his life and sings the song "Where I Belong." Although their circumstances are different, it's clear that Gordon has found his place as well. Wow, what a feeling!
"Flashdance-The Musical" runs through May 19 at Segerstrom Center for the Arts, 600 Town Center Drive, Costa Mesa. Performances are Tuesday-Friday at 7:30 p.m., Saturday at 2 and 7:30 p.m. and Sunday at 1 and 6:30 p.m. Tickets start at $20. Call the box office at (714) 556-2787 or go to scfta.org .