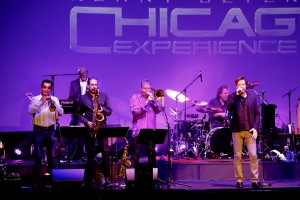 By Madison Desler | NB Indy
Last Saturday (no it wasn't 'in the park' as the Chicago hit would insist), Kenny Cetera's Chicago Experience hit the Lido Live stage at 9 p.m. with an evening of music by the ever-popular band Chicago.
Kenny Cetera, younger brother of Peter Cetera (bassist, songwriter, and ballad singer extraordinaire of the real Chicago), was a background vocalist on several tracks on the "Chicago 17" album and toured with Chicago in the 80s, so he has a Chicago connection.
After opening the show fittingly with "Beginnings," Cetera introduced himself as "the good looking brother," and explained his love for the music of Chicago and his purpose in fronting Chicago Experience: "I grew up with this stuff. It's engrained in me."
The band featured a horn trio, which navigated iconic Chicago licks with ease on tracks like "Does Anybody Really Know What Time It Is?" and "Make Me Smile," and was rounded out with guitar, bass, keyboards, and drums, all of whom knew their way around their respective instruments.
The band hopscotched through Chicago's formidable discography, playing an offering of 16 iconic tracks ranging from the debut album to 17, whipping out a few deeper cuts like "I'm a Man."
The enthusiastic crowd had moments of low energy, but were particularly appreciative of the group's renditions of "Old Days," and the barn-burning three-song closer of "Colour My World," "Feelin' Stronger Every Day," and "25 or 6 to 4."
The band was tight and harmonies were sweet-sounding, and yet something seemed lackluster. Cetera's voice was clear and capable enough, and often bears a strong resemblance to his brother's, but there were a few pitch problems. Despite that, he has an easy, high-energy stage presence, and doesn't take himself too seriously as shown when he broke out some goofy dance moves. He also had his own Will Ferrell "more cowbell" moment during the jam of "Hard to Say I'm Sorry."
For the casual Chicago fan, Kenny Cetera's Chicago Experience is a great opportunity to hear the songs played live, while die-hard fans can see the real Chicago in concert with Earth, Wind and Fire on July 18 at the Forum in L.A. (minus Peter Cetera, of course—he left Chicago in 1985).
Upcoming shows at Lido Live include Ambrosia on July 11, Fan Halen and Generation Idol on July 18, Blasphemous Rumours and Rio on July 25, and Cubensis on August 1.
For more information, visit lidolive.com.