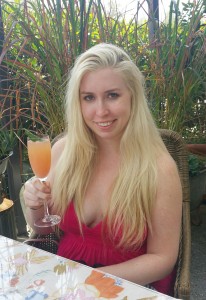 By Christopher Trela & Catherine Del Casale | NB Indy
Warm weather and welcoming ocean breezes means it's time to dine outside—but we're not talking about your backyard barbecue, although summer is certainly barbecue season.
Numerous Newport restaurants offer splendid al fresco dining with summer menus to match the experience.
We narrowed down our favorite outdoor dining spots to our top 10 (oops—make that 11), although almost anywhere you go in town you'll find a place to dine in the great outdoors.
And for those with canine companions, many of these restaurants allow dogs on their patio.
Back Bay Bistro
Located on the grounds of the Newport Dunes Waterfront Resort, the Back Bay Bistro offers an extensive patio next to the Back Bay Nature Preserve. We love the weekend brunch offerings (especially the chocolate fountain). Dogs are welcome.
NewportDunes.com / (949) 729-1144.
Bluewater Grill
With a menu that changes daily and seafood so fresh you'll swear it was just caught (which it often is), Bluewater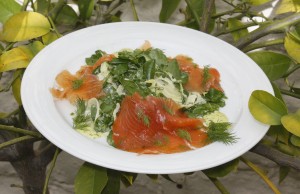 Grill has patio dining next to – and above – Newport Harbor. In addition to its regular menu, Bluewater offers monthly dining events—in July it's a New England clam bake, in August is a tuna tasting and in September a sustainable seafood feast.
BluewaterGrill.com / (949) 675-3474.
Café Jardin
Our favorite French chef, Pascal Olhats, operates this charming restaurant at Sherman Library & Gardens. Open daily for lunch and occasionally in the evening for special events, Chef Pascal's menu features a la carte items such as a baked beet salad ($10), salmon gravlax ($10), braised short rib bourguignon ($19), sautéed dungeness crab souffle ($19) and other delights. Lunch and weekend brunch are available as prix fixe options.
PascalRestaurants.com / (949) 673-0033.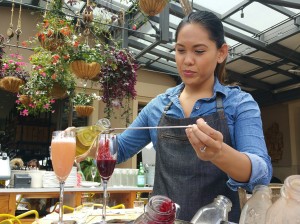 Cucina Enoteca
After dining indoors at Cucina Enoteca several times, we opted for a patio table on a recent Sunday morning and were glad we did. We felt more relaxed, especially after ordering champagne cocktails.
"The tableside bellinis during their brunch hour are made with fresh and unique ingredients, such as cucumber mint and blackberry sorbet," said Catherine. "I really enjoyed the white peach bellini, which reminded me of a relaxing summer day—which in fact it was."
Urbankitchengroup.com / (949) 706-1416.
Great Maple
"If you want to enjoy a nice summertime appetizer with a refreshing cocktail or glass of wine during a shopping break, Great Maple is the perfect option," said Catherine. "Their covered patio allows you to enjoy the sunshine without getting too hot while you take a break from perusing the stores of Fashion Island." The restaurant calls itself "a European dinette in America," but we just call it great.
TheGreatMaple.com / (949) 706-8282.
Moulin
Want to dine in Paris? Save time and the airfare, and go to Moulin Bistro, which is so authentic even the staff has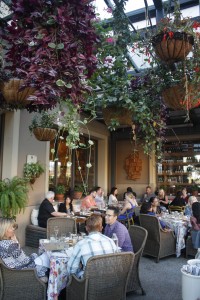 French accents. Everything from the food to the décor is "tres French." In addition to traditional breakfast and lunch options you can enjoy on the charming patio, a daily plat du jour starts at $15; Tuesday and Thursday evening prix fixe dinners are $25.
MoulinBistro.com / (949) 474-0920.
Muldoon's
It's a pub. It's a restaurant. It's all that and more. This Irish-themed gathering place in Fashion Island offers terrific Irish and English dishes and beverages. You can dine indoors, but take advantage of the covered patio with the tree growing in the middle. The patio is also the site of regular live music performances.
MuldoonsPub.com / (949) 640-4110
NB Brewing Company
Brew Co's patio is small, but it's a popular spot to have a beer and watch a televised sporting event. The menu includes terrific brick oven pizzas, burgers, salads, sandwiches, and homemade beers. We recommend the basket of fries (our favorite is the garlic fries)—they're big and tasty.
NewportBeachBrewingCompany.com / (949) 675-8449.
Pelican Hill Resort
We love the cuisine at all of the Pelican Hill restaurants, but the Coliseum Pool and Grill is the perfect place to dine overlooking the pool and golf course.
"Pelican Hill is one of my favorite places to dine outdoors because there is so much beauty surrounding you, from the ocean to the golf course to the grand columns of the structures," said Catherine. "This is a getaway that doesn't require traveling hundreds of miles, and you'll feel like you're in some exotic Mediterranean resort. I recommend sipping on their fresh lemonade on a hot day, it's delicious."
PelicanHill.com / (855) 315-8214.
Provenance
California's wine country has come to to Eastbluff Village Center with Provenance. We're captivated by Chef Cathy Pavlos' cuisine, which she calls "seasonal, local and responsible."
The patio dining is adjacent to the restaurant's 1,300-square-foot organic raised-bed garden, which is open to guests to explore during their meal. Chef Pavlos presents a New England clam Bake with a California twist on July 19.
ProvenanceOC.com / (949) 718-0477.
True Food
"I love eating on True Food Kitchen's patio," said Catherine. "It's open and modern but doesn't make you feel like you are sitting in the Fashion Island parking lot next to you. It's also a great place to get some healthy fuel before heading across the way to the shops. And the patio has large and colorful fire pits, perfect for those cool evenings."
TrueFoodKitchen.com / (949) 644-2400.