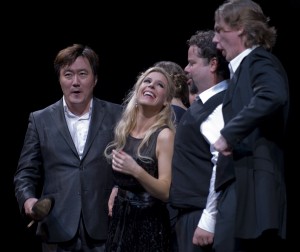 "It's going to be exciting, I'll just tell you that!" says Pacific Symphony Music Director Carl St. Clair of this week's highly anticipated performances of Puccini's dramatic masterpiece "Tosca" at the Renée and Henry Segerstrom Concert Hall.
St. Clair's words flow swiftly, spilling out as easily as notes from a glorious aria as he takes a break during rehearsals to discuss the challenges of mounting a semi-staged opera in a concert hall.
"Tosca" is the second production in a series of three for "Symphonic Voices," a project St. Clair initiated last year in response to the county's loss of Opera Pacific. The success of that sold-out run of "La Bohème" fuels this year's concert, which brings together Pacific Symphony with internationally-renowned opera singers, Pacific Chorale and the Southern California Children's Chorus.
"I've chosen operas like "La Bohème" and "Tosca" because what's really important in opera is the relationships between characters, not necessarily how beautiful the sets or costumes look," states St. Clair, whose experience as an opera conductor in Europe – including the German National Theater and Staatskapelle in Weimar, Germany – has given him valuable insights.
"Tosca has incredible intensity, passion, love, hate–all the emotions that enwrap human existence; it's unbelievable magic," he continues, calling Puccini's exquisite score "pure music where the orchestra plays a vital role."
However, St. Clair points out, "the idea of opera in a concert hall…we have to define what that means. It's a different aesthetic and acoustical experience, an opera house versus a concert hall. When you hear opera in a concert hall like this, it's much more visceral, much more immediate."
For this production of "Tosca," it also means that "every little millimeter" of space will be utilized to provide audiences with the best of both the orchestral and operatic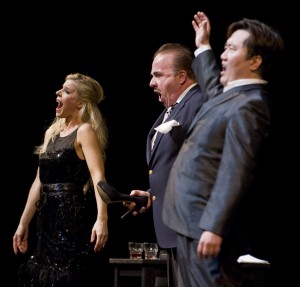 worlds. In addition to a cast of amazing voices(including soprano Claire Rutter as Tosca and tenor Brian Jagde as Cavaradossi) who have performed in opera houses from Teatro alla Scala to the Metropolitan, the production, under the direction of  Eric Einhorn, features partial staging, suggested costumes and a 90 foot screen around the orchestra where scenes from the three acts, such as the church of Sant' Andrea della Valle, the Farnese Palace and the prison Castel Sant' Angelo, will be projected.
"We have to basically transform a concert hall into a dramatic setting," says St. Clair. "To meld an opera like this in a little less than a week makes for an INTENSE- all caps!- period in everyone's lives here. It's passion driven, and it's exhilarating!"
He continues: "There's a great sense of pride for us to be able to produce a concert like this one, and the fact that we are doing it shows our commitment to this particular genre. When Opera Pacific left Orange County every art institution lost. It's an art form that needs to be performed here, and we hope everyone will come to the concert hall and share this experience with us. It will be something to behold!"
 Pacific Symphony performs "Tosca," sung in Italian with English supertitles, Saturday, Feb. 23 and Tuesday Feb. 26 at 8 p.m. in Renée and Henry Segerstrom Concert Hall, Segerstrom Center for the Arts, 615 Town Center Dr. in Costa Mesa. Preview talk with Alan Chapman at 7 p.m. Tickets are $25-$112. For more information or to purchase tickets, call (714) 876-2385 or visit PacificSymphony.org.