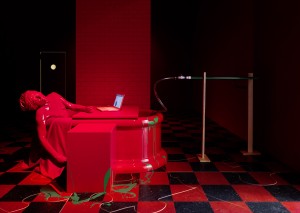 A huge dog posed with his right hind leg frozen in high lift against the facade of the Orange County Museum of Art and a big splash of yellow paint marks the spot that is now permanently his own–for now.
Take that, Jeff Koons!
"Bad Dog" is the creation of Richard Jackson, setting the tone for his first 40 year retrospective at the museum titled "Richard Jackson: Ain't Painting a Pain."
Regardless of the title, it is an intelligently conceived show that proves how painting can be more than just applying pigment to canvas.
Sixty-five works, including installations, sculptures, wall paintings and drawings on paper, described by the artists as blueprints for projects, cover a period between 1969 and the present.
Throughout, Jackson questions the relevance of historic art practices but pays tribute to pioneers of 20th century art whose sensibilities have influenced his: Edward Kienholz, Jackson Pollock, Wayne Thiebaud and Llyn cq Foulkes.
Curator Dennis Szakacs describes works beginning around 1969 as "inversions and reversals:" Blank canvasses become brushes or sculptures, with surrounding walls painted in ways compelling audiences to ponder and thus become part of the art.
"It is an ephemeral process, to be experienced at a given moment," said Szakacs of works that must be more or less obliterated at show's end.
Picture 5050 canvasses stacked in numerical order: one is placed on the floor next to two and three. The stacks grow until one walks around a wall of canvasses joined together by bright, primary color paint.
"There is a method to madness in Richard's work as his pre-study drawings show ideas growing in complexity and size," explained Szakacs.
Method and madness converge in "1000 Clocks," a room-size installation. Four walls and the ceiling covered by clocks set to tell simultaneous time, making one freakily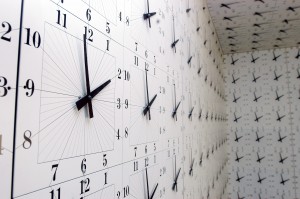 aware of minutes ticking away mercilessly–a post-Dantean punishment for procrastinators. Jackson explained that he made the clocks and every single moving part by hand to celebrate his 50th birthday.
"Beer Deer" alludes to his passion for hunting and life in the West.
"The deer are decoys that we had to cover up every time we shot paint onto the walls and canvasses as not to alter the works on loan from collectors," he explained.
Some might find his crushed and covered with fake blood replicas of Edgar Degas' little Ballerina disturbing.
"I don't like Degas," explained Jackson. "I just could not find the required reverence everyone has for him," he said.
However, few will fail to put "The Laundry Room (Death of Marat)," 2009 into modern context. Jean-Louis David showed the assassinated journalist Marat slumped into his bath, manuscript in hand. Jackson re-incarnates him in a vivid red setting with a computer and a washing machine. The more things change—
Richard Jackson: Ain't Painting a Pain" through May 5, 20013 at Orange County Museum of Art, 850 San Clemente Dr., Newport Beach. (949) 759-112 or OCMA.net.