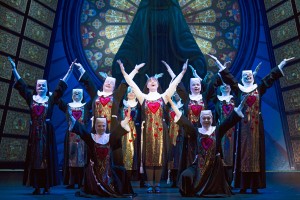 It was non-stop from O.C. to N.Y.C. for local boy-makes- good Dashaun Young, whose years as a musical theater major at California State University, Fullerton helped propel him to Broadway and nearly a decade of constant work in a field that he loves.
Young returned to Orange County this week with the touring company of the Tony-nominated musical comedy "Sister Act," which opened Tuesday evening at Segerstrom Center for the Arts and runs through the 18th.
Based on the film of the same name, "Sister Act" – which features an original score with songs by award-winning composer Alan Menken and lyricist Glenn Slater – continues to enthuse audiences with the devilishly divine tale of disco diva Deloris Van Cartier's flight to save her life after becoming witness to a murder. Her new hideout? A convent, of course!
While she doesn't exactly fit right in with her new "sisters," the story of how she changes them,  and how they change her, makes for a feel-good, rock-your-habit hit with 1970s flash and resounding with soul.
"My favorite part is the audience reaction," said Young, speaking from his Costa Mesa hotel room a few hours prior to opening night. "It's a very upbeat show, and in a time when things are so difficult and many people are struggling, this lifts your spirits; people can sit down and just have a good time."
Originally from Buffalo, New York, Young honed his singing skills attending church on Sunday mornings with his grandmother, and discovered the joys of musical theater at the Buffalo Academy for Visual and Performing Arts.
A move to Orange County in his teens landed him at Esperanza High School then Cal State Fullerton, where he discovered a love of ballet. But Broadway beckoned, and the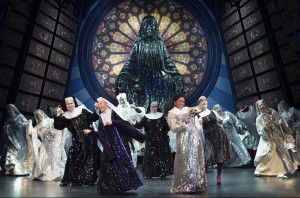 road led to roles in "Hairspray," "Legends," "The Scottsboro Boys," and "The Lion King," where he finished a four year stint as Simba before joining the cast of "Sister Act" last year.
In addition to being a part of the ensemble cast, Young covers three principal roles and works behind the scenes as one of two dance captains, which involves giving notes and teaching new cast members the choreography as "Sister Act" travels around the country.
"Things change daily, but that's what keeps it fresh for me," Young commented. "It keeps me on my toes, keeps me in the right mindset to learn the whole show."
"For those of us swinging (understudying), it's your job to know the roles and it's your job to remember them, because you can find out at any time that you'll be going on–there have been times when I've found out half an hour before the show starts!"
He already knows that he will be covering the role of Eddie this weekend, but that isn't always the case.  
"Sometimes you find out at the theater, sometimes it's in the middle of a show; you have to be ready at all times, but we like it," he stated. "As a cast we perform eight times a week, so it peps things up a bit. No matter what, the show should run seamlessly."
Sister Act runs through August 18 at Segerstrom Center for the Arts in Costa Mesa. For tickets and information call (714) 556-2787 or visit scfta.org.