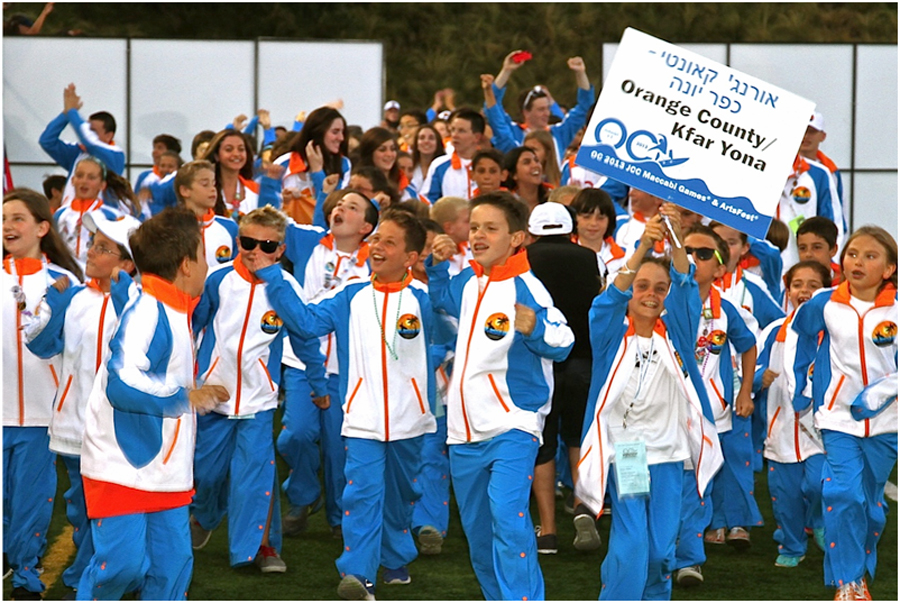 This past week, 2,350 Jewish youth athletes and artists participated in the JCC Maccabi Games and ArtFest.
More than 60 delegations and 450 coaches from across the United States, Canada, Great Britain, Israel, and Mexico competed and connected at the Merage Jewish Center of Orange County in Irvine.
Julie Holdaway, Director of Marketing and Training at Merage JCC, explained that the Maccabi Games debuted in 1982 and are the largest organized sports program for Jewish teenagers in the world.
ArtsFest launched in 2006 to give similar opportunities to Jewish teens whose strengths lie in the arts.
The Merage JCC hosted its first Maccabi Games in 2007 but this was the first time hosting the Games and ArtsFest together.
There were 66 athletes and artists from Newport Beach.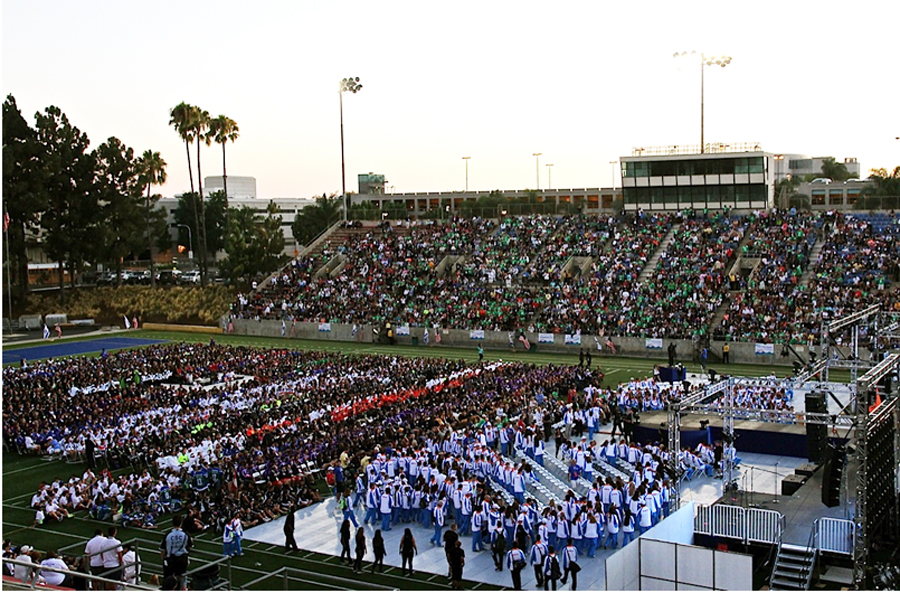 "It is a huge endeavor requiring amazing coordination, but we have folks with a lot of experience," Holdaway said. "Dan Bernstein, our Merage JCC president and CEO, is the first CEO to have run seven Maccabi programs in his career."
"Combining the ArtsFest and Maccabi Games brings more Jewish youth than ever before together here at the JCC," Bernstein said. "It is amazing to see their talents showcased amongst friends and peers."
Holdaway explained that the sports competitions and arts showcases are important and foster mutual respect and sportsmanship, but the Jewish teens especially enjoy the many social activities that promote friendship, community, Jewish heritage and values.
"We have very strong ties to Israel and the week-long events provide wonderful opportunities to strengthen those bonds." Holdaway said. "All week there are performances, exhibits, community service opportunities, and organized 'hang time' for teens to socialize."
"The security alone is a massive undertaking," Holdaway continued. "We have 10 different locations, requiring constant transportation. And when you have that many Jewish people together, there are vulnerabilities. We've never experienced problems at Maccabi, but we take our responsibilities seriously."
Holdaway said event director Samantha Cohen worked full time for over a year on planning, along with a steering committee of 30 people and 1900 volunteers.
"Whether you are an athlete, artist, family or friend, the sheer size of this event and the opportunity to connect so many teens to the Jewish community is epic," Cohen said.
Holdaway said participants in Maccabi experience such a strong connection and sense of belonging, that they continue to stay involved over the years.
"Maccabi was life-changing for me, explained Jillian Yudin of Irvine. "When I was growing up, there wasn't a big Jewish community in Orange County. I was really into sports, and Maccabi gave me an opportunity to mold both my sports and my religion into my life. It made me closer to my culture and my religion and to my fellow athletes doing the same thing. I first participated in soccer in 2001 when I was 16. I started coaching in 2007, and I've been coaching ever since. Now I'm one of the delegation heads in charge of 315 athlete artists for Team OC."
Athletes compete in one of 15 team and individual sports, including baseball, track, lacrosse and table tennis; and artists choose from eight specialties, including rock band, musical theater, acting and jazz.
Volunteer Norm Bour, Newport resident and columnist for the Newport Beach Independent, was excited to help with such a significant event.
"When I moved here, I checked out the gym at JCC because I'd heard they had amazing facilities," Bour said. "I developed a relationship with the people there, and when I heard they needed volunteers, I wanted to do my part and help with the hospitality committee."
The Merage Jewish Community Center of Orange County serves more than 2,850 member families, both Jewish and non-Jewish.
For further information, visit jccoc.org.
Cindy can be reached at [email protected]