Local celebrities recently danced for a good cause, raising more than $270,000 for the Assistance League of Newport-Mesa.
About 430 guests attended the Sixth Annual Dancing for Tomorrow's Stars fundraiser, held March 23 at The Grove of Anaheim.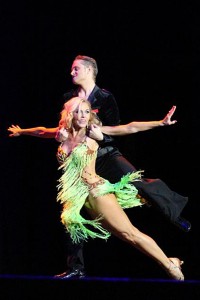 It was a "smashing success," according to a statement released by the league.
The winning dancers were Elizabeth An as best female dancer, Christopher Gialanella as best male dancer, and Stephanie Argyros as fan favorite.
Fidel Gomez, a young man who received orthodontic services through the league's dental center and then received an ALNM college scholarship, spoke at the gala.
At the gala, he said "it was because of the Assistance League of Newport-Mesa's support that he has had such great success," according to the statement.
Past dancers and community leaders were all on the guest list, including Julia and Ambassador George Argyros and their family, Jeannie Lawrence and Jim McAleer, Bruce and Jill Ayres, Brandee and Beau Bianchi, Sue and Dan Guggenheim, Lula Halfacre, Helene and Danny An, Kimberly Bernatz, and Eddie and Janet Curci Stacey.
Past winning dancer and honorary chair of the event was Sara Guggenheim Jarrett.
Kalina Kovtun from Designs by Kalina designed the dancer's costumes, Black Starr and Frost underwrote the Cast Party, and Bianchi Winery donated the wine for the event.
For details, visit alnm.org.