UPDATE: Matt Barkley announced yesterday he will complete his senior year at USC and not enter the NFL draft this year.
By Will Salem | NB Indy
For most people, the holidays bring times of rest and relaxation with family.  For Newport Beach resident Matt Barkley, this Christmas comes with final thoughts on what to do with the next year of his life.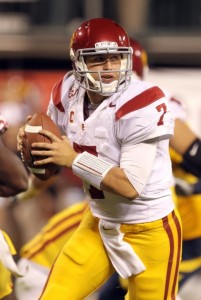 Looking back, Matt Barkley couldn't have done much more in his junior year at USC.  He finished the year with a 10-2 record and had 3,528 passing yards (an average of almost 300 yards per game).  His 39 TDs this season was the best for any QB in a BCS conference, and he did it with only 7 interceptions, which was the second-lowest for any Division 1-A QB with at least 400 pass attempts.
With almost a 70 percent completion percentage he finished the year in the Top 10 in QB rating.  He's now the single-season record holder at USC for TDs, and has the USC record for most TDs in a single game – six – which he did twice.
Looking at it all, you might say there's nothing to come back for.  However that couldn't be further from the truth.  Next year could be the best set up anyone at USC has ever had to do big things.
The schedule is favorable.  Oregon at home and Norte Dame at home appear to be the hardest matchups.  Stanford is expected to be easier with Luck gone and Syracuse and Hawaii are the easiest out-of-conference games USC has had in a while.  Should Matt Barkley return, the possibility of a Rose Bowl or a national title game isn't out of the question considering how many other players are coming back.
It's amazing how good USC was at the end of the year, considering how many young players were on the team.  Should he return he would only be losing RB Marc Tyler and FB Rhett Ellison out of the starting backfield, and only Matt Kalil out of the starting offensive line.  His defense will be back, as well, except for MLB Chris Gallippo who shared time with freshman phenom Hayes Pullard  and DE Nick Perry.
USC has plenty of depth to backfill those departures.  Should Matt return and the team do as well as expected, he could be the favorite for the Heisman Trophy.  Also, he would set the career TD and possibly passing-yard records, cementing his legacy in USC lore.
As tempting as the NFL draft may be this year, this is the first year of rookie wage scale reduction per the league's collective bargaining agreement and there's a glut of great QBs in this draft.  If Barkley can wait one year, he could go down as the best QB to play at USC and one of the best players in the history of the college game, and have less competition in his position come NFL draft time.
There's no doubt Matt has a tough decision ahead of him.