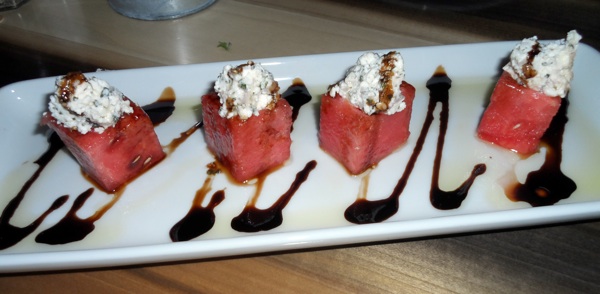 "I'm ready to eat some chow," I stated to my assistant, Catherine. "How about you?"
"Sounds good. Where?"
"How about Eat Chow?"
"I said that sounds good, where?"
"Eat Chow."
"But …"
"Eat Chow is a Costa Mesa restaurant that recently opened a second location in Newport Beach," I interrupted with a smile. "I skimmed the menu on their website. They have so many different dishes, I'd call it California Eclectic Quasi-Fusion Comfort Cuisine."
"No wonder they named it Eat Chow. Much simpler."
"Indeed. And I thought we'd stop off on the way there and drink wine."
"Don't tell me there's a wine bar in Newport called Drink Wine," laughed Catherine.
"No, it's called Orange Coast Winery, and it's in an industrial part of town," I explained. "Members of the family that own Wiens Family Cellars in Temecula recently purchased the place, and they've invited us to sample the wines."
On the way, I told Catherine that Orange Coast Winery was founded by Gus DeFalco, a long-time Newport Beach resident who brought in Doug and Debbie Wiens to run the winery. They bought the winery from Gus and are continuing the winery's legacy of making wines from grapes sourced from Paso Robles, Napa/Sonoma, and other notable wine regions.
"I'd never expect a winery to be hidden in a Newport Beach warehouse," said Catherine as we pulled up.
"It may be in a warehouse, but it has the look and feel of a boutique winery tasting room," I noted as we sampled a crisp bubbly wine called Amore D' Orange. We proceeded on to a 2010 Zinfandel from Temecula grapes, and then a 2010 Malbec sourced from Paso Robles grapes.
"I usually don't enjoy leathery, earthy wines, but this has plum and caramel components," said Catherine after a few sips.
We ended with a 2008 Beach Blend Red Reserve, which had floral and dark fruit flavors. We enjoyed it with a piece of flourless chocolate cake with raspberry drizzle.
"The wine helps dim the overwhelming chocolate flavors, and the chocolate counters the acidity of the wine," said Catherine.
"A perfect pairing," I agreed. "I'm going to bring some fellow wine fans here–the wine world needs to know about this place."
***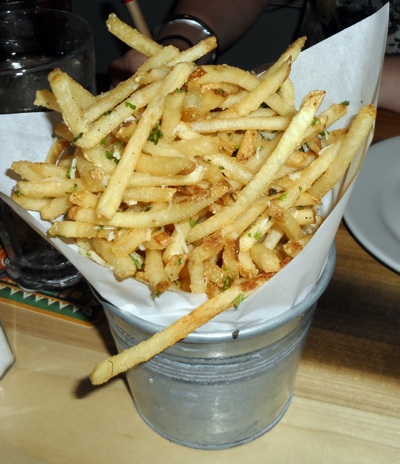 With our palates now primed, we made our way to Eat Chow, located on a side street just off Coast Highway in Newport Shores.
Designed by Ross Morgan, Eat Chow's décor is inspired by a Danish, mid-century modern look, with warm, custom wood components, beach-inspired color accents and earthy stone walls.
"This looks like a local diner, kicked up a few notches," I noted as we sat down at a booth.
"We wanted to be like a neighborhood joint," confirmed owner Brian McReynolds. "This is a very tight-knit community. Everyone knows everyone."
"I love your menu – it's all over the place," I joked.
"We have no boundaries when it comes to food. The menu has food we enjoy and tastes good. We also support local breweries by serving things you can't find in most stores. We also make a great sangria."
"What should we order? I heard we have to try the truffle fries."
"Those are a must," he agreed. "I love our meatloaf sandwich, and the pulled pork sandwich, and the French dip. Also the watermelon bites with feta cheese, mint, and balsamic reduction. We have a great shrimp and scallop paella made with sweet corn instead of rice. People tell me it's the best they've ever had."
"Those all sound wonderful," chimed in Catherine.
"Why not bring us a few things you think will give us the Eat Chow experience," I told Brian.
Soon, our table was loaded with food: truffle fries, truffle mac n cheese, watermelon bites, heirloom tomatoes with buratta cheese, and paella.
"These truffle parmesan fries are fantastic," exclaimed Catherine. "Thin and crisp with just the right amount of seasoning. I like the four different dipping sauces."
"And these watermelon bites are certainly creative – who would have thought watermelon could look like this?"
"It sounded like a weird combination, but when put all together it's a tasty summer dish," agreed Catherine. "And I've never really enjoyed mac n' cheese at restaurants because it usually tastes fake or is made with a cheese sauce, but you can see the melted cheese in this dish, and I love the bacon bits."
"This is a winner," I said, shoveling another forkful of the gooey concoction in my mouth.
"I also like the Paella with sweet corn, it adds a new element to a common dish. It's homey with a flair!"
"Homey with a flair – I like that," I said with a smile.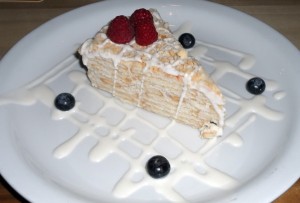 "I hope you saved room for dessert. The Lemon Cookie Cake is one of our signature items," said our server. "We take Mexican lemon cookies, pulverize them, layer them with cream–it's hard to describe, you won't know what to think, but you'll finish the entire thing."
"I expected this to be crunchy, but it's soft and just slightly lemony," said Catherine. "And he was right – you're finishing the entire thing!"