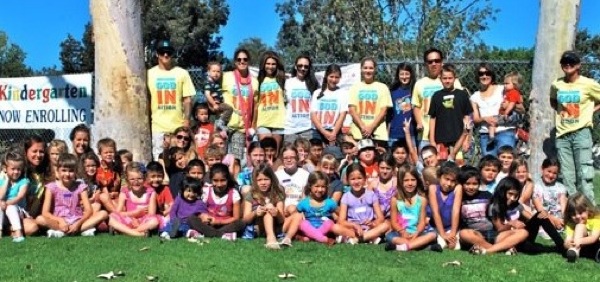 "The week of VBS was absolutely eye opening," said 19-year-old volunteer Sam Cubeiro, a Newport Beach resident. "At first I thought I was volunteering just to be helpful to Kelly, but 10 minutes into it, I realized I had the opportunity to be another voice spreading the Word of God to all those kids. They've taught me about myself and set my faith journey in a new direction in one week. I went thinking that I'd be impacting them, but it turns out, they impacted me!"
Sam was one of the 10 volunteers who helped with the 35 children at the Eastbluff location of ROCKHARBOR's recent Vacation Bible School (VBS). Tommy Larson, family pastor at ROCKHARBOR's Costa Mesa campus, explained that almost 300 volunteers gave up a week of their summer to help with the 950 children attending ROCKHARBOR's Bible schools, which were held at 39 locations in 17 cities throughout Orange County.
"This is the fourth year ROCKHARBOR has held VBS out in the community," Tommy said. "It's an outward-focused event; it's not just for the faith community. When we held it on campus, it was awesome, but the same children came who came on Sundays. They'd already heard the Big God Story and we wanted to go out into the neighborhoods to reach kids who hadn't heard about God's love. Also, we wanted to give our kids the opportunity to host a VBS and invite their neighbors. When we held it out in the community, we doubled in size. And this year, 100 kids made a first-time decision to choose to love and follow Christ."
Tommy explained that at ROCKHARBOR, they teach the Bible to children as the Big God Story.
"There are many different characters in the Big God Story," Tommy said. "Jonah, Noah and David are some of the characters in the Big God Story and each story tells us something about God. We don't want kids coming home saying, 'I want to be like Jonah'; we want them to leave saying 'God keeps His promises, I learned that through the story of Noah.' It always points back to God as the central character and all the others are support players."
"The next step is that each one of us is also a character in the Big God Story," Tommy continued. "We all have a role to play and God is calling each of us to play a role; teaching it this way helps us discover what our role is. Each day had its own 'ponder point', or important statement about God. The 'ponder points' were: God created everything; God fights for His people; God keeps His promises; God saves; and God wants you to be a part of His story."
The children at the Eastbluff venue enjoyed the creative ways they learned about God through stories, small group and worship time, arts and crafts and outdoor games. Children dressed according to different daily themes such as: favorite color day, crazy hair day, mismatch day, and superhero,or cape day.
"I really liked it when the teacher threw green Jello, and it was like the yucky frogs in the story," said 7-year-old Amara Duke. Her younger sister, Sydney, said: " I thought it was all really fun!"
Their mother, Newport resident Keeta Duke, was excited by how much her daughters loved VBS.
"My husband and I are new believers," she said. "We'd never gone to church before, and we recently moved to the area and felt like God was calling us both to Him and to church at the same time. I was thrilled that this VBS was in the neighborhood. It was so sweet to hear the kids walking home singing about Jesus. It was so special, it was really a great camp."
Newport resident Kelly Callaghan hosted her neighborhood VBS for the second year in a row, which delighted her children. Her 8-year-old daughter, Mary, said, "I love that we got to do it in our neighborhood and that my mom is in charge of it."
Six-year-old Aubrey added, "I love everything about it, especially the crazy hair day!" Five -year old James smiled and said, "I liked it all, especially the yellow Jello that was like flying locusts!"
Kelly shared her reasons for hosting VBS.
"I love my neighborhood, I love the children in my neighborhood and I love Jesus," she said. "I get to combine all those in a week of free fun. We had amazing volunteers and we had kids come who had never heard of Jesus before. They were able to hear that Jesus loves them beyond anything they could ever do, or not do."
Cindy can be reached at [email protected].