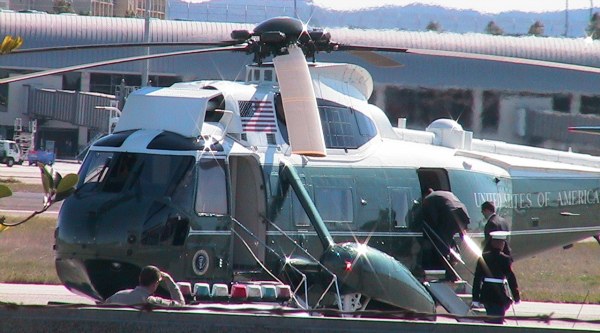 A small Cessna aircraft was intercepted by two F-16 military jets after it breached a special "no-fly" zone shortly after President Obama's helicopter left John Wayne Airport enroute to LAX, following the president's visit to Newport Beach.
The plane's pilot, who has not yet been identified was questioned and arrested after it landed in Long Beach.  A search of the airplane by authorities turned up "about 40 pounds of marijuana" according to sources who spoke on condition of anonymity to the Associated Press.
A security zone is always maintained on the ground and in the air when the President travels.
According to the North American Aerospace Defense Command, (NORAD) the military jets were dispatched from March AFB in Riverside County about 11:30 a.m. to respond, and "after intercepting the aircraft, the F-16s followed it until it landed without incident  … where the plane was met by local law enforcement."
The owner of the aircraft was identified as David Major of Grover Beach, CA, via Federal Aviation Administration records. The aircraft had been flying south, according to FAA spokesman Ian Gregor, when it strayed into the restricted zone and ignored requests to communicate with FAA air traffic controllers.
The Secret Service says the President was never in danger.  He later departed on Air Force One from LAX, heading to San Francisco as part of a three day West Coast campaign fundraising trip.
Video of President Obama taking off from JWA here.