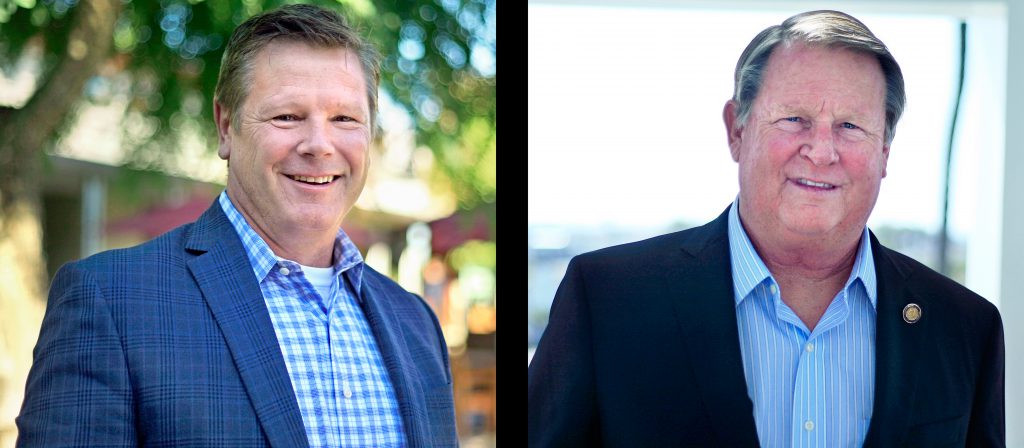 In the Newport Beach City Council election, results for one race have been too close to call for weeks now, although the challenger has consistently maintained the lead, this week the two swapped positions.
Incumbent and current mayor Marshall "Duffy" Duffield overtook challenger Tim Stoaks on Tuesday by a mere 22 votes. By the Wednesday 5 p.m. update, Duffield's lead increased to a difference of 44. Thursday's update lessened the difference by just one vote.
Although the seat for Council district 3 is still unconfirmed. With an estimated 2,725 total Orange County ballots left to count after the Thursday update, the numbers will likely continue to adjust for another few days.
"Win or lose I'm proud of the campaign I ran, and the support from volunteers and the community," Stoaks said in an email Wednesday. "I have no regrets."
In a phone call Thursday, Duffield said he had no comment on the current status of the race.
Stoaks came out ahead strong on election night on Nov. 6. He maintained a lead of about 250 to 350 votes until late last week, when the difference jumped down to less than 100. On Monday, Stoaks' lead had narrowed to just 24 votes.
The three other local Council races each have gaps wide enough to declare winners.
As of Wednesday, at 5 p.m., incumbent Councilwoman Diane Dixon has beat out challenger Mike Glenn for the District 1 seat with 59.1 percent of the votes, compared to his 40.9 percent.
Fellow incumbent Councilman Kevin Muldoon also won his re-election with a large chunk of the votes, about 67.9 percent, over current Parks, Beaches and Recreation Commissioner Roy Englebrecht, in District 4.
In probably the most contentious local NB Council race, businesswoman and longtime resident, Joy Brenner, challenged incumbent Scott Peotter, an architect, for the District 6 seat and has solidly won the race. As of the Wednesday 5 p.m. update, Brenner had collected 20,475 votes, or about 56.7 percent, to Peotter's 15,666 votes, or 43.3 percent.
In other races that cover Newport Beach, two Democrat challengers from Laguna Beach, Harley Rouda and Cottie Petrie-Norris, have taken on unbeatable leads in their respective contests in 48th Congressional District and the 74th Assembly District.