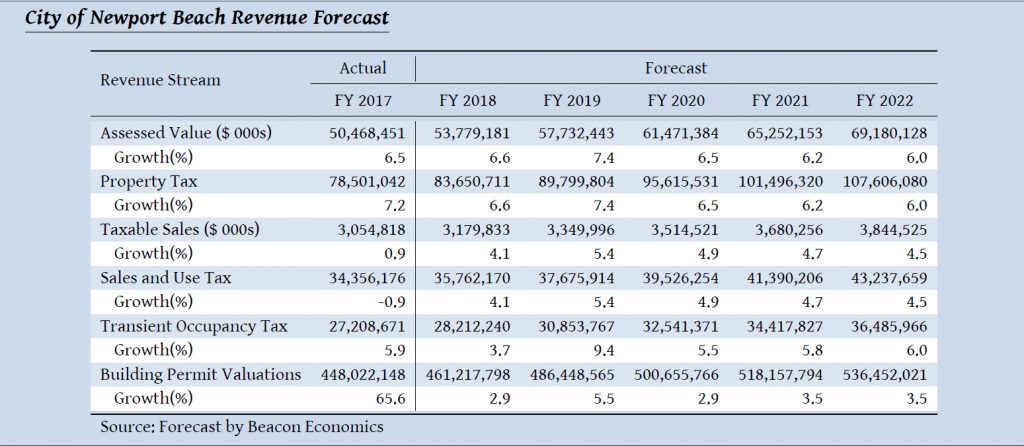 Economic experts predict growth, both locally and on a wider scale, over the next few years before it gets "bumpy," according to a recently revealed report.
Released Tuesday, the Newport Beach Revenue Forecast was prepared by Los Angeles-based Beacon Economics, LLC.
Beacon's projection represents an "optimistic outlook" through the 2021–22 fiscal year and assumes growth at a moderate pace.
"Although the federal tax overhaul is in the rearview mirror, other policy changes may lie ahead, lending inherent uncertainty to this forecast," experts concluded in the document.
The company's current forecast for the city "continues to assume a baseline trajectory for the national economy."
In a table displaying projected growth for Newport Beach, the forecast lists six areas: Assessed Value, Property Tax, Taxable Sales, Sales and Use Tax, Transient Occupancy Tax, and Building Permit Valuations.
All areas see the biggest bump in 2019 then very slightly decrease over the following three years. Assessed Value, for example, sees a projected 7.4 percent growth in the 2019 fiscal year and between 6 and 6.6 percent during all other years.
"On the surface, 2018 looks to be a lot like 2017 in terms of economic growth," the forecast reads, "but dig a little deeper and growing frictions become apparent. These will begin to create problems in the economy in 2019 or beyond. So enjoy the current economic calm-before long, the ride is going to grow bumpy."
Beacon officials used "standard time-series econometric techniques based on historical correlations and forecasts of economic trends." In a layered approach, they considered a number of factors, including: National policy changes, demographics, governmental spending, taxes, real estate, and more.
Beacon considered both national and state factors and created an Orange County model using "macro trends." Experts found that the outlook for the regional economy is good, and spending growth is expected to continue in line with historical averages.
"From a political standpoint, 2017 will go down as one of the most chaotic periods in recent U.S. history, although it may well end up being overshadowed by 2018," Beacon experts explain in the document. "Economically, on the other hand, 2017 was fairly ho-hum. While ho-hum may not excite, the sure and steady growth carries with it another advantage. The U.S. economy is now in the 9th year of its current expansion, and at this point there is little reason to believe that will end in 2018."
In Newport Beach, corporate tax cuts should boost investment spending on the part of Orange County firms.
Meanwhile, personal tax cuts will leave households with more disposable income, some of which will be spent in the local economy.
Although individuals in the upper end of the tax bracket will experience the largest break in terms of overall tax burden, they tend to have a lower marginal propensity to consume, compared to individuals in the middle and lower income brackets.
Nonetheless, the impact should yield an increase in taxable sales in the short term in 2018 and possibly into 2019.
The city's revenues most closely associated with local real estate continue to grow, with prices and sales for existing single-family residences surging in 2016–17. The current forecast is calling for continued increases in real estate-driven revenue as home price growth and construction activity support growth in the near term.
Newport Beach construction trends are also steadily trending higher from recession lows.
For more information, visit newportbeachca.gov.