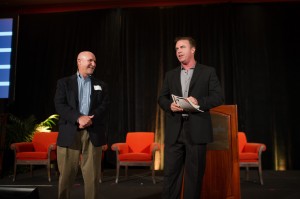 "Today in America, about 50 percent of marriages end in divorce," Jim Burns said.  "According to an article I read recently, 70 percent of marriages end in divorce in Orange County. Marriages are going to die if we don't do something about it."
Burns was one of several who inspired and motivated 200 people recently during the HomeWord Benefit at the Balboa Bay Resort about ways to change those alarming statistics.
Burns is the executive director of HomeWord Center for Youth and Family at Azusa Pacific University. He is also the founder and president of HomeWord, a non-profit Christian organization designed to assist adults worldwide as they help young people make wise decisions and lead positive lives.
HomeWord's stated mission is to "advance the work of God in the world by educating, equipping, and encouraging parents and churches to build God-honoring families from generation to generation."
HomeWord, which started in 1985, partnered with Azusa Pacific University in 2009 to form The HomeWord Center for Youth and Family.
HomeWord's four guiding values are: building strong marriages, confident parents, empowered kids, and healthy leaders. Their resources include books, radio, seminars, and conferences for children, teens, parents and church leaders.
"Tonight we're going to focus on strengthening marriages," Burns said. "HomeWord has a 1 percent Marriage Initiative. If we can lower the divorce rate in America by 1 percent, then we can affect 1.5 million kids a year. It's not just about statistics, it's about changed lives."
Jim explained that HomeWord continues to develop fresh curriculum and needed tools to help pastors, counselors and mentors strengthen couples preparing for marriage, in their first few years of marriage, or those who need to refresh their marriage.
HomeWord plans to train 500 family ministry leaders who will go out and train others, and 500 students through Azusa's M.A. Youth and Family Ministry.
HomeWord radio reaches over a million people a day through a 30-minute radio broadcast in most of the country's largest cities. Every month tens of thousands of parents visit HomeWord's website and more than a million of their resources have been translated into 17 languages on six continents.
"Marriage is difficult because it involves humans" Doug Fields, pastor, author and speaker with HomeWord said. "We're all so different, which makes marriage so difficult.  The number one thing impacting life and marriage is busyness. Time is a precious commodity, and in Orange County, this time thing is ramped up. A busy life leads to a busy marriage, and a busy marriage can lead to emptiness. Busyness impacts your life; then you bring that state of unrest to your marriage. Love can't be rushed."
Fields challenged married couples to spend 1 percent of their week connecting with their spouse.
"It's less than two hours a week," Fields said. "Focus on your marriage. Spend 15 minutes a day connecting – eye to eye, knee to knee. Don't be a drive-by husband or a texting wife."
Near the close of the evening, Burns stressed the need for positive marriage role models, and recognized one of his.
"We need more role models," he said. "We're going to honor a role model and hero in my life. Bob Howard is one of the most influential and inspiring people I know, and his wife Cleva is right there with him. Over 25 years ago, HomeWord started in their living room. They have been married 53 years, modeled a life of integrity and serving, housed countless youth workers, been incredibly generous and empowered more kids than I know. HomeWord wouldn't be here if it wasn't for them. There's power in being present in people's lives."
For further information, go to homeword.com.
Cindy can be reached at [email protected].