Longtime Newport Beach resident and arts supporter Wendy Brooks died unexpectedly in her home last month. She was 75.
Wendy was born in Los Angeles and attended University High School. She went on to study English and theater arts at the University of California, Los Angeles. Wendy played six musical instruments and collected contemporary art.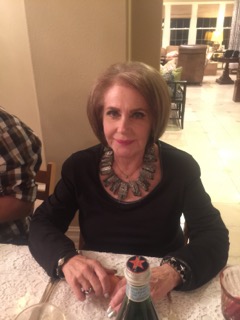 She served two terms as an Arts Commissioner for the city of Newport Beach. Knowing my enthusiasm for supporting the arts, Wendy convinced me several years ago to apply for an open seat on the Arts Commission. I was accepted and served for four years as an arts commissioner before the demands of editing the Newport Beach Independent made me decline a second term.
It seemed that whenever and wherever there was an event associated with the arts, Wendy was there.
"She was an art lover extraordinaire and such a beautiful spirit," wrote art advisor and curator Jeannie Denholm in an email. "And boy could that woman dress and accessorize! What a bright shining soul. I will miss her smiling face."
Former Arts Commission Chair Robyn Grant attended Wendy's funeral at Hillside Cemetery in Los Angeles, and noted that "Wendy was remembered by all as a caring and generous spirit, intelligent, thoughtful and a good friend, sister and mother. She was especially remembered for her love of the arts, especially baroque music and architecture. She will be missed."
Wendy is survived by her two sons, Darren and Brett Kaplan, her brother Bruce Stephens, her granddaughters, Sarah and Taylor, and grandsons, Ross and Andrew.
In lieu of flowers, donations may be made to the Newport Beach Arts Foundation, P.O. Box 11325, Newport Beach, CA 92658.