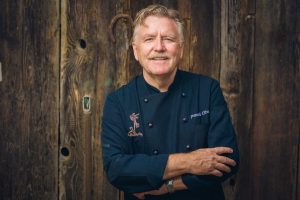 By Christopher Trela & Catherine Del Casale | NB Indy
This Sunday will be a gray day at Sherman Library & Gardens in Corona del Mar, but that's a good thing!
Our favorite French chef, Pascal Olhats, is renowned for his culinary skills at his numerous restaurants, including Café Jardin restaurant at Sherman Gardens, but he's also a big animal lover—make that a lover of big animals.
Chef Pascal and his wife, Christine, took an ecotourism vacation at the Save Elephant Foundation's Elephant Nature Park preserve in Chang Mai, Thailand, and it changed their lives.
"We met elephants rescued from all over the region," said Olhats. "Some had scars from shackles, while others had been used for tourist entertainment, causing major damage to their bodies. I was inspired by Save Elephant Foundation's founder Lek Chailert, and knew I wanted to take action once I returned home."
True to his word, Chef Pascal has created a culinary fundraiser called The Gray Event, which will take place on Sunday, Oct. 23 at Sherman Gardens.
Beginning at 4:30 p.m., guests can enjoy a Gray Reception with Thai appetizers and traditional Thai music and dance, participate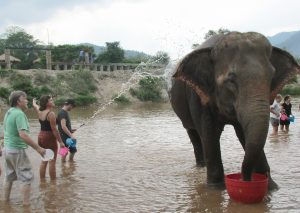 in silent auction opportunities, and have fun taking selfies while adorned with travel gear and a visual of elephants as the backdrop. Guests will also meet Lek Chailert, who is traveling to the U.S. especially for this event.
At 6:30 p.m., those who are attending the Gray Dinner will be welcomed into the dining room for a mulit-course dinner with wine. Chef Pascal and culinary expert Cathy Thomas will present a cooking demonstration. Special guest chefs from local Thai restaurants will also be featured.
"Sherman Gardens and Café Jardin are the perfect venues for an event focused on such beautiful animals," said Chef Pascal. "I know our guests will be inspired not only by the program we have planned, but the sheer beauty that will surround them throughout the evening."
Tickets for the Gray Reception are $100. Tickets for the Reception and Gray Dinner are $250. Visit TheGrayEvent.com for more information and to purchase tickets.