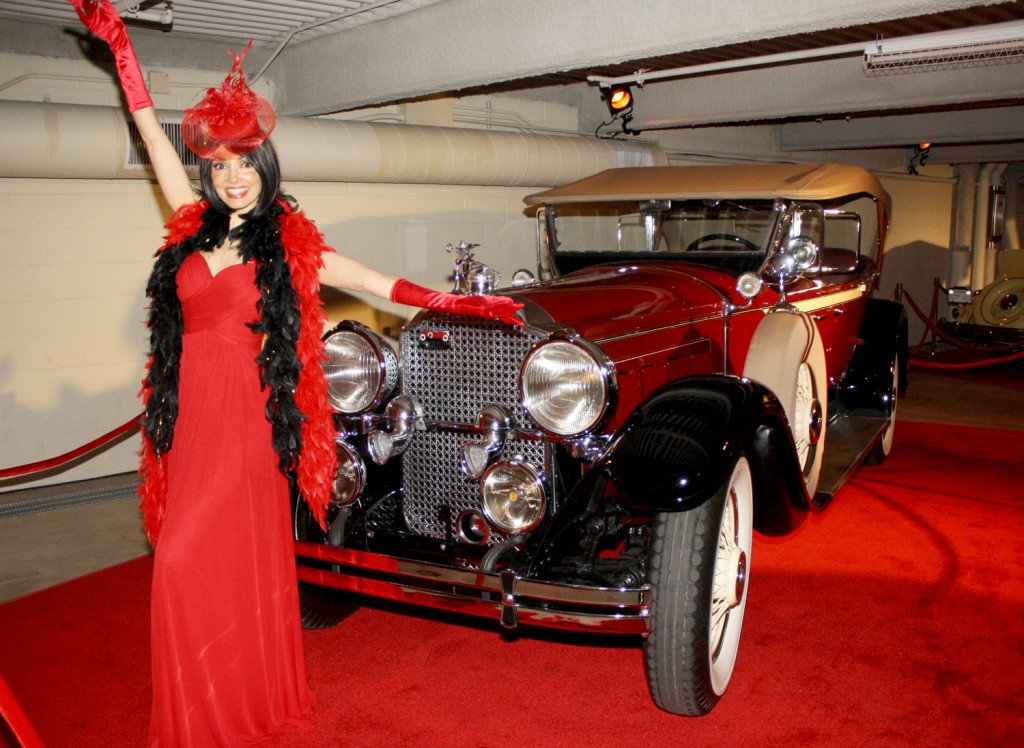 A dazzling Roaring 20s-themed affair, complete with vintage cars, a red carpet lined with clamoring paparazzi and old-fashioned newsboys, jazz music and torch singers, and scrumptious appetizers from neighboring Rothschild's Fine Italian restaurant greeted nearly 200 guests at Farmers & Merchants Bank's Corona del Mar VIP Grand Opening last Thursday evening.
Specially invited guests from Corona del Mar and surrounding communities enjoyed a firsthand look at the newest F&M branch, which has made a distinctive architectural statement at the intersection of MacArthur Boulevard and Pacific Coast Highway.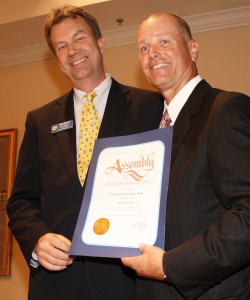 Modeled after the iconic F&M headquarters in downtown Long Beach (built in 1923 in the neo-Italian Renaissance style), the 4,000-square-foot branch building has distinctive features such as a façade with Grecian-style columns and brass plated steel doors, a huge clock tower atop the structure, an elevator that transports visitors from underground parking to the lobby, sit-down teller stations that accentuate the bank's focus on personalized service, and an expansive amber skylight.
Guests were shuttled to the party from nearby Newport Beach Country Club and greeted by Regional and Branch Manager Jeff Spinelli, a 29-year bank employee, as well as CEO Daniel K. Walker, President W. Henry Walker, and other officials of F&M Bank.
Among the local dignitaries who joined the festivities with proclamations were Newport Beach Mayor Pro Tem Edward Selich and representatives from the offices of U.S. Representative Dana Rohrabacher, State Senator Mimi Walters and State Assemblyman Alan Mansoor.
Bernie Svalstad, from the Corona del Mar Business Improvement District, presented F&M Bank with a beautification award for the new branch.
"We are eager to become a valued local merchant for the community's vibrant commercial sector and for those who call Corona del Mar home," said Daniel Walker. "Our desire was to design a branch that would be an architectural asset admired by the local community, and we are just as eager to bring our personalized style of banking to Corona del Mar – a style that began 107 years ago when our family first opened F&M's doors."
"F&M's arrival in Corona del Mar comes as a long-term investor, not a short-term tenant," added Henry Walker. "This is the way F&M does things – viewing community real estate investments as our commitment to stay for the long haul. We believe it is our civic duty to invest in the communities we serve."
The building adjacent to the new branch also was purchased by F&M Bank.
For more information, visit FMB.com.