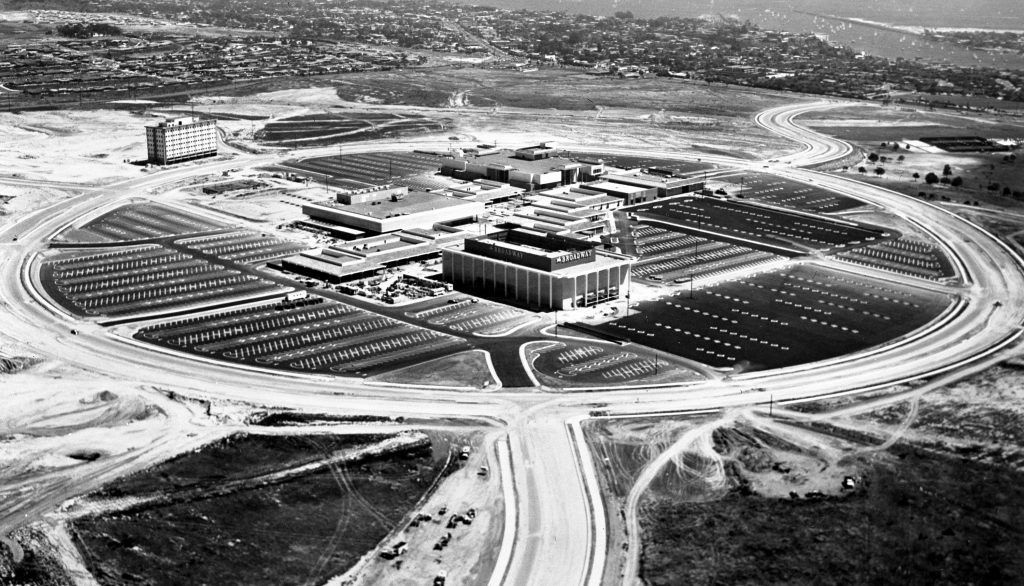 Birthday wishes are in order for Newport Beach's most famous shopping destination. Fashion Island turns 50 years young on Sept. 9.
Known for its designer stores, high-end restaurants, and beautiful coastal location, Fashion Island has been celebrating all summer. Since July 29, Fashion Island has offered a unique treat or discount every day at one of its many boutiques or eateries as part of the 50 Days of Fashion Island promotion.
Special offers can be found throughout the 75-acre shopping center, including the Starbuck's Golden Celebration Affogatto, Golden Celebration Frappuccino, or Golden Celebration Latte, created just for the outdoor mall's special day. The flavor? Birthday cake, of course.
All of this leads up to the official Sept. 9 birthday, when Fashion Island will hold a Customer Appreciation Day from 2 to 6 p.m.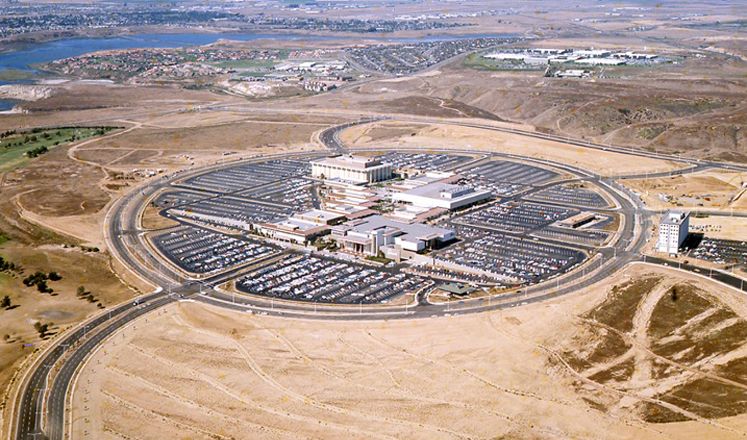 In the Beginning
Even Fashion Island's early days were glamorous. It was dedicated during a champagne-filled charity event called the "Flight to Fashion Island." California Lieutenant Governor Robert H. Finch, President of the Irvine Company William Mason, and Vice-President of J.W. Robinson's Carter McDonald, toasted with 18,000 partygoers to celebrate the opening of the spacious open-air shopping center.
The first four department stores anchored at Fashion Island were J.W. Robinson's, Penneys, Buffums, and The Broadway, which wasn't actually open on Sept. 9, but did open for business two days later.
Only two restaurants – Bob Burns and Velvet Turtle – were open for the dedication, along with 56 stores. Fashion Island now has over 120 stores, 40 dining locations and a movie theatre complex—although Island Cinema is closing in early September to make way for a new movie theatre scheduled to debut in spring 2018.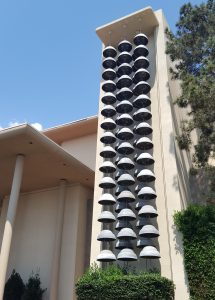 While the buildings have been renovated and repurposed over the decades, the facade of Robinson's (now Macy's) remains the most recognizable from that era. In fact, the Macy's building holds one of the few remaining landmarks from the mall's opening year.
The bells on the exterior of Macy's south entrance are the work of sculptor Tom Van Sant. These wind chimes were installed in 1967 and named by the Guinness Book of World Records as the largest wind chimes that year. They no longer hold that honor, but still give enormous character to the three-story department store.
The volume of the wind chimes has been reduced by bell-shaped domes that cover all of the wind chime pipes. There are over 50 domes and over 300 chimes in the bronze creation. Van Sant's art is also featured on multiple buildings throughout Newport Beach.
Fashion Island Today
Fashion Island is a major draw for visitors to Southern California. The Irvine Company, which built the center and still owns and operates it today, is the number one source of property tax revenue for the city. Its shops are undoubtedly a high source of sales tax for Newport Beach as well.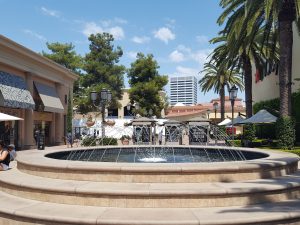 But for a shopping center that is 50 years old, it has become more than just a fancy mall. It's a slice of history that has seen architectural and fashion styles come and go. It has been the scene of dozens of Newport Beach Film Festivals, fashion shows, backdrops for tv shows and movies, and most importantly, a venue of memories. Visits to Santa or the Easter Bunny, Christmas tree lightings, and dates both memorable and less so have taken place in the middle of Newport Center.
Visit ShopFashionIsland.com for more info.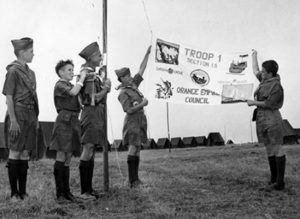 Let's say Happy Birthday with Fashion Island Fun Facts:
In 1953, the Boy Scouts of America held its National Jamboree on the land where Fashion Island now stands. More than 50,000 Boy Scouts attended the Jamboree and erected a tent encampment known as "Jamboree City." Jamboree Road is named after the Boy Scout Jamboree.
At its groundbreaking 1966, Fashion Island was called "Newport Town Center." It was changed before the dedication ceremony.
Fashion Island was originally supposed to be an enclosed mall. Designer of Newport Center and Fashion Island Alberto Trevino took his colleagues to the Old Orchard Mall in Skokie, Illinois to convince them to build an open-air center instead.
The famous Koi pond opened in 1968, one year after Fashion Island opened.
All of the koi are from the Niigata Region of Japan.
The larger, thicker koi are females. In spring, they seem perfectly still as though they are stuck in the pond planters, but they are actually trying to lay eggs.
The koi keepers said they try to keep the number of koi at 80, which is the ideal number for the 20,000 gallons of water they inhabit.
The Skydivers statue by Aristides Demetrios, which graced Fashion Island until 2010, was offered to the city of Newport Beach when it was removed. The City Arts Commission voted not to accept the statue because of the cost to move and repair it.
Skydivers is still owned by the Irvine Company, but it has not been on display since it was at Fashion Island. It is currently in storage.
The two longest tenants in Fashion Island are Garys Menswear and Neiman Marcus. Both were opened in 1978. Neiman Marcus was originally a two-story department store. The third story was added in 2005.
The old Penneys building was vacated in 1982 and became the Atrium Court in 1984. It now houses several shops along with a popular food court on its lower level.
Whole Foods' location was originally built for specialty food maker Dean & Deluca. When Dean & Deluca abandoned plans for their flagship store in 2009, Whole Foods took over and opened in 2012.
Bloomingdales moved into The Broadway building in 1996. It was the first Bloomingdales on the west coast.
Remember the Hard Rock Cafe? It opened in 1992, but did not stand the test of time next to its neighbors Fleming's and Roy's. Known for concerts and as a host location for the Newport Beach Film Festival, the Hard Rock closed in 2005.
See's Candies was one of the first tenants of Fashion Island, but later closed, only to reopened in 2014.
Fashion Island is slightly younger than its retail rival South Coast Plaza in Costa Mesa, which opened in March 1967—six months earlier than Fashion Island.