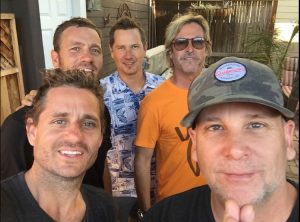 Drummer or chef?
That was the question Stan Frazier pondered when he was growing up in Newport Beach, but fortunately he was able to pursue both music and the culinary arts.
As the drummer and principal songwriter for the popular band Sugar Ray, Frazier toured the world, had six Top 10 hits and sold over 10 million records.
While on tour, Frazier learned to cook for the band, and discovered a variety of international flavors and techniques. After leaving Sugar Ray, Frazier was cast on a food-­‐based reality TV show called "Chef Race." He became part-owner of A Restaurant, and with the help of fellow Newport Beach buddies purchased Sgt. Pepperoni's Pizza on Bristol Street and returned the restaurant to its former glory.
Now, Frazier is turning his attention back to music. He's been working on new material and putting together a new band called Side Deal—a band comprised of some familiar names.
Formed in 2016, Side Deal features Grammy winner Charlie Colin (Train), Murphy Karges (Sugar Ray), Jeff "Skunk" Baxter (Steely Dan, The Doobie Brothers), Scott and Joel Owen (Pawnshop Kings), and Frazier.
The band will be performing at the Newport Beach Film Festival's Opening Night Gala on Thursday, April 20.
"We played a big party at the Sundance Film Festival a few months ago, and when we returned the Newport Beach Film Festival called us," said Frazier. "To be able to play in your home town, on opening night, it's such an honor. We're going to do a short set full of hits. We're looking forward to it. The chemistry with the new group is outstanding."
Frazier said he has been marinating the group and putting it together over the past few months. While the basic membership is set, Frazier hopes that other local musicians will feel free to come and sit in on a revolving basis.
"If you're in town and want to moonlight, come and plug in a guitar. Dave Wakling of the English Beat will be in the mix soon, and Slim Jim Phantom of The Stray Cats has shown interest. Everyone we approach has been super receptive."
Frazier also started a production company and has been producing music and developing artists. One of his discoveries, singer Claire Wright, has just signed with Epic Records. Frazier wrote and produced her EP, which is due to be released this summer.
"My love for food, and Sgt. Pepperoni's, is great, but I love to give back to these kids and share my knowledge," said Frazier. "It makes me so happy."
And to see this perpetually happy guy make some seriously happy music, catch Side Deal at the Newport Beach Film Festival. Visit NewportBeachFilmFest.com for details.