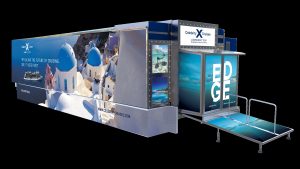 Whether at sea or on land, Celebrity Cruises seems to be everywhere!
We've become fans of Celebrity Cruises despite having never set foot on one of their deluxe cruise ships.
Celebrity Cruises has poured wine at various local events, from the Newport Beach Wine & Food Festival (their instantly recognizable "Celebrity X Cruises" logo is on our Festival souvenir glasses) to the OC Restaurant Week kickoff event to numerous other celebrations.
Now, Celebrity Cruises has launched a unique mobile cinema tour that is traveling around the country, with stops in Southern California this weekend and next week.
This "Leading Edge Mobile Cinema" is a state-of-the-art, custom-built 91-seat high-definition mobile cinema, designed to screen a 15-minute cinematic experience, including a 3-D animatic reveal of Celebrity's newest class of ships in nearly a decade: Edge Class.
As they view the film, guests will enjoy beverages including wine tastings plus gourmet truffle popcorn (yum!), and have the opportunity to win one of more than 50 modern luxury giveaways with Celebrity.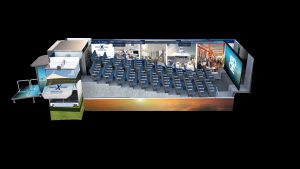 "The feedback on Celebrity Edge has been incredible and the 'Leading Edge Mobile Cinema Tour' allows us to show even more people across the country how transformative the ship is," said Dondra Ritzenthaler, Senior Vice President, Sales, Trade Support and Service, Celebrity Cruises. "By partnering with festivals and special events nationwide, we'll be able to show the world what we mean when we say Celebrity Edge is designed to leave the future behind."
At select tour stops, Celebrity's own Marine Research Naturalist Brent Nixon will provide an "Oceans Alive" experience featuring high definition 4K under water filming encounters with sharks, turtles, stingrays, and majestic humpback whales, allowing guests to feel the "pulse" of the living oceans Celebrity sails around the world.
Celebrity Edge will homeport in Fort Lauderdale, FL., making her first sailing December 16, 2018. Bookings are now open at celebritycruises.com/edge, or through a travel agent, for the ship's two seven-night Caribbean itineraries. Celebrity Edge will be joined by three sister ships in 2020, 2021 and 2022.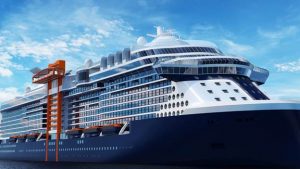 You can experience this Leading Edge Mobile Cinema on Saturday, April 15 from 4 to 7 p.m. at Pike Waterfall Mall, 95 South Pine Ave. in Long Beach. click here to RSVP. Don't be surprised if you see us in the theater–we're curious to learn about this new Edge ship.
You can also check out the mobile cinema at Jamaica Bay Inn in Marina Del Ray on Thursday, April 20 from 4 to 7 p.m. click here to RSVP.
And if you're going to the California Wine Festival on Saturday, April 22 in Lantern Bay Park in Dana Point, make sure you visit the mobile cinema (a Festival tickets is required).
To view a complete listing of cinema tour stops, visit www.celebritycruises.com/edge/mobile-tours/
For those unfamiliar with Celebrity Cruises, the brand's iconic "X" is the mark of modern luxury. The ships are contemporary, and the dining experiences superb, and the service impeccable. Celebrity Cruises has 12 ships offer modern luxury vacations that visit all seven continents, as well as Alaska and Canada. Celebrity is one of five cruise brands operated by global cruise vacation company Royal Caribbean Cruises Ltd. For more information, celebritycruises.com.