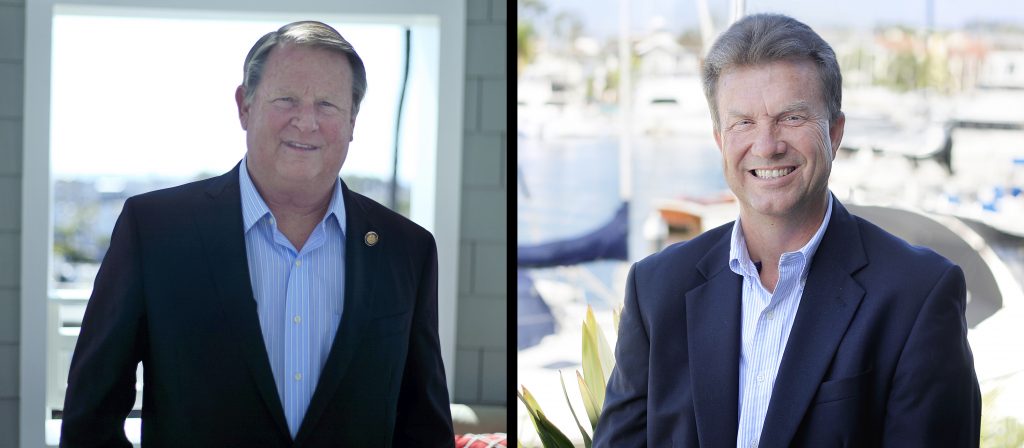 A state board this week cleared two Newport Beach City Council members of any conflicts of interest related to complaints filed earlier this year, but has yet to address the most recent complaint which includes the newly revealed paid work relationship between the two.
On Wednesday, the Fair Political Practices Commission rejected complaints filed in June by Lauri Preedge, and in September and October by Susan Skinner, about possible conflict of interest violations between Mayor Marshall "Duffy" Duffield and Councilman Scott Peotter.
But the FPPC letter does not include rejection of Skinner's latest complaint, filed on Tuesday, which includes the recently revealed details of the paid consulting work Peotter did for Duffield and his company, DC Developments, LLC, while parceling property in Adelanto.
"This complaint has the most powerful information as it has actual documentation of the conflict of interest, whereas the prior complaints had a concern raised about a possible conflict of interest," Skinner explained in an email Thursday.
Jay Wierenga, FPPC communications director, confirmed that the new complaint was received and is under review.
Generally speaking, anytime FPPC Enforcement Division receives new information, or becomes aware of any new information, they can open a case or reopen a case, Wierenga explained. All complaints are reviewed to determine merit, he added.
In Wednesday's letter from FPPC Enforcement Division Chief Galena West, the state commission explains that they reviewed the documentation from the complaints made earlier this year and found that there was "insufficient evidence of a conflict of interest violation" by either Duffield or Peotter.  West confirmed that they will not pursue an enforcement action in this matter.
A joint statement from Duffield and Peotter, sent out by their shared political consultant Dave Ellis on Wednesday, calls the complaints "unfounded."
"Today's rejection by the Fair Political Practices Commission of Susan Skinner's multiple complaints against us underscores how one misguided person can misuse the process," the statement reads. "The work done in Adelanto – 100 miles from Newport Beach – to prepare the Duffy Electric Boat property for sale has no relationship to any votes cast by us in Newport Beach. It never did and never will."
Although the details about the work in Adelanto weren't included until Skinner's most recent complaint, which was not mentioned in the FPPC's letter Wednesday.
City and state records show that Peotter represented Duffield and DC Developments before the city of Adelanto last year when Duffield requested to subdivide a parcel of land where his company, Duffy Boats, has a warehouse. Records also show that Peotter was paid more than $10,000 by DC Developments.
Duffield is the managing member of Newport Beach-based DC Developments, LLC, according to California Secretary of State's record of the LLC's Statement of Information form, filed Aug. 2, 2017. Records show that the LLC initially registered with the state in December of 2000.
On Peotter's California form 700, statement of economic interests, filed in April and again in August, DC Developments is listed as a source of income of $10,000 or more.
Adelanto Planning Commission staff reports from August and September 2017, lists Peotter, with ASLAN Companies, Inc., representing Duffield and DC Developments, LLC, in a proposal to subdivide one 4.69-acre parcel into three lots located within the Manufacturing/Industrial zoning district. The property is located at 17260 Muskrat Ave.
The staff report explains that the property use is currently a boat operation that will remain in one of the buildings. It also states that the applicant "ultimately will apply for a Minor Conditional Use Permit (MCUP) for cannabis cultivation at a later date."
California Secretary of State records show Duffield as manager of Muskrat Consultants, LLC, based out of Adelanto. Muskrat's Statement of Information lists "consulting" as its type of business. The Articles of Organization, the initial registration form for an LLC in California, was filed with the state in November 2017.
According to the California Bureau of Cannabis Control, Muskrat Consultants, LLC, holds a distributer license for medicinal cannabis. The license is active and expires on Dec. 6.
In an email sent to the Indy on Sunday, Duffield explained that the cannabis licensing was to make the property more appealing as he moves his facilities to Utah. Peotter was not involved with any of the work regarding medicinal marijuana, Duffield confirmed.
"Scott [Peotter] was not and never will be on my payroll," Duffield wrote. "I did not hire him to "get it done." He worked on parceling up the property and nothing else. No licensing of cannabis."
When his factory in Adelanto was re-zoned for cannabis cultivating several years ago it increased the value, Duffield said.
"We are not growing pot," he stated. "I am actively manufacturing electric boats at the plant and there is no room to be growing pot. It is impossible to do grow pot and build boats at the same time."
Duffield has been working with the city of Ogden, Utah, for the past three years to move his Duffy Boat facilities there, he explained in the email.
"As a property owner I am trying to maximize the value to sell the land, not grow pot," Duffield said. "We obtained cannabis permits to increase the value of the property many times. Parceling triples (in my case three lots instead of one big lot) the potential value, along with city and state approvals which we have obtained."
They have fallen out of escrow three times due to lack of funds from buyers, according to Duffield.
Several real estate websites show the industrial property at 17260 Muskrat Ave., in Adelanto, for sale. Photos in the listing include shots of a warehouse with "Duffy" signage. A virtual video tour of the property, listed as "industrial for cultivation," for sale was posted online on June 5, 2017.
The listings explain that the site is "well suited for cannabis cultivation and manufacturing" and that it's a "grower's dream." It also explains that the city of Adelanto passed an ordinance allowing for the indoor cultivation of medical marijuana.
In a letter to Newport Beach City Attorney Aaron Harp sent on Wednesday, local lawyer Phil Greer raised concerns about potential violations to state and city laws. The letter represented "a consortium of Newport Beach residents and taxpayers," Greer wrote.
Several questions and a request for comment for Harp by the Indy went unanswered.
In Skinner's latest complaint to the FPPC, she claimed the paid consulting relationship created a conflict of interest.
"At any time, Mr. Duffield could add, subtract or eliminate the financial compensation received by Mr. Peotter and thus had undue influence on Mr. Peotter and how he might vote on the city council," Skinner wrote. "On numerous occasions, Mr. Peotter voted on issues before the city council in which Mr. Duffield publicly declared a business/source of income conflict of interest and recused himself from the vote. Because Mr. Duffield was a source of income to Mr. Peotter, he should have recused himself from any issue affecting the income of Mr. Duffield."