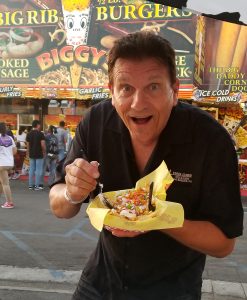 Bacon wrapped turkey legs. Giant steer. Ferris wheels. Ring toss. Cake decorating contest.
Yes, the OC Fair is back, better – and bigger – than ever.
This year's theme is "Free Your Inner Farmer," but it should be called "Free Your Inner Foodie," because the crazy culinary concoctions take center stage—or at least share the stage with a variety of performers in the Pacific Amphitheatre, The Hanger, and on stages throughout the fairgrounds.
Dining at the OC Fair means ignoring calorie counting and fat content and giving in to deep fried, bacon wrapped goodies that often defy description.
According to the OC Fair, last year more than half of attendees surveyed said the only-at-the-Fair food was their favorite part of their visit.
So what are some of the new food items this year?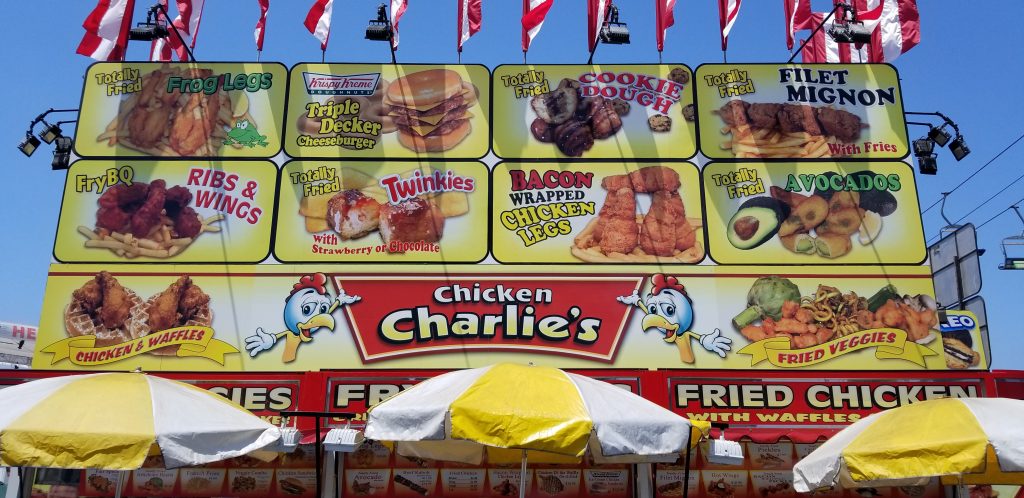 Chicken Charlie's is known for deep frying just about anything (their deep fried butter at a previous fair was maybe the most indulgent dish they've created). This year, they've added filet mignon on a stick. I opted to try their bacon wrapped, deep-fried pickles, served with ranch dressing. The verdict: Yum! The sweet and savory combination was like a party in my mouth. I also sampled their deep-fried Oreos, another odd yet satisfying fried dessert.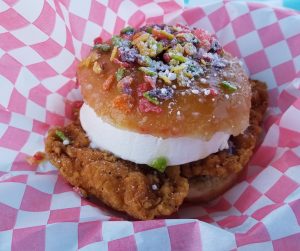 My favorite Chicken Charlie delight: an ice cream and fried chicken sandwich with Krispy Kreme donuts as the bun, topped with fruity pebbles cereal and sprinkled with powdered sugar. The combination of flavors might sound awful, but the balance of sweet and savory is perfect. The chicken is crispy yet tender, and the ice cream is a perfect complement. The dish is messy, but it's so good I ate the entire thing! The deep fried mushrooms are also excellent.
I also tried the Texas-sized donut with ham and pineapple at Texas Donuts, which was also a tasty treat. Again, the savory and sweet combo worked perfectly.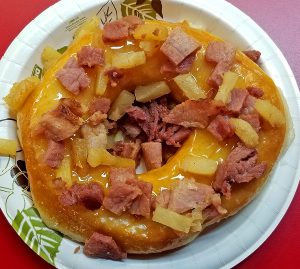 The Caramel Crack Fries at Biggy's features French fries tossed in butter and sprinkled with cinnamon sugar then drizzled with salted caramel sauce and topped with whipping cream and fruity pebbles cereal. The concept sounds interesting and almost works, but my order was light on butter and cinnamon sugar, so despite the whipped cream it was a little dry. That was on day two of the fair, so they should have the recipe fixed by now.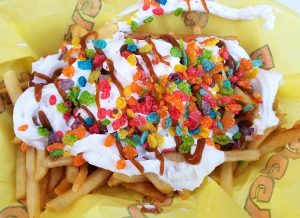 And then there's the deep-fried shrimp on a stick at a new stand called Get Fried. The twist—the shrimp is coated with siracha ranch sauce and fruity pebbles. Not easy to execute a meal on a stick, but this one is fairly easy to eat, and delicious. But what's with all the fruity pebbles cereal toppings?
I also ordered one of my favorite food entrees at the Bacon A-Fair: truffle gouda bacon fries, a delicious treat with truffle oil, fresh aged gouda and bacon bits.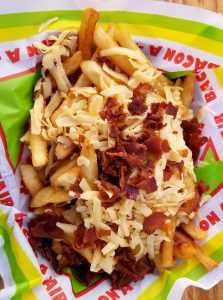 Other noted dishes: spaghetti donut formed with pasta and topped with pesto, alfredo, carbonara or marinara at Pignotti's; the OC Crunch Cinnamon Roll featuring caramel, cinnamon crunch cereal and frosting at D&D Country Fair Cinnamon Buns; Pine and Swine sourdough bread with butter, garlic, cheddar and mozzarella cheese, pineapple and ham at Ten Pound Buns; unicorn cotton candy donut with sparkling strawberry glitter glaze, rainbow candy, bubble gum cotton candy at Texas Donuts; and of course the giant turkey leg wrapped with a pound of bacon at Bacon A-Fair.
Wants to taste several dishes without being overwhelmed? Get a sampling of food and treats for only $3 each at most food stands every Thursday from noon to 4 p.m. The samples include funnel cake, tri-tip, lemonade, cinnamon rolls, tacos, gelato, cotton candy and more. But if you want some of the crazy concoctions mentioned, you'll need to order the full size dish.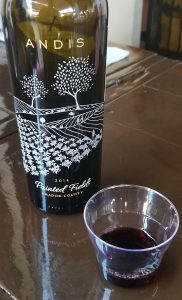 OC Fair Wine
Another of my favorite things to do at the OC Fair is visit the wine pavilion and taste award-winning wines. Vintners from throughout California enter their wines in the annual OC Fair wine competition, hosted by the OC Wine Society. The judges are mainly winemakers who taste hundreds of wines in a blind tasting several weeks before the fair. The winners are available to taste in the wine pavilion on a rotating basis, meaning that wines you taste one day may not be there the next. More than 50 wines at a time are available for tasting, 2 tastes for $3.
I tasted the wines on two of the days I've been to the fair, and found several outstanding labels I want to order. Hint—take a photo of the labels of your favorite wines, it makes it easier to find them online.
Visit OCWS.org for a list of this year's award-winning wines.
Ghost Scream
I strolled the main products mall until I found the Ghost Scream hot sauce booth, owned and operated by chef Matthew Sisson and his wife Deandra. They launched Ghost Scream several years ago when they decided to see if they could develop some spicy recipes using the infamous ghost chili pepper yet create sauces that anyone can enjoy.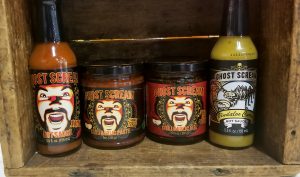 "It's hot but anyone who craves the heat can enjoy it. Our love for intense flavor and spice brought this hot sauce to life," said Matthew, who I chatted with before the fair opened. He and his wife live in San Clemente, but they travel the country and visit fairs to sell their wares, althojgh ghost screm has become so popular it is now sold in specialty stores including Irvine Ranch Market in Newport Beach.
Their four products: Vindaloo Curr (A spicy curry concoction made with the rare and rambunctious Moruga Scorpion Pepper), Chili Garlic Paste, Chili Garlic Jam, and the original Ghost Scream Hot Sauce.
I sampled the Ghost Scream products at the fair, and can verify that they are tasty—and damn hot!
Music Music Music
And then there is the music. Already I attended the Happy Together tour concert with The Turtles, Chuck Negron from Three Dog Night, Mark Lindsay from Paul Revere and the Raiders, The Association, Gary Puckett, and the Cowsills. Surprise—they all sounded terrific! The Cowsills were charming, as were The Association. Time might have aged them, but their voices and musicianship were intact. Same with Gary Puckett and Mark Lindsay (I grew up a Paul Revere and the Raiders fan). Chuck Negron told the audience he is 78, but looked and sounded years younger as he sang classic Three Dog Night hits, backed by a terrific band who expertly handled most of the music for each group on the bill. The Turtles were energetic and fun.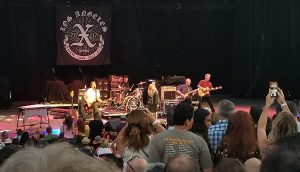 A few nights later, it was a concert featuring 80s bands The Fixx, X (who actually got their start in 1977), and Psychedelic Furs. X was in particularly fine form, although guitarist Billy Zoom was relegated to sitting on a tall director's chair, but his guitar playing was as fun as ever. I have been an X fan since I first saw them play in the fabled Masque nightclub in Hollywood in 1977.
I also caught an Elton John tribute band in the hanger, a fun place to see concerts. The fair offers numerous tribute band shows, all of whom are the best at what they do. The Elton John show was spot on musically and even visually, and had the crowd singing along to Elton's numerous hits.
Retro Futuro is another 80s greatest hits package, with hitmakers ABC, Belinda Carlisle, Modern English, and others delivering hit after hit.
Some of the upcoming shows: Steve Martin and Martin Short, Willie Nelson and Alison Krauss, and many more in the Pacific Amphitheatre, and tribute bands Journey Unauthorized, Zeppelin Live, and The Michael Jackson Experience in The Hangar.
The OC Fair is open Wednesday through Sunday. Admission varies. Visit OCFair.com for more info.