Newport Beach City Council unanimously approved a pay raise for the city's top cop this week.
In a 7-0 vote on Tuesday, Council members agreed on a contract amendment for Newport Beach Police Chief Jon Lewis.
The major changes involve what City Manager Dave Kiff considers a "merit increase" of four percent for Lewis.
With an increase of about $9,000, as Kiff clarified during the meeting, Lewis' annual base salary is now $233,734.03. The amendment also included a one-time contribution of about one percent of his salary to his deferred compensation plan.
Councilman Kevin Muldoon noted that this type of raise normally would give him pause, but when looking at Lewis' track record, the answer is clear.
"When we're looking at a five-year crime low, excellent morale, and leadership of our amazing police department," this pay raise is an acknowledgement of Lewis' great work, Muldoon commented.
At the Council's special closed meeting on Monday (when they interviewed city manager applicants), Corona del Mar resident Laura Curran spoke during public comment. She questioned several parts of the updated contract, including no explanation for what is described as "executive leadership" duties.
Curran also asked about what prompted the salary increase and what justifies the amount suggested. There is no public explanation, she noted. Residents don't know if Lewis is getting this increase in compensation for exemplary performance, benchmarking, or other reasons, she said.
On Tuesday, Kiff mentioned that, following an evaluation, he found Lewis to be a "very strong" chief and "doing all the right things."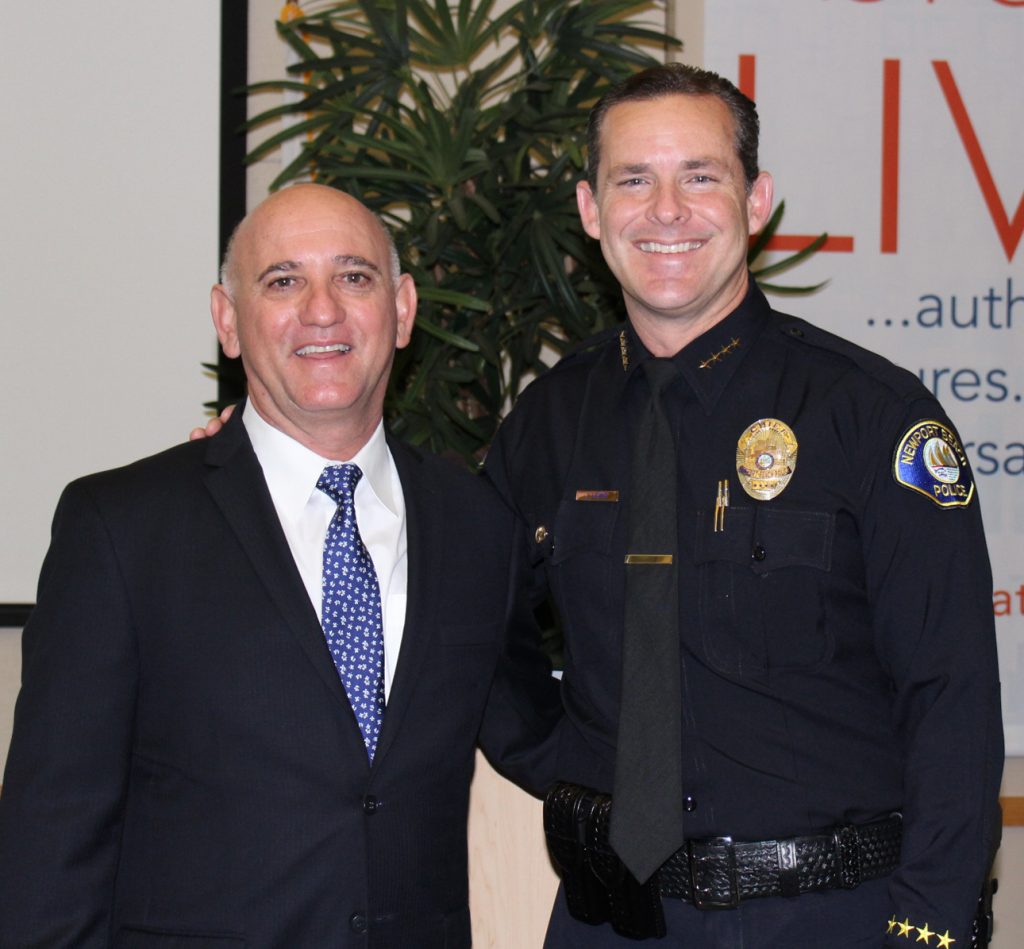 At the earlier Council study session on Tuesday, Lewis provided a presentation of the "overall, big picture" of crime in Newport Beach during the last six months.
The study session report on crime statistics was "impressive," Muldoon said later during the regular meeting. The city is "bucking the negative trend" of crime in California, he added.
"The city of Newport Beach is in great hands, from the top down," Muldoon noted. "I'm incredibly proud of our chief and police department."
During the study session, Lewis provided a "snapshot" of crime in the city, including: Forcible rape is down by about 33 percent, burglary is down about 14 percent, and larceny-theft is down about 16 percent. The only crime that has seen an increase in 2018 so far is auto theft, which is up about 7 percent. Police have also made more arrests, up about 3 percent.
Aggravated assaults are also down, by 35.9 percent, so far in 2018.
"That's a real encouraging number, particularly from what we saw last year," he noted.
This time last year, police reported an uptick in aggravated assaults. Just over half of these types of crime (an attack where a weapon is used and causes no injury, or by using hands, fists or feet and causes serious bodily injury) are alcohol related, and many occur in West Newport, he noted.
"These are serious assaults," Lewis said.
Some of that is a result of the partnerships and strategies, including working with alcohol serving establishments, which is an ongoing relationship that has taken years to develop, he noted.
"This ongoing communication that we have with our establishment owners is one that is impacting these numbers in a positive way," Lewis said.
Another strategy they've utilized are conducting "licensing compliance operations," he added. They are undercover operations where they monitor over-service, "minor decoy type of operations," Lewis explained. Most are compliant, he noted, but there "appropriate accountability" if not. There is also follow-up on the establishments to confirm that alcohol is being sold responsibly, he said.
Councilwoman Diane Dixon, whose district covers the Balboa Peninsula, said it's a constructive and cooperative relationship between the police and tavern owners.
The one increase police have seen this year is in auto theft. There have been 71 incidents of this type of crime this year versus 66 last year, for an increase of 7.6 percent. This is the third year of a consistent uptick of auto theft, Lewis noted.
So far this year, 36 percent of auto thefts used a key somehow, like a hidden key, which is down three percent from last year.
"I think we can do better than that," he said.
It's about making the opportunity a little harder for the thief.
The most stolen vehicles in the city are a Toyota camry and tacoma, Chevy silverado and Tahoe, and Ford F-250.
He also reported a historic low for part one crimes (more serious offenses like homicide, rape, aggravated assault, burglary, arson, etc.). Over the last five years, this type of crime typically had more than 1,100 cases reported (apart from 2014, when crime was unusually low across the country). In 2018 there have been 966 cases.
Lewis also spoke about vacation checks, "see something, say something," DUI arrests, traffic collision locations, and more.
Mayor Pro Tem Will O'Neill, as well as several other Council members, praised the Lewis and the police department's work and their engagement with the community.
"These are shockingly good numbers," O'Neill said. "Kudos, Chief. Oftentimes cities, frankly, are judged on how well they maintain the safety of their communities and you're getting an A plus here."