By Garry Brown, Executive Director / Orange County Coastkeeper
Newport Beach's locals are the pulse of this city.
Most residents grew up here; running and playing on the sand since they could walk. Some might even try to convince you that they were born in the water.
This tight-knit community continues to prove its passion and commitment to protecting the main thread that unites them as a city: their beaches.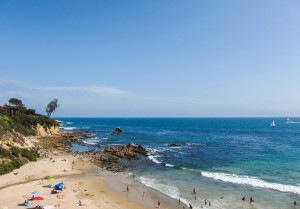 Newport Beach continually goes above and beyond the mandated EPA regulations for water quality to ensure the clean water for residents and the 8.5 million tourists that support our local economy.
The city takes strong measures to protect its waters from one of the most plaguing issues for any coastal community: debris. For the past 11 years, the city inspected and cleaned 100% of its 3,233 catch basins and continued the voluntary alley sweeping program to collect 5,698 tons (dry) of debris and litter.
"It is very important for our visitors and residents to have clean water that they can use recreationally and enjoy," said John Kappeler, the Water Quality Manager for the city of Newport Beach.
Excellent water quality stems from the extensive, long-term projects that make water quality improvements a top priority to council members, public officials and community members in Newport Beach.
The Buck Gully Resource Management Plan details a 20 year plan to make ongoing improvements to the coastal canyon to increase public access, fire safety, water quality, and native plant restoration. The city also shows extensive support of water conservation projects, education programs, and campaigns such as the OC "Be a Water Hero" campaign, July's "Smart Irrigation Month," and the annual Children's Water Education Festival.
Newport Beach continually applies for grant funding for the best trash and debris removal devices out there. Some of this funding comes from Orange County voter approved Measure M, a fund for the installation of water quality devices and natural treatment systems to clean up polluted urban runoff before it enters harbors and oceans. The city has utilized Measure M Tier 1 grant awards for litter removal and trash skimmer removal projects in Newport Bay.
With Newport Beach's passionate commitment to clean water, the city and its comprehensive plans for water quality improvement projects act as an example to be followed by its neighbors up and down the coast.
According to Kappeler, one the reasons the city needs to be pro-active with their water quality measures is because Newport Beach is situated at the end of a funnel for upstream cities. All of the polluted urban runoff from inland cities thus becomes Newport Beach's problem.
There is plenty of work to be done, and days such as Swimmable California Day (held on July 25) serves as a reminder that all cities and residents need to continue the fight for clean water.