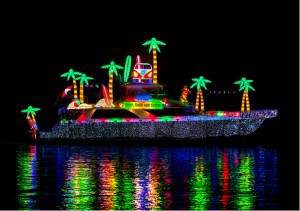 The Newport Beach Christmas Boat Parade has announced a spectacular Grand Marshal lineup for the five-night holiday tradition that enters its 107th year in 2015.
For the first time in its history, multiple nights of the parade will include Grand Marshal appearances by talented athletes, entertainers and distinguished members of the community.
Drawing millions of visitors annually, the Newport Beach Christmas Boat Parade is the longest- running, lighted holiday boat parade in the nation and the largest harbor parade in California. Hosted by the Commodores Club of the Chamber of Commerce, the boat parade begins Wednesday, Dec. 16, and ends Sunday, Dec. 20, 2015, featuring approximately 100 festive boats and the theme "Seas the Holidays."
Nightly festivities include fireworks and an all-star Grand Marshal line-up.
Wednesday, Dec. 16 – Arte Moreno: Los Angeles Angels of Anaheim owner Arte Moreno has guided the Major League Baseball team to six American League West Division championships over the past 12 years. A leader both on and off the field, Moreno established the Angels Baseball Foundation in 2004 to invest in education, healthcare, arts and sciences and community-related youth programs throughout the region. Fireworks will light the sky to kick off this year's event and can be seen over the Newport Beach Pier about 6:15 p.m..
Thursday, Dec. 17 – Christen Press and Amy Rodriguez: U.S. Women's National Soccer players Christen Press and Amy Rodriguez will kick off the second night of holiday fun on the harbor. Orange County native Amy Rodriguez has won two Olympic gold medals and has played in two World Cup games, while Christen Press is a World Cup champion who holds the title of all-time leading scorer for the Stanford University women's soccer team.
Friday, Dec. 18 – "The Voice" Season 8 Contestants: Four alumni from the hit NBC singing show "The Voice" will bring their talents to Newport Harbor including Brian Johnson, whose impressive vocals and range landed him a spot on the top 12 of the competition; Jacob Rummell, a singer-songwriter with powerful vocals reminiscent of Michael Jackson and Bruno Mars; Bay Brooks, a free-spirited singer with her own unique, soulful spin on country music; and Barry Minniefield, the soulful singer also known as "Hollywood's Singing Chef" for his extraordinary talents in acting, singing and cooking.
Saturday, Dec. 19 – Tournament of Roses Queen and Court: For the second consecutive year, the Tournament of Roses Royal Court will dazzle onlookers before the official Rose Parade on January 1, 2016. The Royal Court's participation in the Christmas Boat Parade celebrates the extensive history of both beloved SoCal events. The 2016 Rose Queen is Erika Karen Winter and the Royal Court includes Donaly Marquez, Sarah Shaklan, Natalie Hernandez-Barber, Rachelle Liu, Regina Pullens and Bryce Bakewell.
Sunday, Dec. 20 – Fireworks Finale: A stunning fireworks show will conclude the five-day holiday celebration. Visitors are encouraged to secure a spot near the Balboa Pier to view the show, which starts with a bang at 9 p.m.
"We're thrilled to have such a fantastic group of athletes, entertainers and community members as part of this year's parade," said Steve Rosansky, president and CEO of the Newport Beach Chamber of Commerce. "It gets better with each passing year, and we're looking forward to five unforgettable nights of festive fun."
The parade will begin at Bay Island at 6:30 p.m. and end at the same site at approximately 9 p.m. each evening, completing its 14.7-mile route around Newport Harbor. The route offers multiple viewing spots around the harbor for residents and visitors to enjoy for free, as well as a number of restaurants around town offering beautiful harbor views.
Debuting December 5, Marina Park will be a brand new viewing area for this year's parade. The 10.5-acre recreational center will provide ample space for parade-goers, with family-friendly activities planned there each night.
For more information, visit christmasboatparade.com.