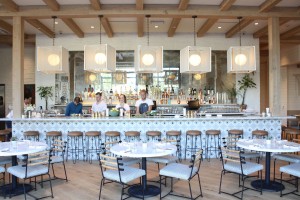 Gratitude, a new iteration of LA's Café Gratitude, the organic and plant-based restaurant, has opened inside Castaway Commons at 1617 Westcliff Drive.
Gratitude provides a distinct dining experience, with a seasonally-driven menu from Chef Dreux Ellis, accompanied by an organic beverage program crafted by Jason Eisner, the beverage director at Café Gratitude's Mexican counterpart, Gracias Madre in West Hollywood.
Gratitude, which is one of the first tenants in the multi-use building, is open for breakfast, lunch and dinner daily.
"With all that's happening in Orange County from a dining perspective, we are thrilled to introduce our first Gratitude restaurant in such a vibrant community," said Lisa Bonbright, CEO of Love Serve Remember, the parent company for the Gratitude, Café Gratitude and Gracias Madre restaurants in Southern California. "We look forward to shaking things up with dishes and cocktails crafted specifically for our new neighbors in Newport."
While Gratitude is designed to offer a more upscale experience for guests, the Newport Beach destination will share the philosophy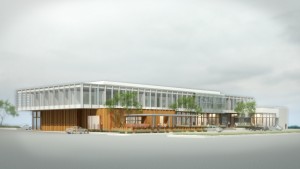 of all Café Gratitude restaurants: to serve food that respects both the diner and the environment.
The interior design of Gratitude was imagined by the leadership at Love Serve Remember in conjunction with designer Wendy Haworth. The space features soothing neutral tones with custom decor and lighting that offers an organic transition from casual daytime lunches and breakfasts to the more experiential evening scene.
White washed brick walls, exposed oak beams and pillars, and lush plants create a spa-like environment that is juxtaposed against the dramatic landscape of the central bar, ensconced in geometric grey and white tiles and lined with custom barstools that are reminiscent of vintage French design.
There is also a grab-and-go area, as well as health and wellness retail items from The Detox Market.
Castaway Commons is set to become the area's most dynamic new boutique dining, shopping, fitness and wellness destination.
Castaway Commons is owned and operated by Burnham-Ward Properties (burnham-ward.com), who is reinventing the center's 32,000 square feet of premium commercial real estate as a sophisticated and appealing environment.
In addition to Gratitude, Castaway Commons also will include a Ra Yoga studio, KIT Coffee, Lavender Salon, and the expansion of the practices of plastic surgeon Dr. Terry Dubrow, as well as dermatologist Dr. Kristen Forman.
Burnham-Ward properties is headquartered in Newport Beach, and is recognized as a driving force in the West Coast commercial real estate market. Other Burnham-Ward properties include SOCO and The OC Mix.