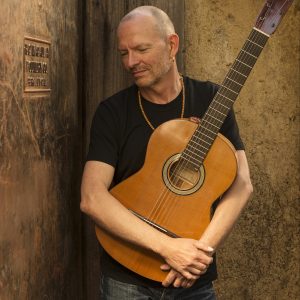 It's sunrise in Santa Fe, New Mexico, and Ottmar Liebert is taking a stroll on his ranch, listening to music through his headphones.
But it's not just any music. The Grammy-nominated guitarist has been working on a new solo album, and he listens to the tracks as he records them.
"The smartest thing I did was build a studio here, away from everybody," explained Liebert during a phone interview from his home just outside Santa Fe. "Everything is digital, so I can work on a recording, mix it, work on it some more."
Liebert is finishing his new album just in time—he and his band Luna Negra embark on a six-week tour that kicks-off on Sept. 16 at the Hyatt Newport as part of the Hyatt's Summer Concert Series in the Hyatt's intimate amphitheater.
Liebert and his band, which includes Jon Gagan on bass guitars, Chris Steele on drums and percussion, and Peter Adams on accordion and keyboards, will be delving into Liebert's extensive catalogue, as well as adding a healthy dose of Liebert's latest album, "Waiting n Swan," a reggae-influenced recording that is as much a tribute to Bob Marley as it is a musical departure for Liebert, who for more than 25 years has blended classic and modern Flamenco music into a sound that's all his own.
"It was a lot of fun," said Liebert as he recalled the process of recording "Waiting n Swan."  "There's a connection between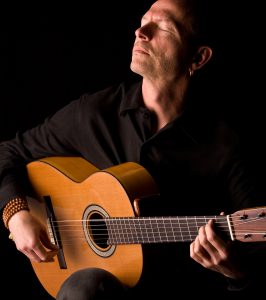 reggae and flamenco, and everybody loves Bob Marley. He was it for me growing up. The Beatles seemed old, the Rolling Stones were history, Bob Marley was it at the time."
"Waiting n Swan" includes 12 tracks—seven penned by Marley (including "I Shot the Sheriff," a 1974 hit for Eric Clapton), and three by Liebert, including two of his classics ("Heart Still/Beating" and "Barcelona Nights") re-recorded reggae style.
"It's interesting that people enjoy the new version of 'Barcelona Nights,' I think that's part of the reason we are still around," said Liebert. "We always arrange our music [differently] every year, it keeps it exciting."
That's one reason why Liebert went in another direction for his upcoming album.
"It's completely different, something that was personal and small, just using one guitar," explained Liebert. "I did everything slow. I wanted to create an antidote to our smart phone-obsessed time, with a new notification or comments every couple of minutes, people rushing from one thing to the next. I wanted to create something the opposite of that."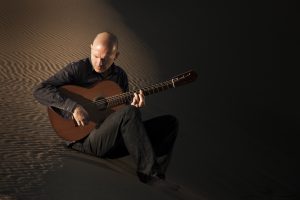 During the recording process, Liebert either used a slow tempo or played fast and slowed the recording to half speed.
"By using this half speed technique, it extended the sound of the guitar a few octaves below a regular guitar, so it's a really rich quality," he said.
Ultimately, said Liebert, his goal is to make music that people like, while at the same time following his muse.
"The heart wants what the heart wants," said Liebert. "Nobody knows what makes a hit. Music is like surfing. You keep swimming and looking for a wave. Some work, and some don't."
Fortunately for Liebert, he's been riding one musical wave after another, with no sign of wiping out.
For tickets to Ottmar Liebert and Luna Negra at the Hyatt Regency, visit series.hyattconcerts.com.