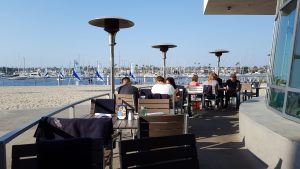 By Christopher Trela & Catherine Del Casale | NB Indy
There may not be a more relaxing place on Balboa Peninsula to enjoy a meal than Lighthouse Café at the new Marina Park.
Lighthouse Café is the latest project from restaurateur Doug Cavanaugh, the man behind Ruby's Diner, but it's light years away from the Ruby's menu, and concept.
Open for breakfast, lunch and dinner, Lighthouse – which has an indoor dining area with floor to ceiling windows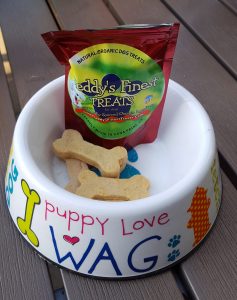 that offer a view of Newport Harbor along with a wrap-around dog-friendly patio – owes more to Cavanaugh's Beachcomber Café concept.
The menu at Lighthouse comes courtesy of Chef Ryan Sumner, who spent five years at Beachcomber before coming to Lighthouse.
We had a wonderful lunch at Lighthouse earlier this year, with our well-behave dogs sitting next to us, and had vowed to return soon to try more of the menu.
That opportunity presented itself last month when Christopher learned that Lighthouse Café – which offers Happy Hour Monday through Friday from 3 to 6 p.m. – also hosts Yappy Hour on Tuesdays, with a small bowl of dog treats given to every pooch who brings their human companion for Happy Hour.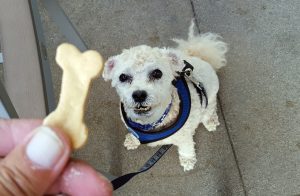 The treats are from Freddy's Finest Treats, which are made from locally sourced organic ingredients. We first met Freddy at the Newport Beach Farmer's Market, where he sells his doggie treats most Sundays. They're also available for purchase inside Blend Coffee Shop at Balboa Bay Resort, and online at FreddysFinestTreats.com.
Christopher brought Spencer, his Maltipoo, to Lighthouse Café for Happy/Yappy Hour. While he perused the happy hour menu, a bowl of Freddy's treats was brought out, which Christopher doled out to an obviously pleased Spencer.
The Lighthouse Café happy hour menu is temptingly simple: white fish street tacos ($4.95), pretzel ($4.95), wings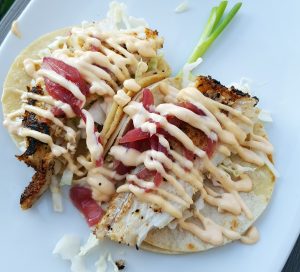 ($8.95), lomi lomi ($7.95), and chowder tots ($5.95).
Christopher sampled several items while sipping a local brew.
"The white fish tacos are a terrific value, and the secret sauce drizzled on top adds a zesty flavor that holds the dish together," said Christopher. "And what can you say about a bowl of tater tots with gravy poured over them and bits of bacon on top?"
We've never had lomi lomi before: salmon salad that looks like a cross between poke and ceviche. Served at Lighthouse Café with house-made chips, the combination of flavors and textures was addicting. The same can be said about the wings, which are coated with a sweet and tangy sauce topped with sesame seeds.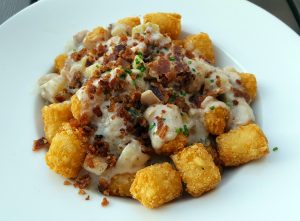 Now that the summer tourist season is over, navigating the Balboa Peninsula is much easier, making this a perfect time to enjoy Lighthouse Café no matter when you dine.
For more information, visit LighthouseNB.com.
Happy Anniversary to Bluewater Grill
In 1996, Jimmy Ulcickas and his business partner Richard Staunton opened the first Bluewater Grill on the site of the former Delaney's and Sea Shanty Restaurants in Newport Beach.
"Back in 1996, Bluewater was at the forefront of the fresh, sustainable seafood conversation," said Ulcickas. "Folks weren't used to getting hyper-fresh seafood and shellfish right in their own neighborhood, and the question of fish origins was just starting to take off. We are still the sustainability leader, on track to practice a 100 percent sustainable trade, and one of the few to regularly certify our menu with the Monterey Bay Aquarium and other organizations. We're also one of the few restaurants to operate our own fishing boat, which gives us more control over the fish we ultimately serve our customers. It's a difference you can taste."
Ulcickas and Staunton were clearly on the right path, because now, 20 years later, they're about to open their eighth Bluewater Grill restaurant, this one in Carlsbad Village.
To celebrate 20 years of serving fabulous seafood, Bluewater Grill offers special anniversary
"Throwback Thursdays" menus through Oct. 6 featuring weekly favorites at 1996 prices. The all-day Throwback Thursday specials include tuna poke in a jar ($7.95) on Sept. 15, crab artichoke dip ($7.95) on Sept. 22, calamari ($7.95) on Sept. 29, and a bowl of New England or Manhattan clam chowder ($4.50) on Oct. 6.
For more information, visit bluewatergrill.com.