Fireworks! Barbecues! Music!
Whether you're a Yankee Doodle Dandy or simply a patriotic citizen, the Fourth of July is a time to celebrate, and Newport Beach has plenty of celebrations planned, including parades, concerts, and of course, fireworks.
Newport Beach Independence Day on the Bay
The Newport Dunes Waterfront Resort & Marina hosts a Fourth of July family extravaganza beginning with a chili cook off at 11:30 a.m., with dozens of teams from around Newport Beach offering up mild to extra spicy servings of Red Chili and Chili Verde.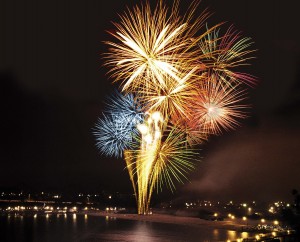 Once people have sampled the selections, they can watch the pros go to work. Ruby's diner will host the All American Food Eating Contest. Contestants will face a three-course meal featuring three Ruby's premium chiliburgers, two baskets of Fries, and one Mud Pie Shake. 
There will also be an ice cream sundae eating competition for children. 
The Kids Corral features activities children including inflatable attractions, craft stations, face painting, snow cones, and water balloons.   
The music starts at 3 p.m. with Black Star, followed by Carlos the Experience (a Santana tribute band) at 4:30 p.m., the Mockers (a Beatles tribute band) at 6 p.m., and then featured artist, America ("Horse With No Name," "Ventura Highway," "Sister Golden Hair") from 7:30 to 9:30 p.m.  The fireworks spectacular begins after the concert.
Tickets are $20 per person at the gate. Access ticket and parking is available for $80 and includes four wristbands and self-parking. VIP tickets are $200 for four wristbands, valet parking, butler seating bar service, and preferred concert seating.
For more information, visit NewportDunes.com.
Old Glory Boat Parade
Another family-friendly way to celebrate the Fourth in Newport Beach is to attend the annual Old Glory Boat Parade, set for 12:30 p.m. on July 4 in Newport Harbor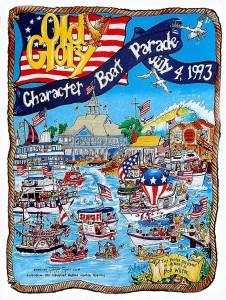 .
The event is California's largest, and one of the nation's longest running, patriotic boat parades, with more than 100 red, white, and blue-bedecked vessels participating.
There is no cost to view the Old Glory Boat Parade, which can be seen from public beaches, docks and boardwalks throughout the scenic harbor area.
Sponsored by the American Legion Yacht Club, the parade is part of an all-day festival at the American Legion Post 291 located at 215 East 15th Street in Newport Beach. A pancake breakfast is held from 7 to 11 a.m. and a BBQ lunch and dinner from noon – 5 p.m. with live music and dancing.
For more information, visit AmericanLegionYachtClub, or call (949) 673-5002.
 BYOB (Bring Your Own Bike!) on the Fourth 
Kids love Newport Beach's Independence Day Parade and Celebration at Mariners Park.
A longstanding favorite of locals and visitors alike, the "parade" is an informal celebration that's free to join– simply decorate your bikes, wagons, or ride-on scooters and take part in the fun.  The bicycle parade begins at the intersection of Mariners Drive and Commodore Drive and proceeds to Mariners Park, where families can enjoy games, activities, food, entertainment and attractions (fee required for food and some activities).
This event benefits Mariners Elementary School.
 For more information on these and other activities, go to VisitNewportBeach.com.