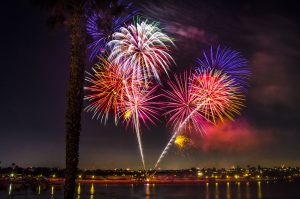 The Fourth of July is a time to fire up the barbecue, have a beach party, and enjoy a community fireworks show.
In fact, the City of Newport Beach stresses community on July 4. A host of community-oriented events take place throughout the city on the Fourth of July, from a bike parade and community festival at Channel Place Park to a spectacular fireworks show at Newport Dunes Waterfront Resort.
4th of July is for Families: Newport Peninsula Bike Parade and Community Festival.
The City of Newport Beach will host the annual Bike Parade and Community Festival that starts with a bike and dog parade that begins at 9 a.m. at Balboa Blvd. and 38th Street Park, and then heads down Balboa Blvd. to Channel Place Park for a free festival including carnival games, giant slides, jump houses, arts & crafts, and food. Parade participants are encouraged to decorate bikes, scooters, wagons and strollers. Please bring dogs on leashes. The festival will run from 9:30 to 11:30 a.m.
Independence Day Parade & Celebration: The City of Newport Beach and the Mariners Elementary School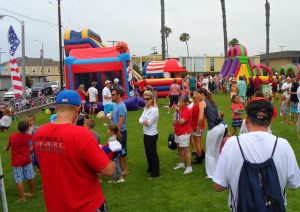 Foundation will host the annual Parade and Celebration at Mariners Park, 1300 Irvine Ave. The bike parade will begin at the corner of Commodore and Mariners Drive at 10:30 a.m. The celebration will be held from 11 a.m. to 1:30 p.m. at the park. There will be food for sale and wristbands available for purchase that allow participation in fun games and activities. Wristbands are $15 each ($10 for toddlers) and can be purchased at the event.  For more information, please visit the Mariners Foundation website at marinersfoundation.com.
Old Glory Boat Parade: The annual Old Glory Boat Parade sponsored by the American Legion Yacht Club and the American Legion Post 291 will be held in Newport Harbor on July 4 from 1 to 3:30 p.m. See the harbor at its patriotic best as boats decorated in red, white & blue move through the water. Parade starts off at Collins Island and traverses Newport Harbor. The parade theme is United We Stand. There will also be a pancake breakfast open to the public from 9 to 11 a.m. at American Legion Post 291, 215 15th Street ($10 per person). For more information about the parade, please visit ALYC.com.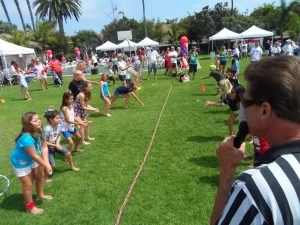 Fourth of July Flyover: The Condor Squadron Officer's and Airmen's Association, a non-profit organization founded by a group of WWII fighter pilots, will fly four AT-6s over Huntington Beach, Newport Beach, Laguna Beach, Dana Point and San Clemente on July 4. They will begin over Huntington Beach and expect to fly over Newport Beach between 6:10 – 6:15 p.m. Thanks to the City of San Clemente for arranging this special holiday flyover!
Independence Day on the Back Bay, at Newport Dunes Waterfront Resort & Marina. Celebrate the 4th with a range of entertaining activities and events, including an incredible fireworks display, live music, food trucks, and a beer & wine garden! Open to locals and visitors. Entrance fee is $50 per car (pedestrians admitted free). Beer & wine pass is $40 and includes hosted bar from 3 to 8 p.m. and premier fireworks viewing at 9 p.m. Gates open at 8 a.m. Tom Solis Band plays at 4:30 p.m. Fleetwood Mac tribute band Mirage plays at 6 p.m. Journey tribute band Don't Stop Believing performs at 7:45 p.m. For more information visit NewportDunes.com
Note: The possession or use of fireworks is illegal in the city of Newport Beach. Residents and visitors who wish to view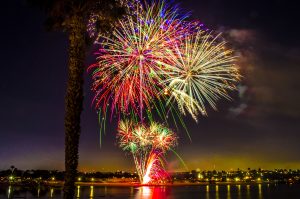 a fireworks display are encouraged to attend one of the many public shows planned throughout the area.
Safety First on Fourth of July
 Although most residents and business owners are well versed in the City's increased public safety efforts for the Fourth of July, the NBPD offers reminders about safety, street closures, what is allowed and not allowed in Newport Beach.
CELL PHONE NOTIFICATIONS: On the 4th of July, text NBJULY4TH to 888777 to receive updated road closure information, significant traffic advisories and community advisories.
 STREET CLOSURES: On July 4 from 10:30 a.m. to the early morning hours of July 5, southbound Orange Street at West Coast Highway will be closed, and Via Oporto from Via Lido to 32nd Street will be closed. All closure times are approximate. All streets on the peninsula will be open to vehicle traffic, however the Newport Beach Police Department will be monitoring traffic conditions throughout the day and will facilitate additional street closures should the need arise.
PARKING: On-street and other public parking will be extremely limited in the West Newport area. All residents and visitors are cautioned to park in legal, public spaces or their own, private spaces or garages. Vehicles parked illegally will be issued parking citations and may be towed.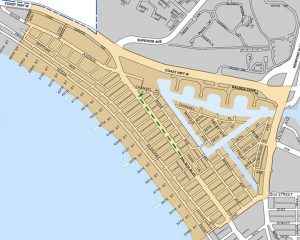 SAFETY ENHANCEMENT ZONE: Mounted Unit: Members of the Orange County Regional Mounted Enforcement Unit will be on duty to help ensure a safe holiday. There will be a Safety Enhancement Zone in the area bounded by the Pacific Ocean on the south, 32nd St. and Newport Blvd. on the east, W. Coast Hwy. on the north and 54th St. on the west. The Safety Zone designation is effective from 12:01 a.m. on July 4 to 3 a.m. on July 5. Fines within the Safety Enhancement Zone are triple the normal amount and can be as much as $3,000.
WHAT IS PROHIBITED: Possessing or drinking alcoholic beverages on streets, sidewalks, beaches, piers or other public areas is prohibited (this includes alcoholic beverages that have been poured into a cup). Violators are subject to citation or arrest. It is illegal to possess or use fireworks in Newport Beach. This includes "safe and sane" fireworks such as fountains and sparklers that can be purchased in nearby cities. Residents and visitors are encouraged to attend a public, professional fireworks show. People gathering on rooftops is a safety hazard that may violate building code ordinances. City Building Dept. inspectors will be working with the Police Department to address those violations. Throwing water balloons or spraying water at pedestrians, bicyclists or vehicles is illegal. Violators are subject to citation or arrest.
 LOUD AND UNRULY GATHERINGS: Property owners and/or party hosts are responsible for the conduct of their guests. Loud and unruly parties requiring a police response could result in a citation or arrest for those present, and fines for property owners, tenants, renters and guests