"I just got back from the library," I announced to Stasha. "They must have some good food there."
   "Why do you say that?"
   "I could see the readers digest."
   Stasha just shook her head and turned back to her desk.
   "It's a good thing you don't make a living as a standup comic, Trela. You'd starve to death."
   "Okay, so maybe they don't normally allow food in the library, but for the next four months the Newport Beach Public Library's "What's Cooking at the Library" series showcases the culinary skills of some of the top local chefs."
"Didn't Zov of Zov's Bistro do something like that last year?" asked Stasha.
"She did indeed, and it was a terrific and tasty cooking demo. They had a mini kitchen set up and Zov showed how to prepare several of her signature dishes while taking questions from the audience. And at the end of her demo, everyone received a sample of what she prepared."
"So who's on the series this year?"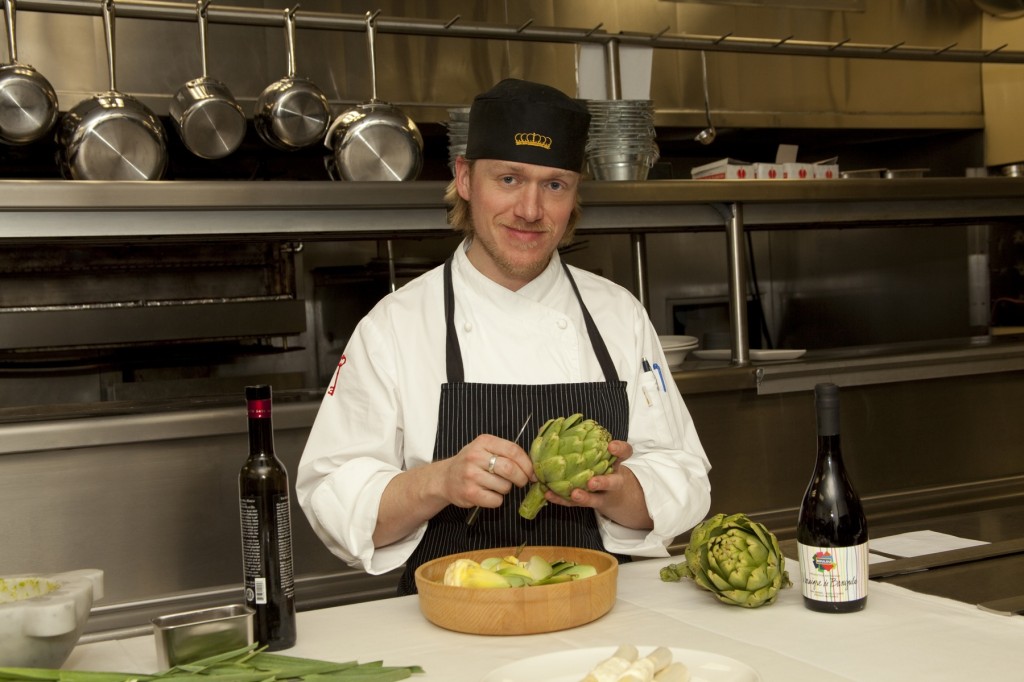 "Chef Ryan Wilson of Five Crowns kicks off the series on Tuesday, Jan. 17. He takes over for Chef Dennis Brask, the former Five Crowns chef who retired last year after 26 years in the kitchen. He was on last year's series."
"Wilson has some big shoes to fill, but he's doing a marvelous job," noted Stasha. "I dined there last October with some friends, and the food was fantastic."
"I talked to Chef Ryan the other day, and he told me that for the cooking demo, he's going to focus on the basics of professional cooking that home chefs may feel is not approachable. He's going to cover the basics of curing, which he says is a diverse technique that can apply to a lot of products. It's very simple, yet many home cooks find it to be overwhelming."
"What will he be making – or curing?" wondered Stasha.
     "Three things: cured salmon or gravlax, cured duck leg which he'll take to another level and do a confit, and then he'll show the initial step to making homemade bacon."
"It sounds delicious, but I'll be in rehearsals for a production of Private Lives in Los Angeles, so I'll miss this demo," lamented Stasha.
"Want to know who's cooking on Feb. 21 while you're busy being an actress?" I teased.
"Who?"
"Chef Cathy Pavlos of Lucca Café in Irvine."
"I don't think I've been there."
"I have, and her cuisine is sensational. They call it Mediterranean, but I call it just plain good. And Chef Pavlos has an interesting background. You know how you gave up your culinary career as a chef to pursue acting?"
"Yes, but I don't regret it, because I still get to write about food."
"True. Chef Pavlos is a former architect and department head at University of Texas who left academia to become a chef," I explained. "So now, you could say she's an architect of cuisine."
"Good one, Trela."
"She studied at the Culinary Institute of America, then opened her restaurant several years ago. I've dined there several times. Her menu features small plates that are creative twists on familiar dishes. I suspect her cooking demo will be as imaginative as her dishes."
"So who else am I going to miss?"
"SOL Cocina's Deborah Schneider and her Baja cuisine on March 20."
"I'll be there—my show will have opened, and no performances on Tuesdays. I wouldn't miss her demo. I thoroughly enjoyed our lunch with Chef Schneider last year. Her food is fabulous. I hope she makes her vampire tacos."
"Me too," I agreed, "but just being able to see how she prepares some of her classic Mexican dishes will be enlightening."
"I'm still impressed by how a French-trained chef is able to create such authentic dishes," said Stasha. "I have a feeling most people don't realize that half of the menu at SOL is vegetarian, or that Chef Deb was inspired to create her cuisine concept by eating at food stands in Baja, where they prepare their food fresh and simple."
"I have a feeling the audience will ply Chef Deb with plenty of questions about her career."
"So—is that the entire series?"
"Not quite. It ends on April 17 with cheese expert Pam Thomson and Trader Joe's wine buyer James Vorce. They'll show how to perfectly pair wine and cheese, and like the other demos, they'll offer samples."
"Maybe they'll pair two buck chuck with cheese whiz—your favorites," laughed Stasha.
"My palate has improved considerably over the years. Now, I prefer a Paso Zin and smoked Gouda."
"Chris, I don't think those pair very well."
"That's why I'll be at their demo," I replied with a laugh.
The "What's Cooking at the Library" series is $20 per person for each chef demonstration. Reservations are necessary, as most demos sell out. For details, visit www.newportbeachlibrary.org.