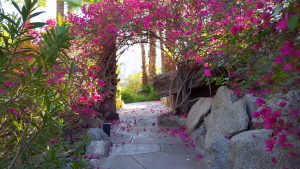 It's only about 90 minutes from Newport Beach, but Palm Springs seems worlds away as far as ambiance and activities. It's a vacation destination—or in my case, a weekend getaway.
I was invited to enjoy The Willows Historic Palm Springs Inn, a private Mediterranean villa hidden behind a coded gate that was built in 1925 as the winter retreat of a powerful Los Angeles millionaire.
Among the famous people that have stayed at the Willows: Shirley Temple, Liberace, Robert De Niro, Diane Keaton, Cameron Diaz, silent screen legend Marion Davies, and Dr. Albert Einstein, who has a bench named after him on the property.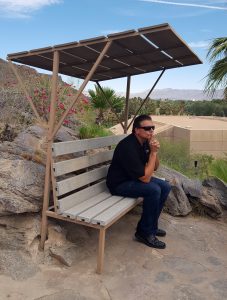 The Willows is just one block south of Palm Canyon Drive and close to restaurants, boutiques, wine bars and night spots, but guests will find that they may prefer to stay on the property and relax within the lushly-landscaped grounds that offer sweeping vistas of Palm Springs.  
As you stroll – and sometimes climb – among the gardens, you will discover Einstein's favorite gazing spot: a covered bench atop a rocky outcropping. Sitting there, you can almost imagine the great thinker perusing the landscape and pondering weighty matters—such as what to have for dinner.
Dining in Palm Springs means careful consideration of a variety of options. A must is Spencer's, a Palm Springs classic dining destination where I enjoyed a fabulous and relaxing lunch.
I also had dinner on the outdoor patio at Kaiser Grille, which features wood-fired pizzas, and at Eight4Nine Restaurant and Lounge (the Willa Jean's Fried Chicken is a house specialty).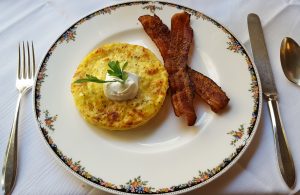 The Willows prepares a beautiful breakfast every morning (I enjoyed the pumpkin pancakes, bacon and homemade muffins one morning, and a lovely quiche the next), and assorted cheeses, charcuterie and fruit along with a choice of red or white wine in the late afternoon. This is the perfect time to mingle and meet fellow guests before going out for dinner.
During my stay, I also toured The O'Donnell House, The Willows' sister property and a popular destination for weddings, receptions and special events. Walking through the historic estate is indeed a journey back in time. The property and house are charming and beautiful, and packed with authentic décor.
I managed to squeeze in a few hours in the Design District and shopped several boutiques.
Nightly rates at The Willows are $395 to $720 depending on room type and day of the week. Among the rooms:
–Marion Davies Room: Named for its famed resident, this room captures the Art Deco elegance of 1930s Hollywood with its creamy color palette, grand fireplace, private Juliet balcony overlooking the pool and mountains, and a bathroom fit for a movie star.
–Einstein's Garden Room: Albert Einstein loved coming to The Willows during the 1930s to relax. Decorated in soft, soothing tones complimenting the rich woods of the fine antique pieces, this charming space features a king-sized bed and elegant tiled bathroom with claw foot tub and walk-in shower.
–Loft Room: The room I stayed in, it has a winding staircase leading up to a hidden chamber featuring Italian burled walnut furniture, a vaulted ceiling, fireplace and views of the mountains as well as the inn's waterfall.
For more information on The Willows, visit thewillowspalmsprings.com.