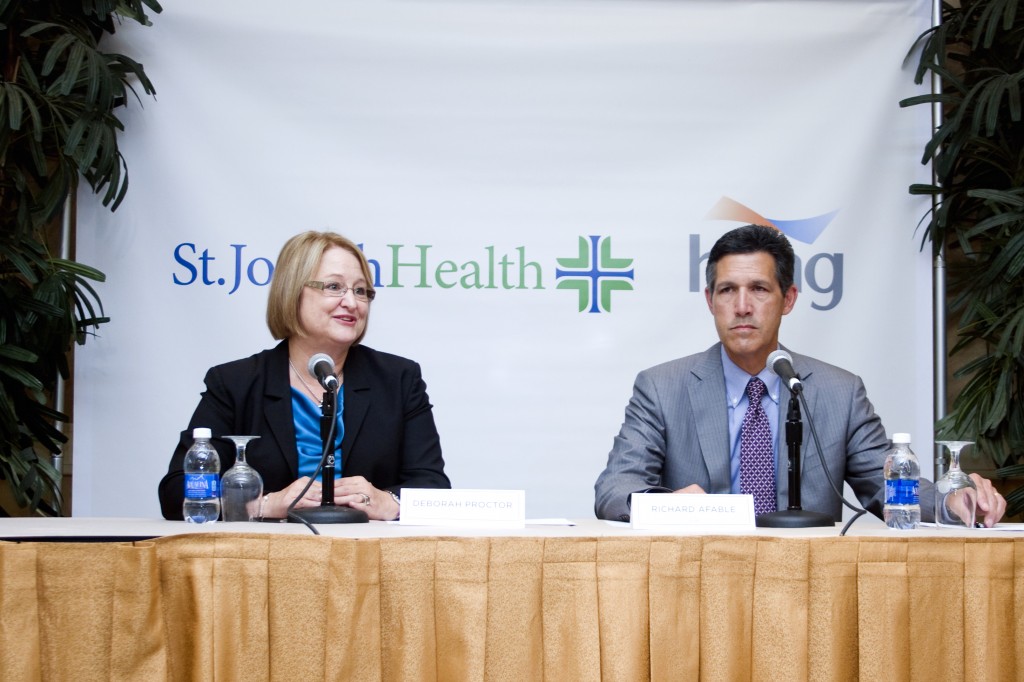 Two of the biggest hospitals in Orange County announced Thursday the formal completion of a combined health care system.
Leaders from Hoag Memorial Hospital Presbyterian in Newport Beach and St. Joseph Health in Orange hope the new affiliation, named the Covenant Health Network, will "reinvent" health care for the community and be a regional leader and national model, according to a statement released Thursday by Hoag.
"The nation's current model of health care delivery is broken, leaving far too many families and individuals – including tens of thousands right here in Orange County – without regular and reliable access to affordable, quality care," said Dr. Richard Afable, who is moving from Hoag to CHN as president and chief executive officer. He will also serve as executive vice president of the Southern California region of St. Joseph Health.
The unprecedented partnership between the two hospitals will strive to make major changes and lay the foundation for the future of health care delivery and accessibility.
"Our number one focus will be solving the systemic health care access and affordability issues currently facing patients, employers and health care providers – and that effort begins today," Afable added.
Hoag's chief operating officer, Robert Braithwaite, has been chosen by the hospital's board of doctors as the new president and CEO.
Braithwaite, who started with Hoag in 1992 as an administrative resident, said he was at a loss for words to describe this "profound privilege."
"We could not have hoped for a more qualified and capable leader than Robert Braithwaite as Hoag begins its next exciting chapter of serving the community," said Gary McKitterick, chair of the board of directors for the hospital.
Afable, along with St. Joseph Health president and CEO, Deborah Proctor, made the initial announcement at a press conference in August.
The California Office of the Attorney General consented to the affiliation on Feb. 8.
They chose each other because of similar beliefs and common goals.
They will maintain their own identities and religious roots. Hoag will remain Presbyterian and St. Joseph will stay Catholic.
"Hoag will continue to be Hoag," Afable said in August. "The identity with the community, in and around Newport Beach [and other nearby neighborhoods], that connection and those identities will remain the same."
The new integrated healthcare system will include the five St. Joseph Health hospitals, the two Hoag hospitals, and all the other services under the two organizations.
They will aim to create a seamless experience for patients.
CHN will focus on giving more people, including "poor and vulnerable populations," access to high quality healthcare at a better cost, and "specifically, new insurance products will be designed and brought to market in collaboration with health plans," according to the statement.
They hope to increase population health and develop additional health care services here in Orange County so patients don't have to travel for quality care.
It's about managing patient care and improving the patient's experience in the most effective way, for the best value, Proctor and Afable emphasized.
Other main goals for CHN will also include, "Focusing on preventative health and wellness programs and services… Achieving better clinical outcomes and improving the overall patient experience… (and) Extending care beyond the acute hospital setting, including long-term care, and palliation of suffering."
"This affiliation is a catalyst to extend our mission and make a real difference in health care delivery by assuring a system of highly-connected, quality services," Proctor said.