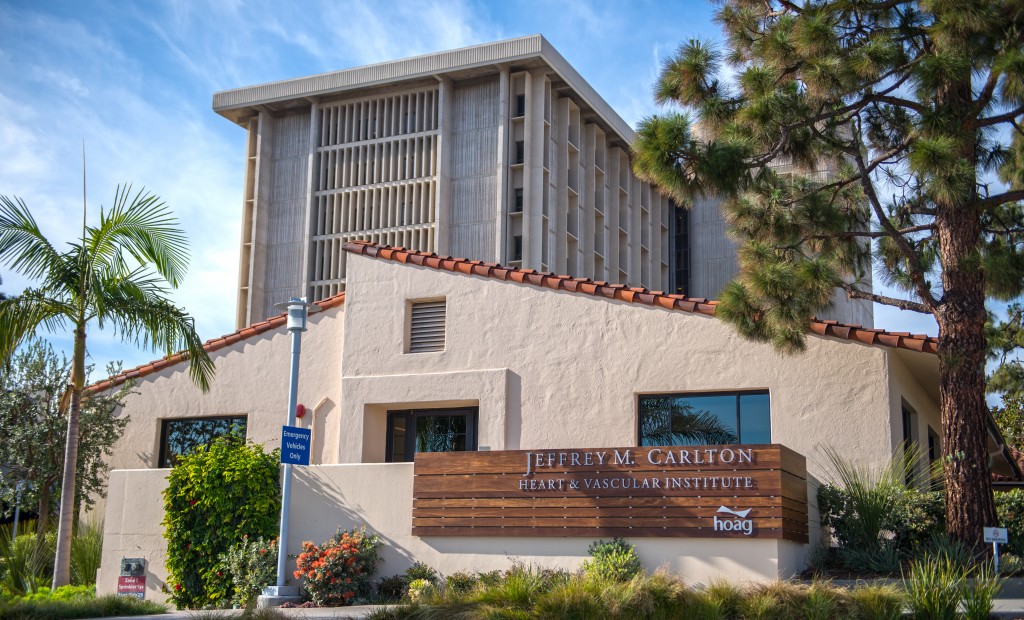 Hoag Memorial Hospital Presbyterian has completed the Nancy and Bill Thompson Center for Cardiovascular Care at the Jeffrey M. Carlton Heart and Vascular Institute. The new build out brings together world-class cardiovascular programs, state-of-the-art technology and highly specialized physicians in one convenient location.
On March 5, Hoag recognized Nancy and Bill Thompson for their generous donation and celebrated past donors that made this project possible, including Bob and Marjie Bennett, Allan and Sandy Fainbarg and the late Jeffrey M. Carlton.
"It is so exciting to see the completion of the Jeffrey M. Carlton Heart and Vascular Institute, with the opening of the Thompson Center for Cardiovascular Care," said Robert Braithwaite, president and CEO of Hoag. "The Carlton Heart and Vascular Institute is recognized as one of the preeminent cardiovascular centers on the West Coast offering the most advanced treatment and facilities. Hoag continues to put its patients first and this state-of-the-art expansion is just another example."
The grand opening marks the completion of the two-phase expansion. Phase II features the opening of Hoag's outpatient cardiac services, include the Nancy & Bill Thompson Heart Valve Center, Congestive Heart Failure Clinic, Arrhythmia Clinic, non-invasive cardiac imaging and vascular imaging.
The completion of the new Center for Cardiovascular Care is a source of pride for Nancy and Bill Thompson, whose name is on the entrance. The generous donation from the couple helped complete Hoag's expansion.
At the unveiling event, Bill Thompson spoke about the importance of philanthropy.
"Nancy and I are fortunate to be able to support great organizations, like Hoag, to save more lives and make our community healthier," Thompson said. "We are honored to help Hoag continue its legacy as the county's top rated heart program."
"This expansion reflects our mission of bringing an innovative approach in the delivery of advanced patient care," said Tom Lonergan, executive operations director of the Jeffrey M. Carlton Heart & Vascular Institute at Hoag. "The whole center looks, flows and feels great – and more important, it brings all the services and our staff to patients in one convenient location."
In phase one, Hoag opened the Bob & Marjie Bennett Hybrid Cardiovascular Operating Room, the Allan & Sandy Fainbarg Electrophysiology Catheterization Suite, the Ronnie & Byron Allumbaugh Conference Center, and a newly remodeled south entrance lobby that houses registration and waiting for cardiac patients and families.
It also houses the offices for the surgery, anesthesiology and the Heart and Vascular Institute teams. As further evidence of Hoag's leading national role in cardiovascular care, the hospital is also the only program in Orange County to treat patients with the FDA-approved Edwards SAPIEN Transcatheter Aortic Heart Valve.
Hoag is an approximately $1 billion nonprofit, regional health care delivery network that treats more than 25,000 inpatients and 369,000 outpatients annually.
Hoag consists of two acute-care hospitals, six health centers, and seven urgent care centers. Hoag Hospital Newport Beach, which has served Orange County since 1952, and Hoag Hospital Irvine, which opened in 2010, are designated Magnet hospitals by the American Nurses Credentialing Center. Hoag offers a comprehensive blend of health care services that includes five institutes providing specialized services in the following areas: cancer, heart and vascular, neurosciences, women's health, and orthopedics through Hoag's affiliate, Hoag Orthopedic Institute.
In 2013, Hoag entered into an alliance with St. Joseph Health to further expand health care services in the Orange County community, known as St. Joseph Hoag Health. Hoag has been named one of the Best Regional Hospitals in the U.S. News & World Report Metro Edition. National Research Corporation has endorsed Hoag as Orange County's most preferred hospital for the past 19 consecutive years and, for an unprecedented 19 years, residents of Orange County have chosen Hoag as one of the county's best hospitals in a local newspaper survey.
For more information, visit hoag.org.