Hoag Neurosciences Institute and Hoag Family Cancer Institute has recruited Robert G. Louis, M.D., from the John Wayne Cancer Institute in Santa Monica to become the only fellowship trained skull-base and pituitary specialist in Orange County.
Louis is being named Program Advisor to Hoag's Pituitary Program. Trained in skull-base and minimally invasive brain tumor surgery, Louis will complement Hoag's accomplished neuroscience and cancer teams by lending his expertise in a highly specialized field.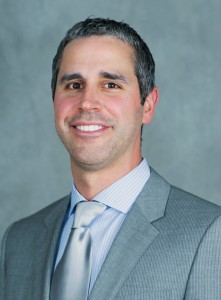 "If you have been diagnosed with a pituitary tumor, it is important to be treated by a physician who specializes in these complex disorders," Louis said. "I look forward to joining the Hoag team in delivering the most advanced treatment for pituitary tumors."
The pituitary gland is the size of a pea, but its importance is enormous. A tumor on this tiny gland can cause problems as severe as diabetes, vision problems and gigantism. While pituitary tumors occur in up to 20 percent of people, tumors requiring treatment occur less frequently and often are not diagnosed. When they are diagnosed, these tumors require expert care.
"The pituitary gland is delicate and can be damaged during surgery. It is therefore essential that surgery be done by a neurosurgeon with a high degree of training," said Michael Brant-Zawadzki, M.D., executive medical director for Hoag Neurosciences Institute. "We are looking forward to working with Louis and offering his level of expertise to our patients."
Louis completed his residency training in neurological surgery at the University of Virginia, one of the top centers for pituitary tumors in the world. During his six years at UVA, he completed more than 1,200 cases, including complex brain tumor, skull base and pituitary surgery.
After completing his Chief Residency in neurosurgery, Louis went on to more advanced subspecialty training, completing a fellowship in Minimally Invasive Neurosurgery at the John Wayne Cancer Institute. Louis is one of only a handful of fellowship-trained minimally invasive neurosurgeons in the nation and the only one in Orange County.
Hoag is also Orange County's first hospital with an emergency department for expectant mothers.
The hospital debuted a four-room Obstetrics Emergency Department (OB-ED) earlier this year to provide continuity of care and quick treatment for pregnant women over 16 weeks of gestation.
The OB-ED has three full-time and two part-time laborists (an obstetrician who works full-time in a hospital) and two nurses to ensure expert care is available around the clock for expectant mothers in need of immediate care. This service contributes to a growing trend nationwide that helps increase access to specialists and improves patient outcomes.
"Hoag Hospital Newport Beach is honored to be the first hospital in Orange County to create an Emergency Department specifically for Obstetrics," said Allyson Brooks, M.D. executive medical director of the Hoag Women's Health Institute. "Open 24 hours a day, 365 days a year, we are able to provide enhanced coverage and a critical safety net to pregnant women in the community."
Since its opening, over 200 patients per month have presented to Hoag's OB-ED for complications of pregnancy including diabetes, pre-eclampsia, bleeding, etc. and evaluation and treatment of conditions such as nausea, vomiting, headache, and urinary tract infections.
The OB-ED is located on the 5th floor of the Sue and Bill Gross Women's Pavilion at Hoag Hospital Newport Beach.
For more information, visit hoag.org.