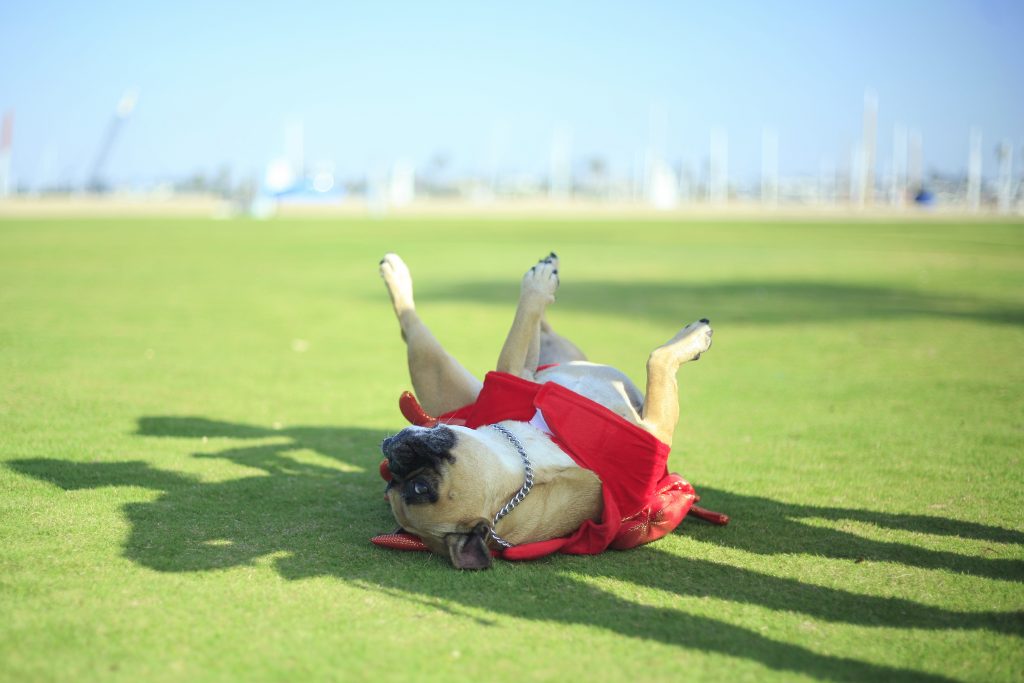 Cuteness in costume took over Marina Park on the Balboa Peninsula Saturday during the first annual "Howl-O-Ween" hosted by the Friends of the Newport Beach Animal Shelter.
More than two dozen people and pooches attended the event.
"We're ecstatic," said FONBAS board President Tim Stoaks. "It's our first event…Really good participation."
Walt Howald, vice chairman of the city's Parks, Beaches, and Recreation Commission, is the treasurer for the FONBAS board of directors.
"We're really pleased to have the opportunity to raise funds to plan and extend the wonderful shelter for dogs and cats in Newport Beach," Howald said.
Hopefully we'll eventually be able to provide a new, or expanded or renovated shelter in the future, he added.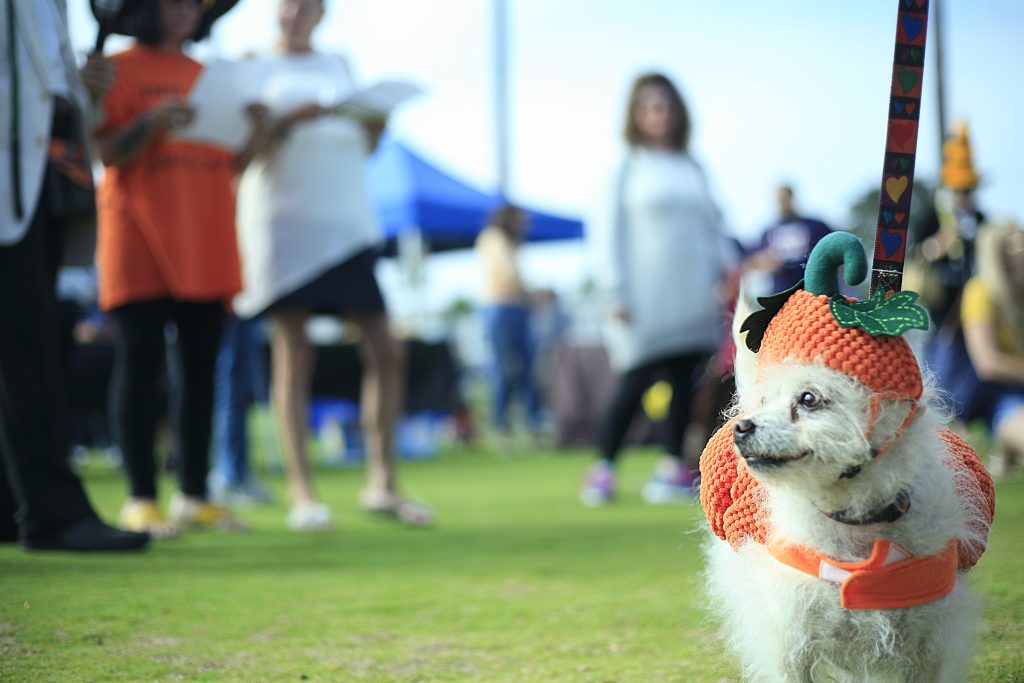 "Our big aspiration is to have a state of the art facility that's scaled to the city of Newport Beach," Stoaks said.
On Saturday, dogs dressed up in a variety of costumes, prizes were handed out, and there was fun and festivities for both humans and canines. Vladae "The Russian Dog Wizard" Roytapel also provided tips and tricks for the dogs and owners at the event.
Michael Flynn and his canine pal, Sammy, 13, won for the scariest costumes. They were dressed as a police officer and a bad-to-the-bone prisoner dog.
"I think it's great they have their own shelter and a group of supporters," in the form of the Friends group, Flynn said.
It's important to get the community involved, Flynn said.
Jerrie Moody and her golden retriever, Zoey, 11, won the award for best owner and pet ensemble. The devilish duo coordinated in red and black outfits complete with horns for both and a trident for Moody.
Although her costume were reminiscent of Hades, the friendly golden canine is anything but, explained Moody, a Newport Beach local.
"She's more of an angel," she said.
It's an ironic costume, Flynn added. Sammy's is more of a "character portrayal," he joked.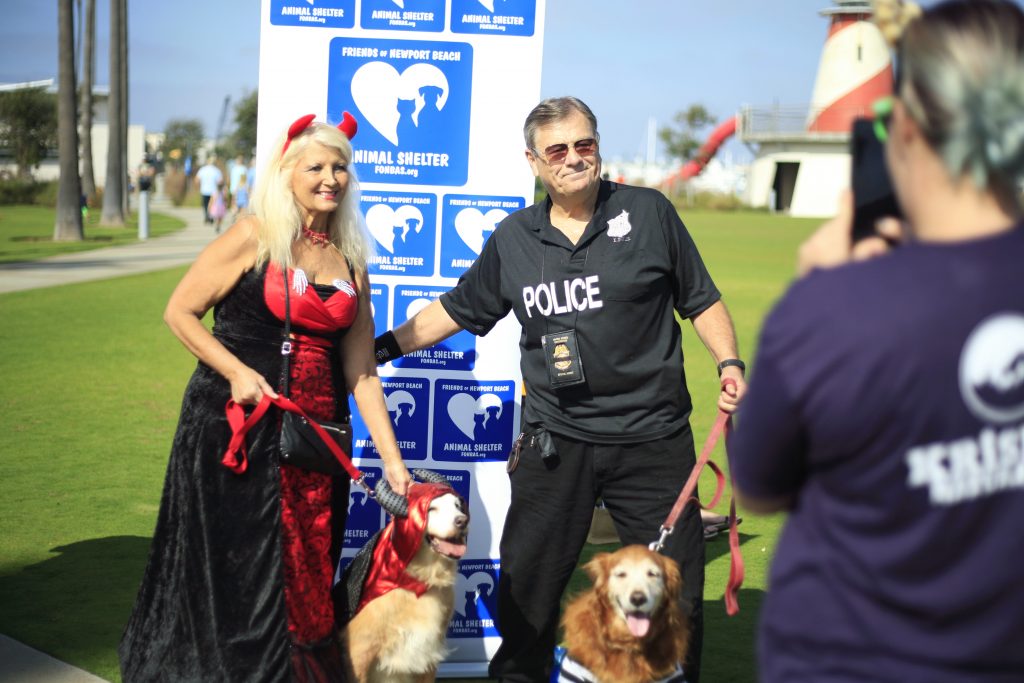 Flynn and Moody both work with golden retriever rescue groups
Sammy was rescued 10 years ago after he was found flea-ridden, malnourished and tied to a fence post.
"I said, 'I'll take him for one night,' and that was in 2007," Flynn recalled. "I've never let go."
Moody, who lives near the shelter, hopes to get more involved with the NB Shelter and Friends group.
The Friends organization is relatively new, as is the Newport Beach shelter.
Previously, the city worked with the Orange County Humane Society in a shelter in Costa Mesa. Things weren't working out so they parted ways in November 2015.
They partnered with the start-up animal sanctuary in Santa Ana Heights area which provided a "third rescue" for animals. The city has been contracting with Home Free for shelter services ever since.
Now that the city has their own shelter, it was time to connect with residents, said Newport Beach Police Department Lieutenant Tom Fischbacher. Animal Control falls under his division as traffic commander, so he has been involved with the process.
"The whole idea of partnering with the community, in regards to animal care, is something the division shared with Valerie (Schomburg), the animal control supervisor," Fischbacher said. "We thought there was a completely untapped portion of our community that we hadn't really reached out to in years past because we didn't have our own animal shelter."
Several locals that make up the board are long-term, established philanthropists and community activists. They are the people that can "get things done" in the community, Fischbacher added.
People involved like Howald, along with Evelyn Hart, Jean Watt, Nancy Gardner, and Tim Stoaks, all on the FONBAS board.
"They're doing this because it's the right idea, for the right reasons," Fischbacher said. "That's what it's about."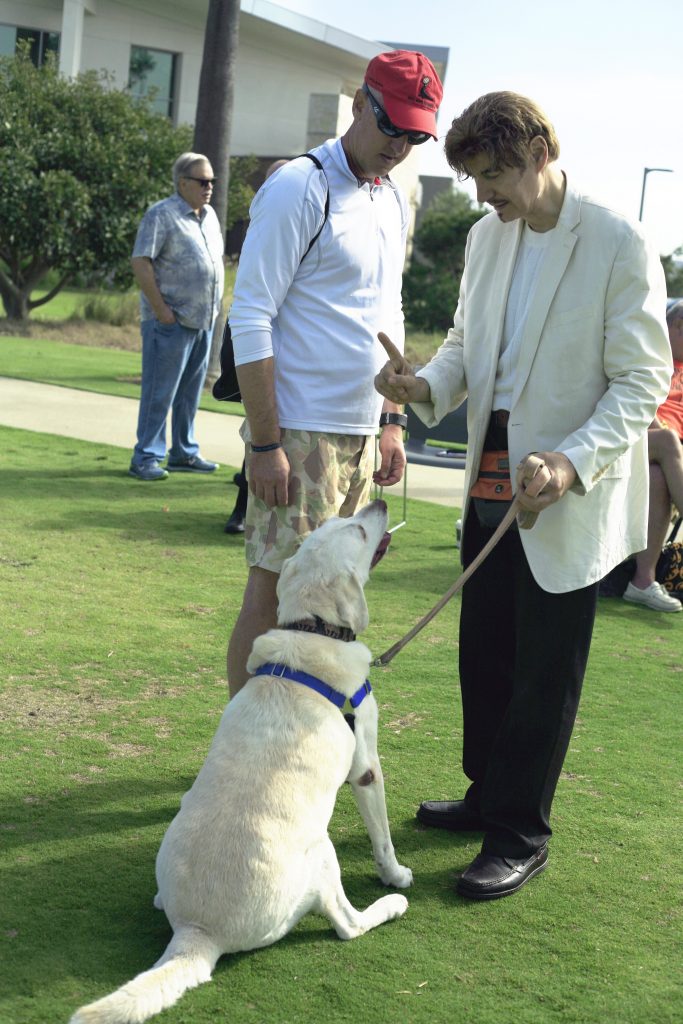 Also on the board is Jon Langford, the "resident millennial," as he described himself. He is aiming to harness the power of social media to help garner support for the Friends group. Instagram has an entire hashtag subculture dedicated to cats, dogs and other pets, he pointed out.
"Not only do people already love pets, but they love a great cause, so we're going to marry the two," Langford said.
Others involved with the group Councilman Jeff Herdman and community volunteer Sandy Meadows.
City Manager Dave Kiff has also been a big help, Fischbacher added.
"This will succeed and the way it will succeed is because of the community support and support of the Friends," Kiff said at the event Saturday. "A good shelter program has good volunteers and good stewards watching out for it. All of that is perfect for Newport."
The Friends group is a like a support unit for the city shelter. Everyone involved emphasized the public-private partnership aspect of the group and city service.
"The city is not relieved of their responsibility to run the shelter," Fischbacher confirmed. "When there is a need for an animal that goes beyond (the city's capabilities) that's where they (the Friends group) come into play."
Organizers are already planning for the future of the Friends group.
There is an idea for education and scholarship for animal services and shelter development to be included, Fischbacher noted. As well as provide information regarding animal care or control careers, he added.
They also hope to host a "Fur Ball" signature event, probably early next summer, Stoaks said. Already in planning mode, the theme may be "Never Walk Alone."
The group is working on getting their official 501c(3), hopefully within the next month, Howald said.
"Newport Beach has an incredible number of dogs and cats," Howald said. "Our mission is to make sure that animals that need a home, or stray animals, or any that come to the shelter, that we provide the best possibility for them to be returned to their home, to be adoptable, or rehabilitated, to where they are wonderful for a new home or adoption."
For more information, visit fonbas.org.