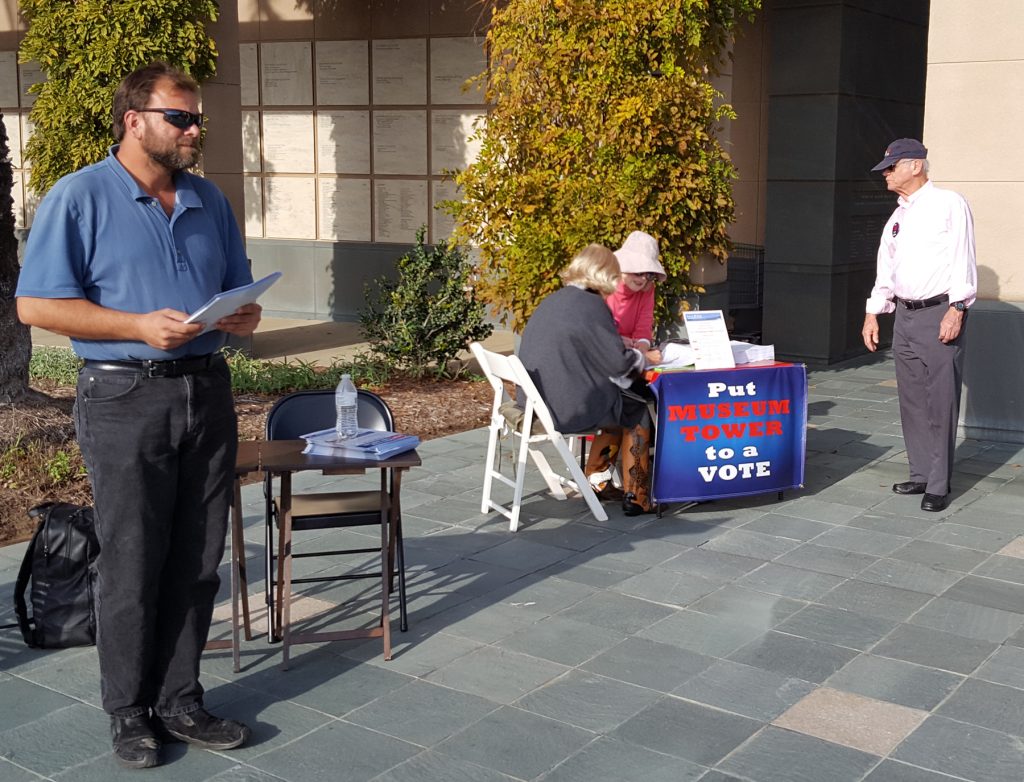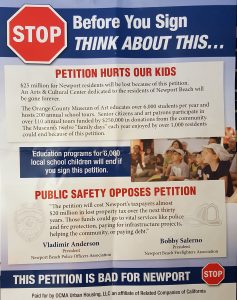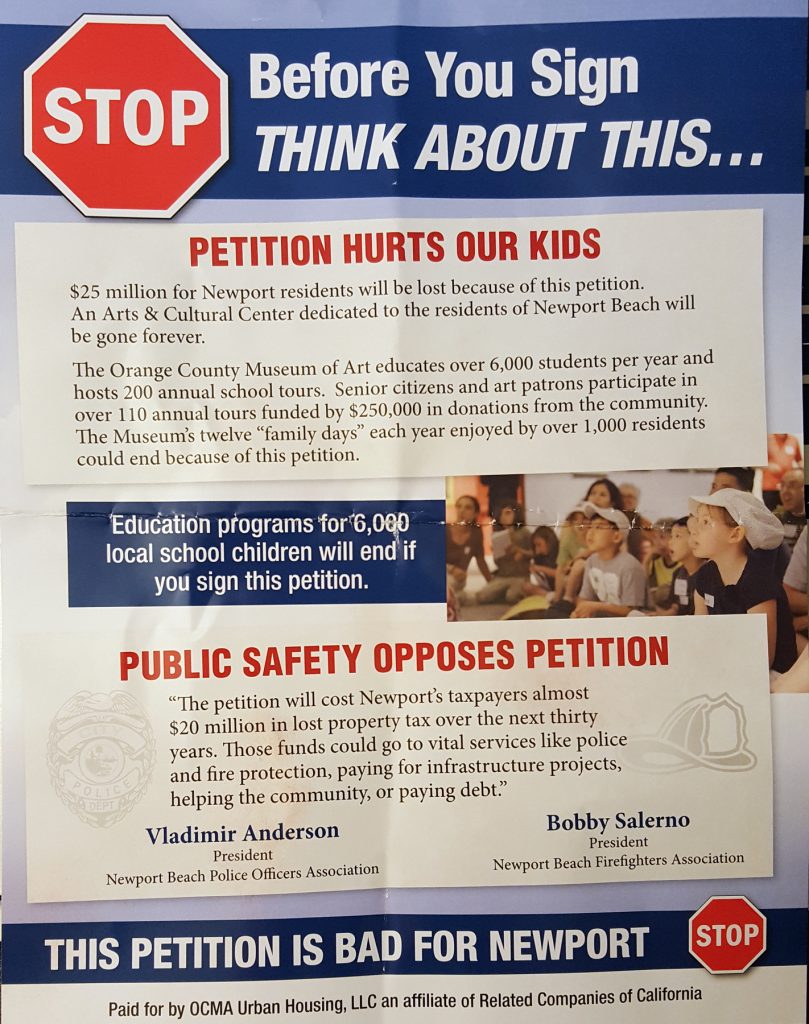 The Irvine Co. filed a lawsuit Friday against the developer of the Museum House project in Orange County Superior Court, claiming supporters of the project trespassed at several of the Newport Beach shopping centers located on Irvine Company property.
This week, volunteers for Line in the Sand PAC began collecting signatures of Newport Beach voters for a petition that would put Related Companies of California's 25-story condominium tower up for a citywide vote.
According to Bill Lobdell, a spokesman for the Irvine Co., Museum House proponents have been at some of those same centers without permission, trying to disrupt signature-gathering efforts and created a hostile environment for shoppers.
"We were forced to take legal action today against the Museum House developer in order to ensure that our retail centers' free-speech rules- which follow state and federal law- are followed, and our guests enjoy a pleasant shopping experience," Lobdell wrote in an email.
The Irvine Co.'s complaint against OCMA Urban Housing, LLC, an affiliate of The Related Companies of California, is the latest twist in wake of the Newport Beach City Council's Nov. 29 decision to approve the redevelopment of the Orange County Museum of Art's property.
The lawsuit comes less than three weeks before the Dec. 29 deadline to submit a petition with more than 5,620 signatures.
Susan Skinner, a spokeswoman for the Line in the Sand, said she was surprised to hear of the lawsuit late Friday.
"I'm certainly appreciative of the Irvine Co. working to create an environment in which we can engage in our constitutionally-protected right to a referendum," Skinner said.
Sean Matsler, an attorney for the developer, wrote in a statement that a firm contracted to educate the public about Museum House filled out and submitted an application to Irvine Co. to campaign at local shopping centers.
"Earlier today, our vendor was informed that instead of supplying one form for all the shopping centers, they must provide separate forms for each of the 14 centers," Matsler wrote. "Our vendor is in the process of complying with this technicality. We hope that the Irvine Company is asking the opponents of Museum House to undertake the same paperwork effort."
Nancy Alston, a Line in the Sand volunteer, was collecting signatures Friday on a patio between the CVS and Ralph's at East Bluff Village Center when two men started standing a few feet from the petitioners' table to dissuade people from signing.
"If an older woman came up they really tried to intimidate them," Alston said.
At one point, six men were in the shopping center to distribute flyers produced by OCMA Urban Housing. Employees at the East Bluff Village Center asked them to leave, Alston said.
Unlike the Museum House supporters, Line in the Sand has followed the shopping centers' free speech rules and received permission from the Irvine Co. to set up tables, Lobdell wrote.
Hal Morris, 75, was volunteering at a petition table on Friday at OASIS Senior Center. He said he received fake e-mails supposedly from Nicole F.  Reynolds, the woman in charge of the Line-in-the-Sand petition tables, although the emails were sent by N. H. Reynolds. The emails instructed him to not show up to his assignment, because the petitioners would not have received a 1,000 page (two sided) General Plan, which they needed to have on site should signers wish to read it.
"This is wrong," stated Morris.
He said that there were petition "blockers" at Ralph's and Oasis handing out flyers about Museum House "who were yelling at people, and intimidating them. There was so much confusion."
Morris said that "if the people vote, we'll win. If we have an election and lose, then okay, but let the residents decide."
A flyer being handed out about Museum House (paid for by OCMA Urban Housing LLC, an affiliate of Related Companies of California—the developer behind the Museum house project) obtained by the NB Independent states, in part, that the "petition hurts our kids…an arts and cultural center dedicated to the residents of Newport Beach will be gone forever…education programs for 6,000 local school children will end if you sign this petition."
The claims in the flyer are puzzling, as a 1.64-acre parcel of land on part of the Segerstrom Center for the Arts campus in Costa Mesa was given to the Orange County Museum of Art in 2008, and the Museum has been planning to move there once sufficient funds are raised to build a new Museum. OCMA held its annual gala in a large tent on that site earlier this year. Segerstrom Center is known for its extensive education and outreach programs.
Even Related's website states that "Museum House is the re-entitlement and development of the Orange County Museum of Art's current two-acre site, allowing the relocation of their principal galleries to Segerstrom Center for the Arts."
Organizer Nicole Reynolds told the NB Independent that they have 85 volunteers helping to man petition tables at five shopping centers owned by the Irvine Company. They have the Irvine company's permission to be there.
"Yesterday, some of the 'blockers' were in the faces of shoppers at Ralph's in Eastbluff," said Reynolds. "They were yelling at the shoppers."
A NB Indy reporter who visited the Ralphs location heard a "blocker" tell one shopper "the museum is already closed" so why not build there.
OCMA just completed a successful exhibition on December 4 and is closed for several weeks while it installs a new exhibition that opens on January 7, 2017, called Pop Art Design, followed in May by its long-awaited Triennial exhibition.
"This is the ugliest campaign I've seen," said longtime Newport Beach resident Debra Allen, who was volunteering at the OASIS petition table. "It's real Chicago style politics."
According to Reynolds, Line in the Sand representatives will be collecting signatures at OASIS senior center Monday, Dec. 12 through Friday, Dec. 16, and at the front entrance to the Main Library on Avocado Avenue daily through Christmas.
For more information, visit lineinthesandpac.com.
Richard Simon and Chris Trela contributed to this article.