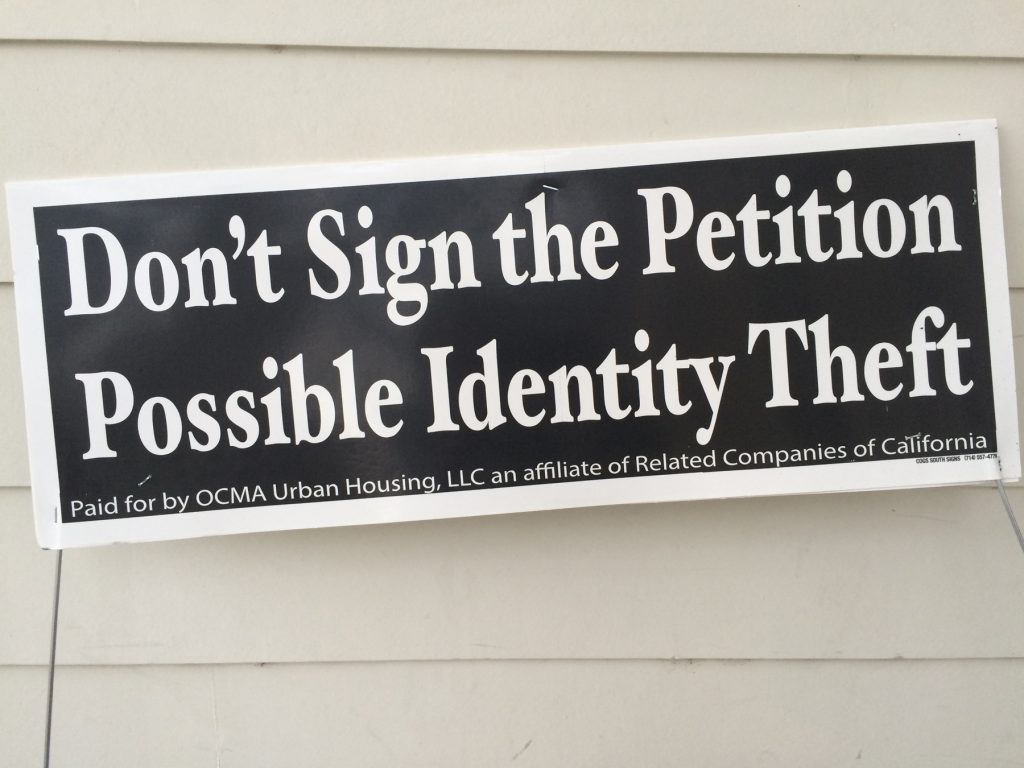 New signs and door hangers being distributed in Newport Beach and paid for by OCMA Urban Housing LLC (an affiliate of Related Companies of California—the developer behind the a 25-story condominium tower known as Museum House), warn residents not to sign petitions due to possible identity theft.
The signs and door hangers are nearly identical in color and style to the ones paid for and distributed last week by OCMA Urban Housing telling residents not to sign fake petitions.
The signs and door hangers are a response to a petition that Line in the Sand PAC launched last week. The group has tables with petitions set up at OASIS Senior Center, the Newport Beach Public Library, and other locations around town. They hope to collect enough signatures of Newport Beach voters to put OCMA Urban Housing LLC's 25-story condominium tower up for a citywide vote.
The condo tower, which was approved in November by the City Council 6-1, would be built on the site of the Orange County Museum of Art once the museum eventually moves to its new home on the campus of Segerstrom Center for the Arts in Costa Mesa.
The new door hanger states that "Many petitions are circulating in Newport Beach over the holidays. One is online, one is being handed out in the community. Be careful before signing anything." And in large letters, "Don't Sign The Petition."
There is also a quote from Tom Johnson, publisher of Stu News Newport (an online resource that covers Newport Beach), on the door hanger, which reads "A piece of advice, make certain you understand what petitions or referendums you're signing. In many cases personal information is traded that potentially makes the signer vulnerable."
Asked to comment, Johnson said via email that "obviously they've used the quote completely out of context."
"I deplore the scare tactics employed by the Museum House developer in their increasingly desperate attempts to keep Line in the Sand's referendum from qualifying and thus requiring a citywide vote on the project," said Susan Skinner, spokesperson for Line in the Sand. "Their latest statement, that signing the petition will lead to identity theft, is an outright lie. The information the petition collects is confidential by law, and it asks for only a name and address, information that is already publicly available through the Registrar of Voters."
"If residents are concerned about signing the correct petition or want to get accurate information about what is going on, they can visit our website at LineintheSandpac.com and sign up for updates, as we are sending out updates to people on a regular basis," added Skinner.