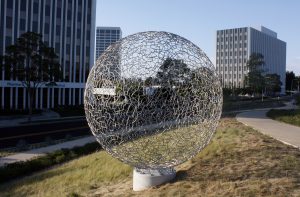 Sphere 112, the steel sculpture adorning the grassy hill at the corner of San Miguel Drive and Avocado Avenue, will permanently reside there for public enjoyment.
The City Arts Commission voted last Thursday to keep the popular work of art at its current location in Civic Center Park, not only to avoid the expense of moving it, but because it has fared well at that site.
"It's a good location," Lynn Selich, City Arts Commission Chair, said of the placement.
City Council had requested last summer that other locations be evaluated for Sphere 112, noting that Civic Center Park was designed to be a site for rotating exhibitions, but the Arts Commission concluded that it is best where it is.
Sphere 112 will be purchased privately by the Newport Beach Arts Foundation for $15,000 and donated to the City. Maintenance on the sculpture and its durable marine grade 316 stainless steel welded rods will cost approximately $250 per year.
While Sphere 112 was featured in the first phase of rotating sculpture exhibits at Newport Beach City Hall in 2014, the current version is technically a reproduction of the original. The first Sphere 112 was constructed with 304 grade stainless steel and revealed signs of oxidation during a cursory inspection in January 2015, according to Library Services Director Tim Hetherton, who serves as a Staff Liaison to the City Arts Commission.
Artist Ivan McLean reassembled, at his own cost, a replacement piece for Sphere 112 with the more durable marine grade stainless steel to withstand the corrosive marine environment of Newport Beach. The replacement was installed in December 2015.