At the National Association of Women Business Owners Orange County's Remarkable Women gala this month, Newport Beach resident Jeannie Lawrence, founder and president of Rancho Las Lomas, was honored for Lifetime Achievement.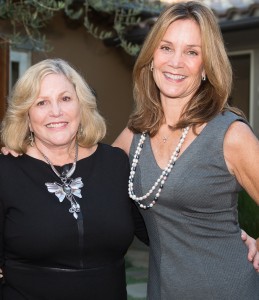 Lawrence developed Rancho Las Lomas into one of Southern California's most spectacular special event locations that hosts over 150 events every year. The 32 acre private resort and zoological garden is filled with orange groves and rose gardens that contain three Bengal tigers, two servals, two baby zebras, alpacas, koi and exotic birds. Lawrence is on the advisory board of The Rancho Las Lomas Wildlife Foundation where she helps create educational programs.
"I'm quite honored by this award," said Lawrence, who purchased Rancho Las Lomas back in 1977 with her late husband. "At that time it was just orange groves. We never had a plan, never thought about special events. We got married there, and a friend who attended asked if she could rent it, and the idea was born right there."
Over the years, Lawrence added guest bungalows, a grand salon, outdoor gardens and ponds, and wild animals.
"We wanted to get zoned for any kind of scenario. We wanted to collect animals, so we started with birds. A friend had a license to handle cats and had small cats, so we started from there because he had cats that needed a place to be housed. Then we started rescuing big cats, and it now we've done it for 18 years."
Several years ago, Lawrence decided to create a nonprofit wildlife foundation so that schoolchildren could come and learn about the animals. She's been involved with creating education programs, while her son Brett has been helping to run Rancho Las Lomas.
"Brett has a positive attitude and has helped open Rancho more to the public by doing special event fundraiser for the foundation. We do a kid's event on Halloween, and last year our Christmas in the Cages event drew 900 people."
"I have a life-long love affair with Rancho Las Lomas," added Lawrence.