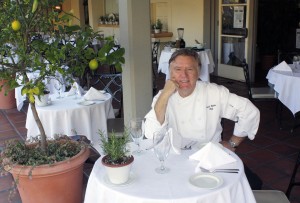 By Christopher Trela & Catherine Del Casale | NB Indy
Garden Fusions Dinner
Earlier this year, Sherman Library & Gardens launched a monthly Garden Fusions dinner series that has become extremely popular, and it's easy to see why.
Each dinner has a horticultural theme that combines the expertise of a nursery expert with the culinary prowess of Chef Pascal Olhats of Café Jardin.
The final Garden Fusions dinner of 2014 will be held Thursday, Oct. 30, and features the theme California Native Plants. Guest horticulturist is Antonio Sanchez, Nursery Manager for Rancho Santa Ana Botanic Garden.
The evening starts with hors d' oeuvres in the central garden in the middle of the California native plant beds. Sanchez will talk about the best native plants for your coastal garden, and offer tips on how to care for them.
Chef Pascal will serve his California-inspired dinner on the central patio, and he'll offer a special table side coming demonstration—and anyone who has seen Chef Pascal's coking demos knows how entertaining those are.
The evening concludes in the tea garden for dessert.
A signature drink is included during the hors d'oeuvres hour. Beverages, tip and tax not included. Friends members of Sherman Library & Gardens can purchase tickets for $50 per person. Non-members are $60.
Chef Pascal sent us his menu for the evening, and it's impressive: Hors d'oeuvres include venison pastrami on fresh baked biscuit and homemade mustard, and curred wild sturgeon with pickled fennel on a brochette. Dinner features dungeness crab cake with prickly pear and cucumber salsa, mesquite air dried smoked trout with sage rub on watercress with lemon and sea salt, roasted wild boar chop with nettle and pine pesto, wild rice "chili," and apple and date cobbler with wild berry coulis.
Guess where we'll be dining on Oct. 30.
For tickets, call Café Jardin at (949) 673-0033 or visit slgardens.org.
SOL Cocina Fall Menu
We recently attended the March of Dimes Celebrity Chefs Auction, which featured a number of local chefs offering samples of their signature menu items.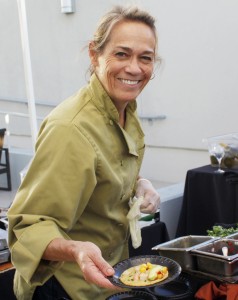 Among those was Chef Deborah Schneider of SOL Cocina, who was serving several signature tacos that were part of her Baja-inspired menu. She told us she was working on a new fall menu, which of course peaked our interest.
Her new menu is out, and it's full of fun dishes such as Firing Squad Mezcal Shrimp (sautéed shrimp with mezcal, chipotle, pineapple, and fresh tomato fired up in an iron cazuela and served with butter lettuce leaf wraps) and Puerto Nuevo Lobster Tacos.
"Our new fall menu at SOL shifts towards Mexican comfort foods," said Chef Deb. "The wine harvest is in, farms are overflowing with wonderful fall produce and fruits, and the Mexican shrimp season kicks off. It's a great time of year to be in Baja!"
Additional new menu items include Pomegranate guacamole "en nogada," shrimp toritos, sweet corn and crab soup, duck tacos, grilled giant shrimp (butterflied, skewered and grilled), bone-in ribeye steak, torta bufalada, and vanilla and chocolate flan.
Visit solcocina.com for details.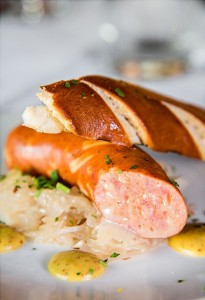 Oktoberfest at Bayside
October is drawing to a close, but there's still time to enjoy the Oktoberfest menu at Bayside Restaurant.
Austrian native Paul Gstrein, Bayside's executive chef, has created a number of traditional dishes with his contemporary spin, such as Schweinerucken Cordon Bleu with breaded pork loin instead of chicken along with Black Forest ham and cave-aged gruyere cheese served with wilted spinach and lemon sauce; Wiener Saftgulasch (Vienna-style braised beef short rib served with potato puree, charred mini-peppers and Brussels sprouts); and Kasekrainer Bratwurst (smoked pork sausage stuffed with Emmenthal cheese and served with sauerkraut, roasted potatoes and sweet and spicy mustard).
We've enjoyed Chef Paul's Oktoberfest menus in the past and intend to sample this menu while we still have time
For more information visit baysiderestaurant.com or call (949) 721-1222.
Oak Grill & Aqua Lounge
Island Hotel in Fashion Island debuted its new Oak Grill and Aqua Lounge earlier this year, and both venues has proved to be very popular with guests and locals.
If you haven't been to either Oak Grill or Aqua Lounge, we highly recommend checking them out.
And in case you need a little nudge, here are a few reasons to go: Monday Night Football Gatherings at Oak Grill with NFL meat trios and beer flights, Taco Tuesday at Oak Grill featuring a taco trio of the week, Wednesday Fireside Sessions at Oak Grill
Fireside Sessions at Oak Grill take place every Tuesday and Wednesday from 6 p.m. featuring live music by local artists, craft cocktails and gourmet small bites, Throwback Thursdays at Aqua Lounge feature live DJ's and signature drinks, and Sunday Brunch at Oak Grill featuring a new fall menu. And on Halloween night, Oct. 31, Aqua Lounge hosts a costume contest with a DJ and special Halloween cocktails.
For information visit oakgrillnb.com or aqualoungenb.com.
Chipotle Boorito
Speaking of Halloween, Chipotle Mexican Grill (which has a location in Newport Beach) is holding a Halloween fund-raiser called Boorito on Oct. 31.
Chipotle will offer $3 burritos, bowls, salads, tacos or kids meals to customers dressed in costume between 5 p.m and closing. Proceeds from the fund-raiser will benefit the Chipotle Cultivate Foundation, a non-profit organization committed to creating a more sustainable and healthful food system and to raising awareness about important issues in food.
"Our customers have helped raise $3 million for the Chipotle Cultivate Foundation through Boorito over the last three years, simply by coming to our restaurants in costume," said Mark Crumpacker, chief marketing and development officer at Chipotle.
For more information about Boorito, visit Chipotle.com/Boorito.