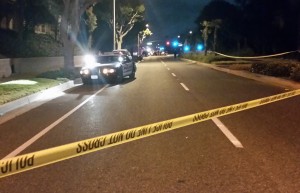 A jogger was struck and killed on Coast Highway in Corona del Mar around 9:30 p.m. Thursday, according to witness reports.
The incident happened on a stretch of highway between Morning Canyon Road and Poppy Avenue.
NB Indy editor Christopher Trela was a witness to the accident.
"Fellow Indy writer Catherine Del Casale and I were returning from Laguna Playhouse and had just passed Morning Canyon when we saw someone jogging in the bike lane," said Trela. "A few seconds later, I heard a loud sound as though something had been struck. I slowed down and looked back, and saw another vehicle had pulled over, and I did not see the jogger. I stopped my vehicle, got out, yelled at Catherine to call 911, and ran to where I could see someone laying on the side of the street. I ran past a white vehicle that had significant damage to the front end on the passenger side. I arrived to find the body of a man face down on the street. Catherine brought her cell phone to me and I told the 911 dispatcher where the accident had occurred. Newport Beach Police arrived a short time later."
Fire Department personnel also arrived on the scene, but based on Trela's observations, the jogger was deceased. NBPD cordoned off the area and blocked westbound PCH to traffic so they could begin their investigation. Trela was uncertain if the driver of the vehicle that struck the jogger was detained or cited.
A Nixle alert was issued at 10:19 p.m. advising residents to avoid west bound PCH at Morning Canyon for the next six hours due to an injury traffic incident.
The Indy will have more details on the incident as they become available.
UPDATE: According to a press release issued today, June 13, by the NB Police Department, the male pedestrian suffered major injuries and was pronounced dead at the scene by Newport Beach Fire Department Paramedics. The driver of the vehicle was arrested for suspicion of driving under the influence (DUI). The circumstances of the collision are still under investigation. If anyone has information regarding this collision, please contact Investigator Eric Little at 949-644-3746 or [email protected]
The Orange County Coroner's office has identified the jogger who was struck and killed as Edward Salkin, 81, of Corona del Mar.
According to the Orange County Sheriff's Department website, the driver of the vehicle, Robert John Greaney, 23, is being held on $100,000 bail. He is due to appear in court on June 16.