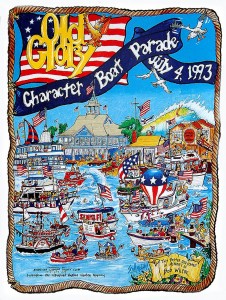 Some of the fondest memories local boaters retain are the very special boat parades and boat greeting armadas that nautical traditions necessitate.
On Sept. 11, 2002, scores of boats met outside the jetty off Big Corona Beach to share solidarity and respect for the fallen a year earlier in New York City.
Many times a large boater group has greeted tall ships and followed them to their temporary berths, usually at the Newport Sea Base, for tours and rides.
When the Nautical Museum was based on the Rueben E. Lee, several tall ships berthed at their docks and boaters followed them into the harbor. The museum docks berthed a 200-foot Navy fast response ship which carried a 50-foot go fast launch to ferry Navy Seals and Marines for special missions. The ship allowed visitors, and the long lines proved our local interest.
Naturally, most of us agree that our Christmas Boat Parade and bay front homes and business decorations are not only popular throughout the Southland, but are well known and shown on TV all over America. Our event has been included in the top ten events during Christmas in the U.S.
About 20 years ago, the last Chamber of Commerce Character Boat Parade was held. This zany event was very popular every year, and similar to the Christmas Parade, boats from Dana Point and Huntington Harbor and trailer boats from all over participated every year.
It was held in August, and I believe the powers to be felt it took time and effort away from the September Taste of Newport, which was becoming a cash cow for the administrators of the Chamber.
Over the years, the trophies for that parade gathered dust, so my Dad and a few others at the American Legion Yacht Club thought it would be a good use to obtain the trophies for an annual boat parade on the 4th of July which was titled the "Old Glory Boat Parade."
As with the Character Boat Parade, there will always be a changing theme, and this year's theme is "Freedom Calling." Vice Commodore, Dan O'Sullivan, of the Yacht Club, will ram-rod the event.
The parade will gather and start off the West end of Balboa Island and Collins Island at 1 p.m. and cruise along the North Bay Front to the Island Bridge and continue the perimeter of the bay. This patriotic parade is the greatest of fun and a precursor to the grand fireworks show at Newport Dunes at 9 p.m.
The Legion has an annual pancake breakfast (plus eggs and sausage) cooked by Newport's Fire Department crew commencing at 8 a.m. Live music helps set the tone and the local meet and greet is quite friendly.
If you have a boat, (large or small), I highly recommend participating in the Old Glory Boat Parade.
Sea Ya There!
Skipper Steve