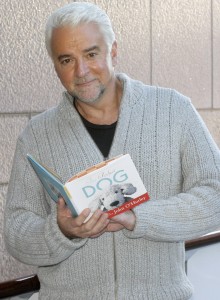 The last time John O'Hurley came to town, he was playing King Arthur in a Broadway touring production of the musical comedy smash hit, "Spamalot," at Segerstrom Center for the Arts.
Now, O'Hurley is back to play the male lead in another hit musical: "Chicago," which comes to Segerstrom Center Jan. 28 – Feb. 2.
Set in the decadent Roaring 20s, "Chicago" tells the story of Roxie Hart, a housewife and nightclub dancer who murders her lover after he threatens to leave her. To help get her out of prison and into the limelight, she hires a slick Chicago lawyer, Billy Flynn (played by O'Hurley), who parlays her case into national headlines.
O'Hurley has been touring on and off with "Chicago" since 2005, and performed the role on Broadway four times.
"Billy Flynn and King Arthur are two of the best roles that there are for an older leading man," noted O'Hurley during a recent interview while in OC to sign copies of his latest children's book, "The Perfect Dog," at Barnes & Noble.
"Billy is one of the most interesting and complicated roles, not just for musicals, but as a piece of drama. He is enormously interesting, but has been played monochromatically most of the time. However, there are layers to him that make him a much more interesting character than the S.O.B he is normally portrayed. If you show a vulnerable side, the audience will invest something in you. That's the secret."
Another secret, said O'Hurley, lies in the score and staging of "Chicago."
"The number 'We Both Reached for the Gun" may be the most brilliant and creative pieces of music, and musical staging, that I have seen in the history of musical theater," he stated. "You can't have a better song for that moment. It answers everything you need at the moment, and represents everything musical theater should be about—the song moves organically out of the situation."
That particular piece requires perfect timing, and it took O'Hurley a while to master its rhythm.
"Know who taught it to me? My wife. She understood the syncopation. We'd sit in the car and she'd sing it to me, and say repeat it," he recalled. "It's a syncopated jazz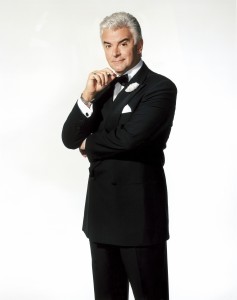 rhythm, on beat, off beat."
It was hard for him to grasp at first, but now he makes it look easy.
"My heart beats in that same syncopation now," he joked.
Known for playing J. Peterman on "Seinfeld" and for hosting "Family Feud," O'Hurley said he finds musical theater much more rewarding the television.
"You can take a character that has a beginning, middle and end, and building an arc—that's the joy of theater, whether a musical or straight drama. I love television, love doing films, but there's nothing like six minutes after 8 p.m. every night, when the conductor's baton drops and it's show time."
"Every night is different," he added. Every night before I go on stage, I say a quick prayer: 'God, let me be surprised.' That's all I ask for, it keeps me relaxed and in the moment. I move moment to moment, instant by instant, and every single time I have done this show, I have been surprised at some point during the night."
O'Hurley said the role is more interesting and complicated than when he first played the part in 2005.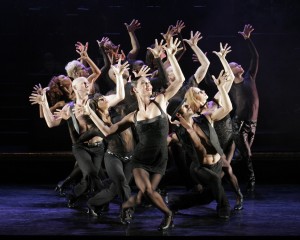 "There are things that are part of the character now that never even occurred to me back then. I just finished a week in Austin, and there were incredible things that occurred to me about the character all week that had not occurred to me the week before. It's always a learning experience for me."
Oddly enough, becoming a father a few years ago changed O'Hurley's perspective on the role.
"The element of the paternal quality of Billy did not occur to me until the maturing of my son and me maturing as a father," he said. "I was more sensitive to the idea of taking care of another human being, and if Billy does not have that nature to him, if you do not see that in his eyes—at one point, Roxy says 'Billy, I'm scared,' you have to see it register when he says don't worry, I've got you covered. If you don't feel that connection, even for an instance, it doesn't work. They are like two ships that pass in the night, but for the moment, they had to be together.'
O'Hurley had his son with him at the book signing ("The book sold out its first day on Amazon," he noted proudly), which is natural since he wrote it as a poem for his son.
"I wanted to show him the elements of a perfect dog. It's meant to embrace the whole idea of dogs and the notion of what dogs do for us in our lives. My son feels like it's his book. At the last book signing, after he had signed about 30 books, he leaned over to me and said, 'Daddy, this is exhausting.'
Tickets for "Chicago" start at $29. Call (714) 556-2787 or visit SCFTA.org.