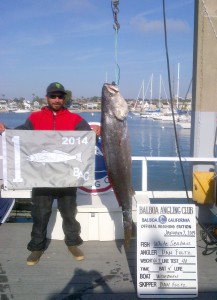 In some cases it's a small world.
As I have written in the past, Newport Harbor has an international foot print. From America's Cup winner Bill Ficker to Sea World pioneer Milt Shedd, our little harbor is known worldwide. There are many other local boaters that have earned fame and fortune.
This came to mind again while reading Boat International published out of London, England. I've been reading this magazine and several others since 1998 when I was bestowed the honor of working for the premier international yacht brokerage Ardell Yacht and Ship Corporation located along Mariners Mile on Newport Harbor.
When I first went to work there, one of the many noteworthy yachts with a worldly footprint was Windward Passage, which I have mentioned in previous columns. This homemade sloop took the waterfront world by storm following entering and winning every noteworthy yacht race around the world. She has been berthed in our harbor since the elite restoration by former local owner and Newport Harbor Yacht Club member Kevin Jaffé.
Jaffé and his business partner purchased Behr Paint from the local founding family of the same name, during the preliminary leap of Home Depot which in turn featured this quality paint. That event helped "leap frog" the company into an enormous enterprise.
Jaffé is having Passage restored to like-new condition. During my time at Ardell, previous crew members would drop by to admire the ole gal and always noted that she never appeared in the splendid condition of her restoration.
During the time of her sale to her present owner, Jaffé and then girlfriend (now spouse), Theresa, moved to Palm Beach, Florida. He also sold his 70-foot expedition yacht built by Delta, which he purchased here and sent to New Zealand so he could watch the America's Cup when held down under.
Delta is also the builder of the 200-foot mega yacht Invictus, which last summer received a city council permit to berth adjacent to the Lido Isle Bridge.
In the January issue of Boats International, Kevin and Theresa Jaffé were noted as the World Super Yacht award winner for 2013 for the magazine's Voyager's Award. The couple built and launched in 2008 the handsome looking 37.6 expedition-styled meter mega yacht Marama. Since that time they have cruised her worldwide, but in the summer of 2012 they made an extraordinary 3,200-mile voyage from Seattle to Glacier Bay, Alaska. This three month voyage cruised the coastline, and was documented by photographs and videos in an enchanting way which captured the hearts of the judges. Bravo to the Jaffés!
On a separate note, I've included a photo from the Balboa Angling Club of the first white sea bass of the 2014 season. I'm a little exasperated, as this behemoth is similar in size to the trophy wahoo I landed outside Magdalena Bay in southern Baja.
Dan Fultz, for the fourth year in a row, won the Angling Club pennant on Jan. 7.
Congratulations and tight lines!
Sea Ya,
Skipper Steve