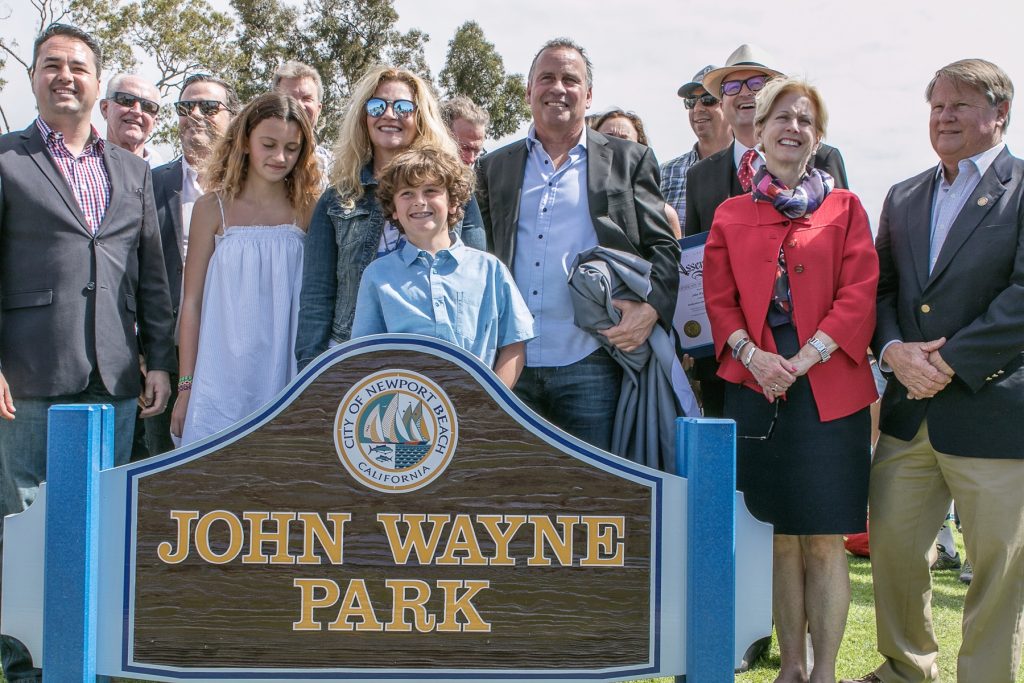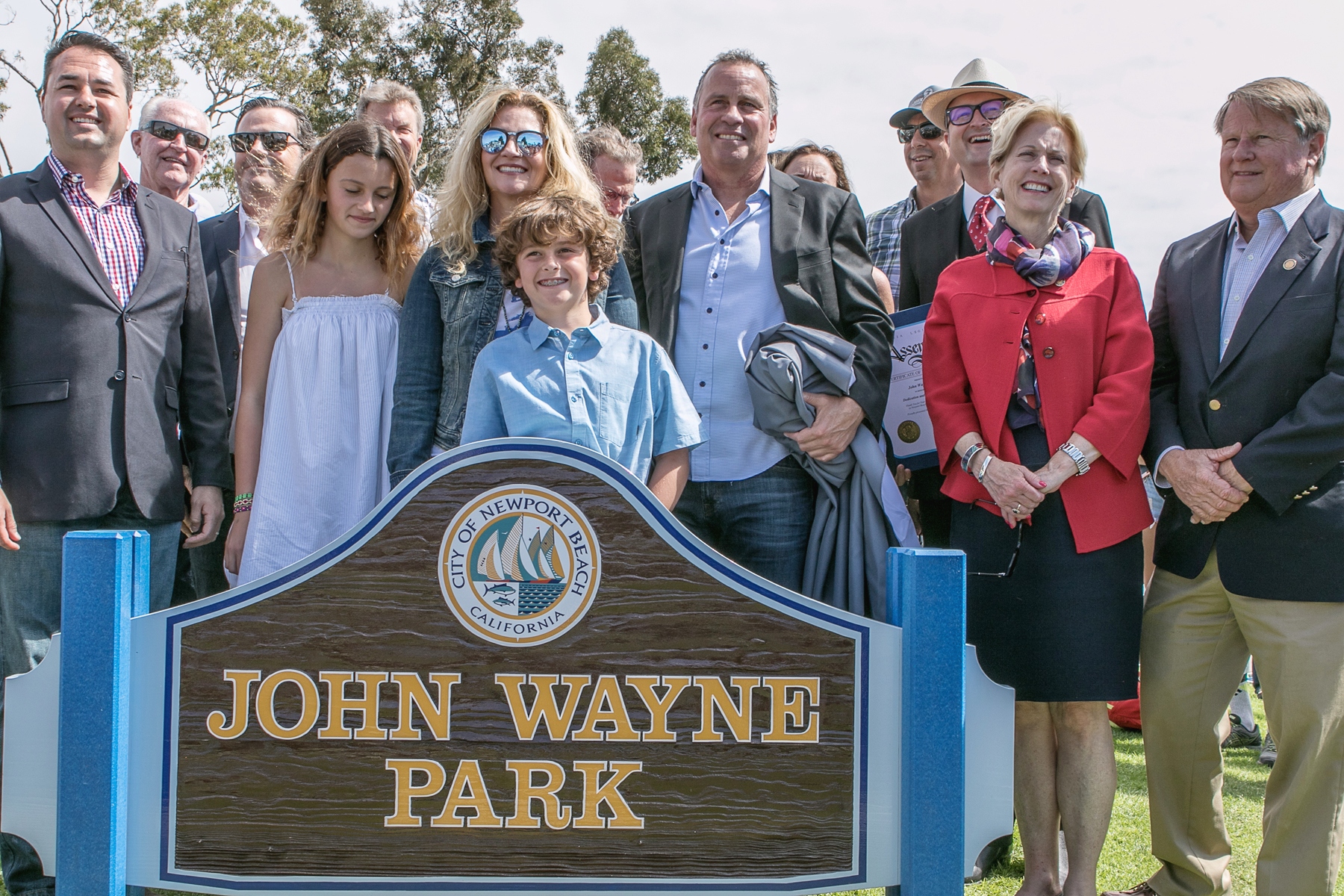 Newport Beach's most famous resident now has a park bearing his name.
The city formally dedicated John Wayne Park on May 26 in a ceremony that drew over 100 attendees, including several members of Wayne's family. Wayne's granddaughter, Jennifer Wayne, and her band Runaway June sang the national anthem.
It would have been the late actor's 110th birthday.
"To countless Americans, John Wayne represents how we all seek to live as free men and women," Mayor Kevin Muldoon told the audience.
"It is fitting that he be honored by the naming of this park, where other supporters of freedom are already honored," Muldoon said, referring to the plaques recognizing the Daughters of the American Revolution, as well as George Washington and Benjamin Franklin, among others, positioned around the park.
Formerly known as Ensign View Park, the picturesque plot at the corner of Cliff Drive and El Modena Avenue overlooks Newport Harbor.
Muldoon pushed for the renaming of the park earlier this year and bypassed the standard process of going through the Parks, Beaches, and Recreation Commission in order to host the ceremony on the actor's birthday. City council approved the renaming on April 25.
Mayor Pro Tem Marshall "Duffy" Duffield also spoke of Wayne, whom he first met as a youngster. Duffield marveled at the fact that Wayne "could have lived anywhere," but chose Newport Beach.
"He didn't live in Laguna, he didn't live in Beverly Hills. He lived here," Duffield said.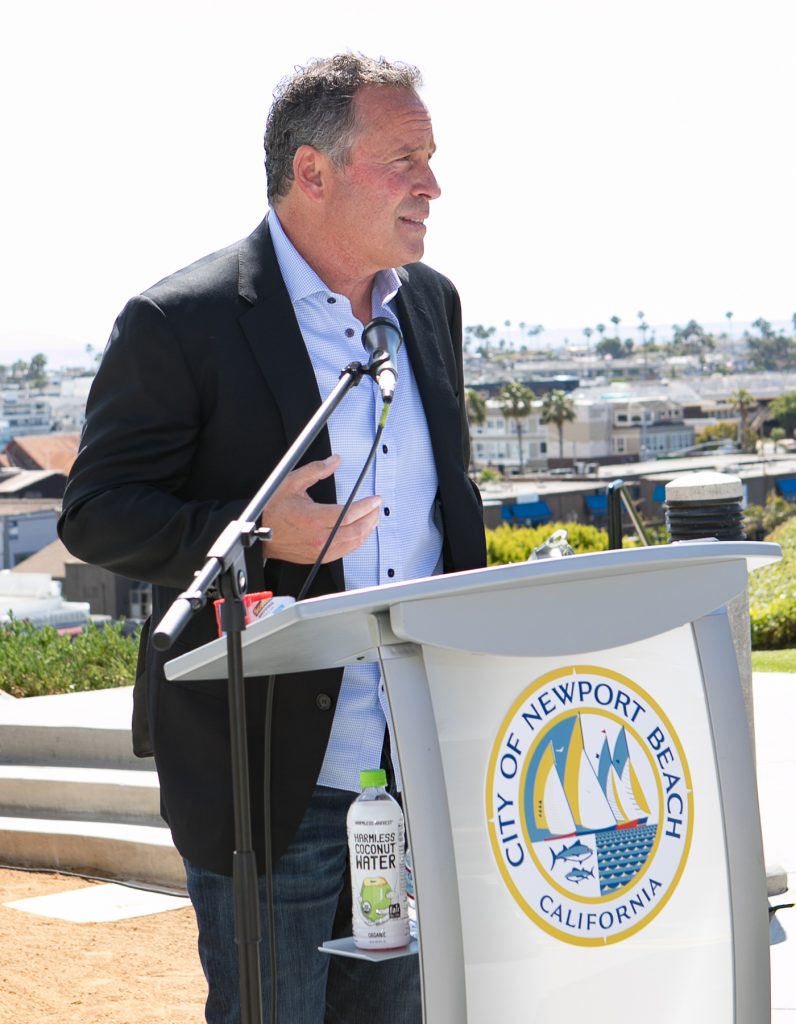 Ethan Wayne, who now manages John Wayne Enterprises, thanked the city before helping to unveil the new park sign.
"My father loved this area," he said. "He felt like he was part of the community…he had a sense of home here."
In addition to John Wayne Airport, the only commercial service airport in Orange County, the new park joins many institutions bearing his name in the region.
The John Wayne Cancer Foundation is based in Newport Beach and his yacht, the Wild Goose, is available for tours through Hornblower Cruises in Newport Harbor. GRIT Cycle, an indoor cycling studio in Costa Mesa, was co-founded by daughter Marisa Wayne.
The GrittyUp cycling events raise funds for the John Wayne Cancer Foundation and is scheduled for June 3 and 4. More information can be found at https://e.gesture.com/events/5GT/
John Wayne died in 1979 and is buried at Pacific View Memorial Park and Mortuary in Corona del Mar.
For more information, visit JohnWayne.com and newportbeachca.gov.